The UN estimates that 300 million tonnes of plastic waste is produced each year[1]. Yet, globally, less than 10% of plastic is recycled, and some reports estimate that at least 75% of all the plastic ever produced has become waste[2]. With the vast majority of plastic waste destined for landfill, the impact of the world's current plastic footprint will take its toll on the environment for generations to come – poisoning our oceans, land and food systems.
The impact of the plastic waste problem is felt disproportionately in Low- and Middle-Income Countries (LMICs) where immature systems for waste collection, sorting and recycling are compounded by low consumer awareness of waste, high reliance on cheaper but harder-to-recycle plastics, and the burden of large quantities of plastic waste from higher income countries.
Exploring circular economy solutions
Given the relative immaturity of the plastics recycling sector in LMICs, there's great potential for businesses to retrieve, recycle and realise value both from their own waste products and other plastics producers. Promising circular economy solutions are emerging, driven in large part by innovative plastics social enterprises (PSEs) which are collecting and recycling plastic waste that might otherwise be burned or discarded. Digital and mobile technologies are integral in aiding them to scale and sustain their operations, for example using mobile payments, SMS, and location tracking to connect informal waste collectors with waste producers, segregators and processors. ​
In 2021, GSMA published the landscaping study Digital Dividends in Plastics Recycling exploring the specific benefits that plastics organisations could reap from using digital tools and services, or partnering with technology organisations. The report encouraged mobile network operators (MNOs) and other technology organisations to learn about how they could benefit from supporting plastic organisations, and to work with the GSMA to identify opportunities for collaboration.
Our latest report, Catalysing Partnerships in Plastics, builds on this work to delve further into the mutually beneficial opportunities for PSEs and MNOs in working together to find solutions to the plastics crisis. It illustrates the different advantages that such partnerships could offer.
The "triple bottom line" opportunity: people, planet, profits
Interviews with MNOs highlighted that few are involved in any major initiatives in plastics separation and recycling, especially those with an existing or future commercial purpose. MNOs were often unaware of the potential of plastics organisations to scale and become sustainable, as well as their digital needs and current or future contribution to carbon reduction.
The research identified that supporting PSEs to scale is a "triple bottom line" opportunity for MNOs, in which they not only can meet their organisation's climate agenda goals and extended producer responsibility (EPR) regulations[3], but can also drive their core revenue through facilitating greater adoption of digital technologies.
---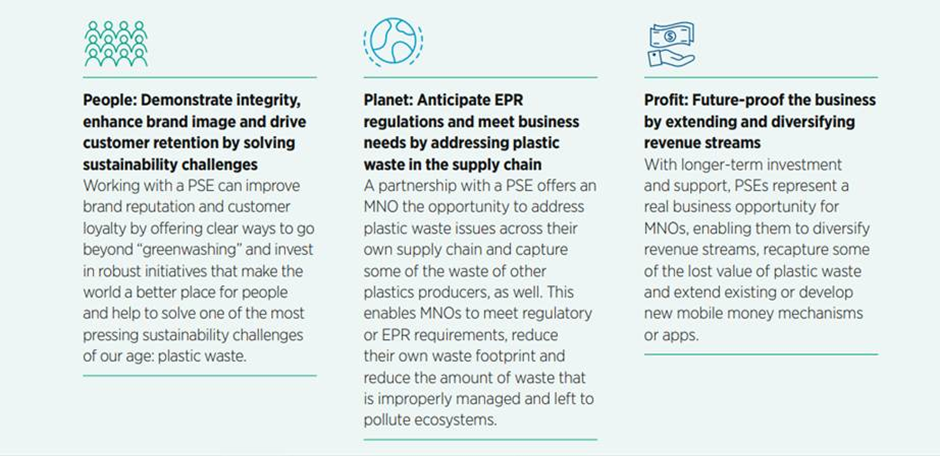 Catalysing partnerships between PSEs and MNOs
The scale of solving the plastic waste problem is so vast that no single organisation can do it alone. PSEs need partnerships from an array of stakeholders to have the support they require to scale and sustain their activities and to innovate. There is an opportunity for all parties to benefit from the commercial and environmental impacts of plastics recycling. This shared value model identifies and pursues "win-wins" to build and develop partnerships. To strengthen the case in approaching MNOs, PSEs needs to clarify how they can support the MNO's triple bottom line and demonstrate their track record as an impactful business with a clear path to scale.
GSMA's ClimateTech programme seeks to further these efforts by supporting PSEs and MNOs to work on this challenge together, promoting the mutual benefits of such partnerships. Crucially, this must be driven by commercially-viable incentives for cross-sector collaborations to be appealing and effective. GSMA seeks to support this by providing clear insights and evidence on the impact possible of bringing such approaches to scale.
If you or your organisation would like to join us in this effort, please get in touch at climatetech@gsma.com.
Download the Catalysing Partnerships in Plastics full Report here.
The report mentioned was completed in partnership with TRANSFORM, a joint initiative between Unilever, the UK's Foreign, Commonwealth & Development Office (FCDO) and EY.
---
[1] UNEP. (2021). From Pollution to Solution: A Global Assessment of Marine Litter and Plastic Pollution [2] Geyer, R., Jambeck, J.R. and Lavender Law, K. (2017). "Production, use, and fate of all plastics ever made". Science Advances, Vol. 3, Issue 7. [3] Extended producer responsibility (EPR) is a policy approach by which producers are given a significant responsibility – financial and/or physical – for the treatment or disposal of post-consumer products.
The ClimateTech programme is funded by the UK Foreign, Commonwealth & Development Office (FCDO), and supported by the GSMA and its members.