This blog is part of a series leading up to World Toilet Day taking place on the 19th of November. The series will feature innovative business models leveraging digital solutions to improve sanitation services and draw learnings from the five sanitation service providers that were supported by the GSMA Mobile for Development (M4D) Utilities Innovation Fund. In the first blog, we discussed how the gap in access to safely managed sanitation is far from being closed by 2030 and that mobile technology plays a critical role in unlocking innovative business models that can help bridge the gap. In this blog, we shine a spotlight on the work of GSMA M4D Utilities Innovation Fund grantee, Sanergy, to showcase their evolution as a container-based sanitation provider in Kenya.
Leaving no one behind
According to a WHO and UNICEF joint monitoring report on progress toward SDG 6, access to improved sanitation in Kenya only increased by seven per cent between 1990 and 2017, leaving 70 per cent of Kenyans without access to improved sanitation. At the same time, the urbanisation rate in Kenya is rising at a rate of 4.3 per cent per annum, with an estimated 60 per cent of the urban population living in informal settlements. Sanitation infrastructure is struggling to keep up with the exponential growth in urban contexts. Improved sanitation systems efficiently separate excreta and wastewater from human contact, by safe containment, treatment, transportation and disposal. The lack of such sanitation systems in Kenya leads to the spread of water-borne diseases and a decrease in life expectancy and quality.
Since 2011, Sanergy has been working to solve the sanitation challenge by designing, manufacturing and distributing low-cost, high-quality sanitation facilities called Fresh Life Toilets (FLTs) in Nairobi, Kenya. This is a container-based solution (CBS) where the waste is collected hygienically in safe containers and then transported for treatment and recycling. Since 2010, CBS solutions have been emerging as a viable low-cost option for sanitation service delivery, particularly in low-income urban settlements where the need for sanitation services is high and infrastructure would be costly to install. The portable nature of CBS makes it appealing in low-income urban contexts as it requires little space and limited to no in-house construction. Furthermore, Sanergy offers an end-to-end service which entails the safe removal and transportation of all waste generated by the residents to a central processing plant, where it is treated and converted into agricultural inputs – organic fertiliser and insect based animal feed. This closed loop solution leaves zero waste behind, further contributing to the emerging circular sanitation economy.
Figure 1: Sanergy's Timeline
Sanergy's hybrid model
Circular Economy principles are increasingly becoming a business imperative, as circular business models allow companies to reduce costs and generate new revenue streams. Following this principle, Sanergy is formed of two independent entities, one for profit and a non-profit. Sanergy's for-profit arm collects waste and processes it into fertiliser and insect-based animal feed which is then sold to farmers. The non-profit arm has built the sanitation network by unlocking digital solutions. Both of Sanergy's arms operate in harmony, technology is key in enabling the growth and smoothness of this synergy further contributing towards a greater good.
Figure 2: Sanergy's offering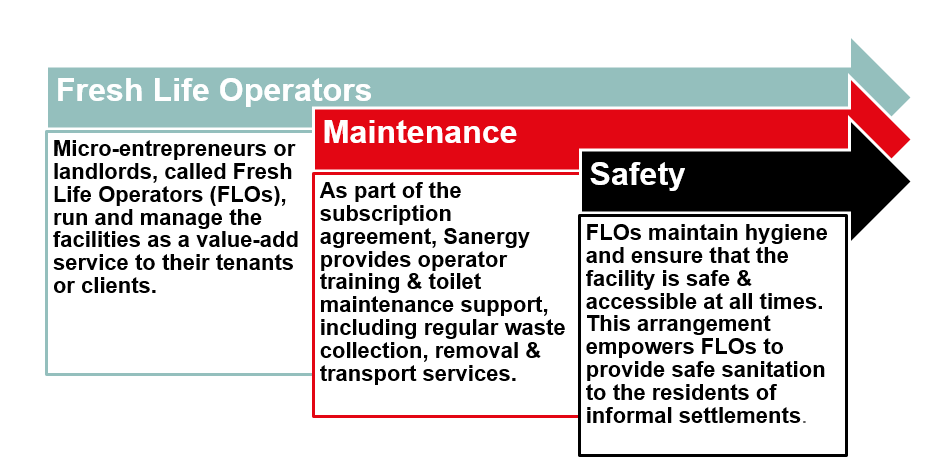 The evolution of Sanergy's digital tools
In May 2015, Sanergy received a grant from the GSMA M4D Utilities Innovation Fund to test how mobile-enabled sensors (provided by SweetSense Inc.) could optimise the waste collection process. These sensors would provide information on exactly when a toilet was full and needed to be serviced. Sanergy tested different methods of using sensors to measure different indicators of toilet filling, ultimately settling on one that measured the number of users. Having evolved from the lessons learned from this grant, Sanergy is now using two mobile applications as well as mobile money and data collection to connect with its network and improve its offering.
Figure 3: Total Sanergy Users Per day 2015-2019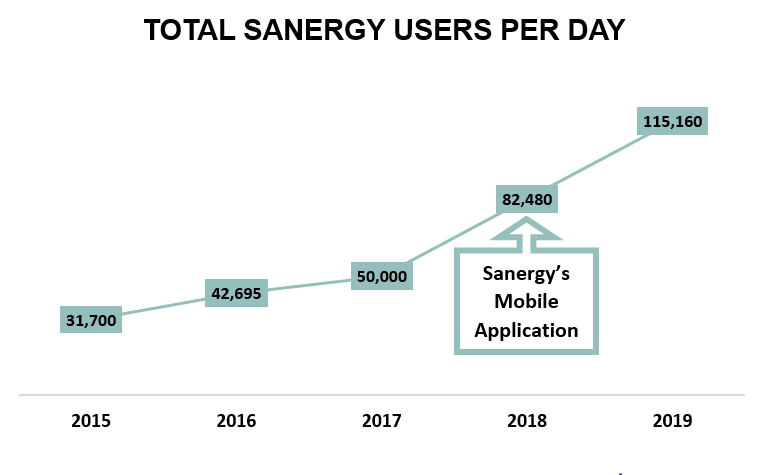 How Sanergy is unlocking the power of mobile:
1. FLOs application:
Sanergy's customer support application (available both in English and Swahili) uses Unstructured Supplementary Service Data (USSD) technology. The application aims to make customer service more efficient by providing real time feedback about operational support and levels of customer satisfaction. FLOs use this customer friendly platform for monthly subscription payments, which are often done via M-Pesa Mobile Money's Service. The application is free to use and customers do not require a smart phone thereby increasing financial inclusion among all customer segments. The app also enables Sanergy to track customer referral while collecting real-time data on the types of complaints received from customers and their frequency.
Figure 4: FLO using the application to pay via mobile money
2. Mobile app for waste collectors
The second mobile application Sanergy developed is a waste collection app, which helps their logistics personnel conduct daily waste collection efficiently. The application uses QR technology and tracking software that monitors waste collection of all toilets in their network, the frequency of waste collection, as well as maintenance and cleanliness indicators per toilet. The team uses smart phones to scan QR codes on each toilet to collect and record data.
Figure 5: Waste Collectors using QR code
"This app has helped me and my team work more efficiently. I am able to easily track waste collection in all toilets and find quick solutions to those that have not been collected as I have access to all information on my phone," Crew lead
3. Digital Mapping
To further reach the underserved areas of informal urban settlements, Sanergy obtained aerial imagery of Viwandani, a sub area of Mukuru, a settlement with over 500,000 people. The aerial imaging technology, provided by Spatial Collective, enabled Sanergy to collect the total number of plots and sanitation facilities in the area as well as the contact details of all landlords. 52% of plots in Viwandani do not have a toilet facility within the compound. This means that most residents depend on public sanitation facilities where they have to pay-per-use. Furthermore, 20% of these plots have available space to set up an FLT. While FLTs make up only 5% of all sanitation options available, it is the most preferred among residents, according to Sanergy, serving over 100,000 people daily. Sanergy uses its combined digital tools to map out their placement of FLTs to be accessible to all, and to identify new customer segments.
Sanergy's impact
Sanergy has embraced the power that technology solutions have to offer and have managed to scale as a result. Sanergy is also developing a new app for users (beyond FLOs) which will be live by June 2020. Furthermore, Sanergy aims to reach 1 million people in Kenya by 2022 and scale operations throughout other African cities facing similar sanitation challenges by 2025.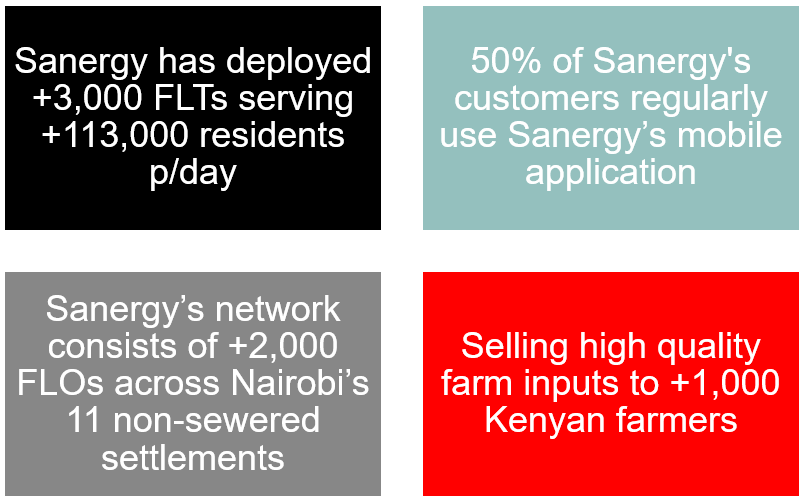 The GSMA Mobile for Development (M4D) Utilities programme is funded by the UK Department for International Development (DFID), USAID as part of its commitment to Scaling Off-Grid Energy Grand Challenge for Development and supported by the GSMA and its members.