The GSMA Ecosystem Accelerator team, represented by Gregory Omondi, was in Ghana between 25 and 29 November, 2019. The first of two objectives was to conduct a market visit for Agrocenta, one of the programmes portfolio start-ups based locally in Ghana. Secondly, to run a 'Start-up-mobile operator workshop' at the Tech in Ghana Conference, an event that brought together start-ups, mobile operators, investors, government officials, and other key players within the Ghanaian entrepreneurial ecosystem.
As the week presented opportunities to engage with several local ecosystem stakeholders, we thought we would share a few of our insights here and follow up from the last blog the team wrote in July 2018 on, 'A deep dive into the Ghanaian start-up ecosystem'.
Ghana's mobile market: The key trends shaping Ghana's digital landscape
A presentation by Kenechi Okeleke, Senior Manager at GSMA Intelligence, highlighted key trends shaping Ghana's digital landscape.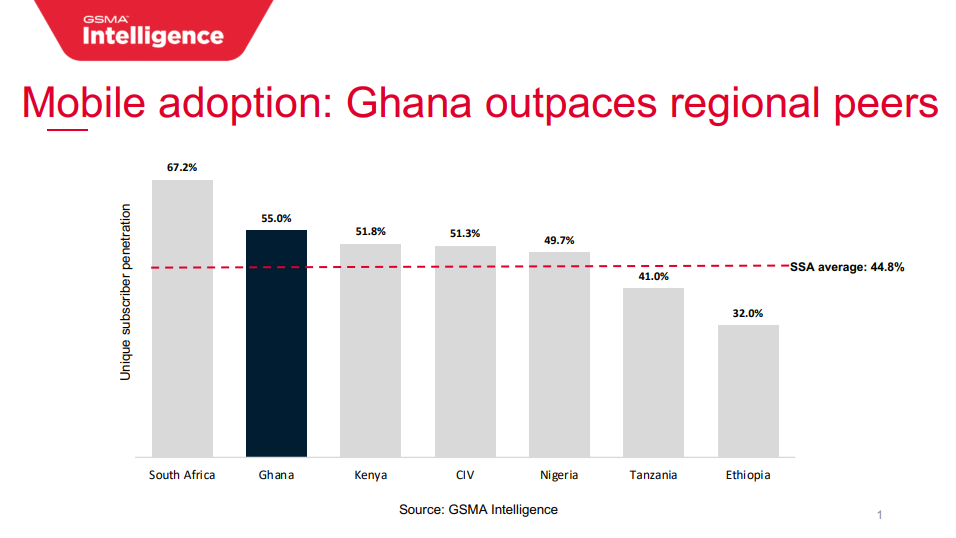 Ghana has the highest mobile penetration in West Africa and already outperforms many of its regional peers. By the end of 2019, mobile adoption stood at 55 per cent, higher than the regional average which is at 44.8 per cent. This means a huge number of people can be served through digital services, positively impacting the growth of the digital economy.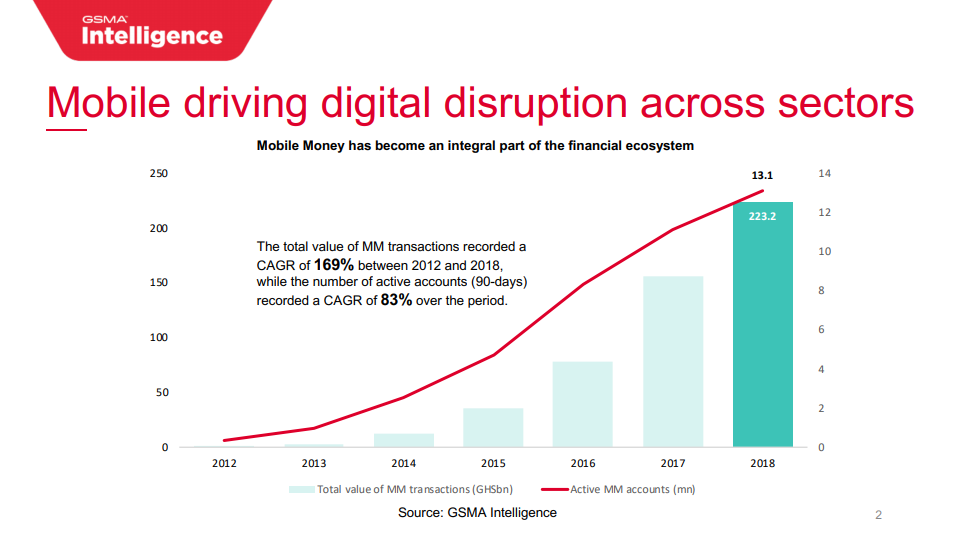 Mobile technology has had an increasingly disruptive impact on several sectors across the economy including financial services, agriculture, health, education, energy, transport and logistics. A case in point is the financial services sector where in 2018, more than GHS220 billion/$38.5 billion (169 per cent CAGR since 2012) worth of transactions were conducted using mobile money (according to the Bank of Ghana). There are 13.1 million active (out of 25 million registered) mobile money accounts. This figure is higher than the 12 million registered bank accounts indicating that mobile technology is playing a key role in supporting financial inclusion across the country.
As of the third quarter of 2019, Ghana counted 16.7 million unique mobile subscribers, 15.1 million smartphone devices and 10.7 million mobile internet users in the country (as of Q3 2019). 3G coverage accounts for 60 per cent of the total connections, 4G has started gaining traction and will overtake 2G services by 2023. 3G and 4G will account for nearly 95 per cent of total connections by 2025.
Today, MTN Ghana has opened their APIs. Not only does this benefit start-ups but also consumers using services offered by these start-ups. A direct API integration with an MNO like MTN could reduce the transaction cost for the start-ups.
The government's support of the Ghanaian tech ecosystem
Ghana's Deputy Minister for Communications, Honourable Vincent Sowah Odotei, highlighted several areas where the Ghanaian government is playing a positive role in improving the local tech ecosystem and in particular leading on infrastructure developments.
For instance, the Ghanaian government plans to launch five submarine fibre-optic cables, which will be instrumental in delivering high-speed internet services and advanced communication services to urban areas especially. This will definitely have a positive impact on the internet penetration in Ghana which currently stands at 64 per cent (as of Q3) according to GSMA Intelligence. The Deputy Minister shared his ambitious goal to have 95 per cent of the population connected by December 2020.
According to Ghana Web, the Ghanaian Vice President, Honourable Dr. Mahammudu Bawumia announced that Ghana will launch a Universal QR code in December 2019, in a bid to make Ghana a cashless society through an interoperable payment acceptance solution. Mobile operators have already started leveraging this opportunity. Abdul-Majeed Rufai, Senior Manager, Mobile Financial Services, MTN Ghana, mentioned that MTN Ghana plans to launch a QR mode of payment in Ghana early next year.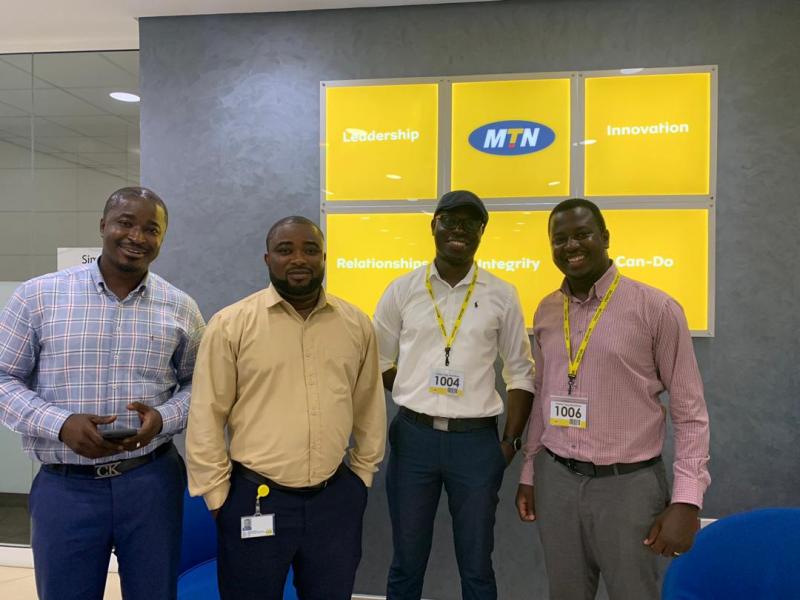 Agrocenta: Financial and digital inclusion for farmers in the rural areas
During our trip to northern Ghana, we spoke with farmers who use Agrocenta's mobile solutions. Some highlights from the interviews were that the Agrocenta platform offers easy routes to the market where commodities can be sold at competitive prices, capacity development and access to farm inputs.
AgroCenta is an online platform connecting smallholder farmers in the staple food value chain (rice, maize, millet and soybean) to a wider online market, It also provides access to truck delivery services along with real-time market information delivered to farmers' mobile phones via SMS and voice services. Through their Agropay service, farmers can now receive digital payments, build their credit score and access financial services. As of November 2019, AgroCenta has registered 46,100 smallholder farmers on the AgroTrade platform across four regions and 512 communities. Since launching AgroPay in January 2019, over 5,600 smallholder farmers in two regions (the upper East and Northern regions) of Ghana are now active on the platform.
One thing that stood out during the market visit was the extent to which Agrocenta's solutions tackle the UN SDG 5: Gender Equality. Through its PlantRite project, AgroCenta empowers women farmers in the northern and upper east regions to have access to land and thus become farm owners. By working with chiefs and opinion leaders at the community level, more than one thousand women have access to land to participate in agriculture and consequently now earn a living.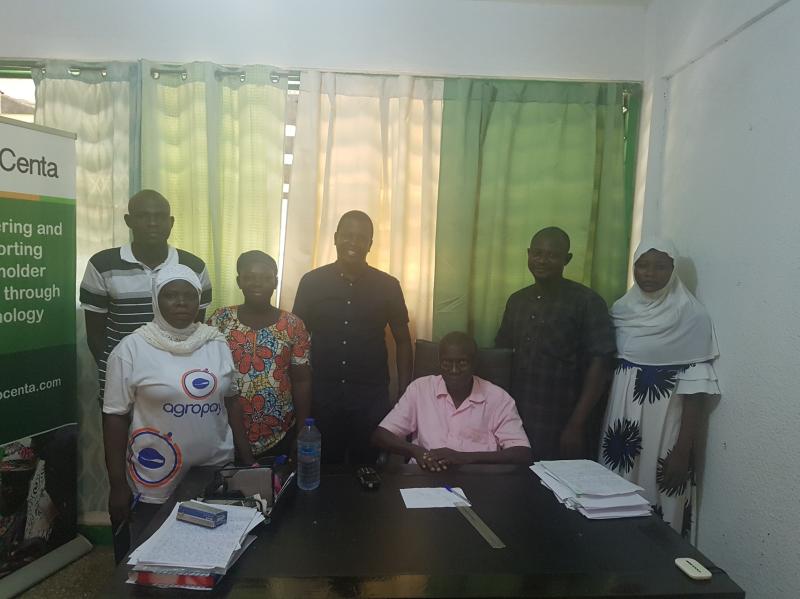 Start-up ecosystem builders: Insights into the Accra digital ecosystem
A market visit can never be complete without visiting the tech ecosystem builders. This time we visited Impact Hub, Stanbic Bank Incubator and Kosmos Innovation Centre (KIC) to get an overview of the tech ecosystem in Ghana, and the kind of support they give to start-ups in Ghana.
KIC's approach is impressive. They support young people who are interested in becoming entrepreneurs in the agriculture sector. Through their AgriTech Challenge, successful applicants, some of which have never had entrepreneurship experience, are provided with business and leadership training, mentorship and a support network. They are encouraged, through coaching and market research tours across Ghana, to take a fresh look at the agriculture value chain and to identify new areas of business opportunity.
The opportunities for entrepreneurs in the agricultural sector in Ghana are really huge. This perspective was echoed by Hon. Kwasi Etu-Bonde, Member of Parliament Kintampo North Ghana, on one of the panel discussions at the conference. He also highlighted that Ghana imports $1.3 billion worth of rice annually, which is a high demand that should be tackled by entrepreneurs.
To conclude, we would like to thank the organisers of the Tech in Ghana Conference Accra, and in particular Akosua Annobil (Founder, AB2020 and Tech in Ghana) for inviting us to participate and contribute to the event. Many thanks to the Agrocenta Team for a very successful market visit, and also taking time out of their busy schedule to help us meet relevant stakeholders in Ghana.
The Ecosystem Accelerator programme is supported by the UK Department for International Development (DFID), the Australian Government, the GSMA and its members.