In 2000, 51 per cent of the rural population in Burkina Faso had access to a basic water service. However, by 2017, this figure had plummeted to 35 per cent, leaving 10.5 million rural Burkinabés behind.
Uduma belongs to the ODIAL solutions group along with Vergnet Hydro (a well-established water pump producer) and forms public-private partnerships with national and local authorities to improve and operatepublic water services in rural areas. Uduma sells water from hand pumps and standpipes and verifies that the water quality is safe, and that pumps are serviced regularly. Uduma hires local women as caretakers, to manage the water points and collect payments. The company recognised that a key challenge to rural water service is establishing a robust maintenance model, funded (at least in part) by guaranteed collection of user payments. And this can be difficult when cash is collected in remote areas without a way to track sales.
In May 2017, Uduma was awarded a grant by the GSMA Mobile for Development Utilities Innovation Fund. Originally, Uduma planned to install and operate 700 manual water pumps in Southern Mali and manage these with a digital prepayment and sales monitoring system. However, due to delays in obtaining government clearance on tariffs for drinking water infrastructure, the grant project was relocated to Burkina Faso in five rural regions. Thus, the project ultimately focused on applying the technology to Uduma's existing water points – which in Burkina Faso included both standpipes on piped water schemes, as well as manual handpumps. Later in the grant, Uduma was able to return to Mali to deploy the technology to new water points, although the results and insights shared here primarily relate to Burkina Faso.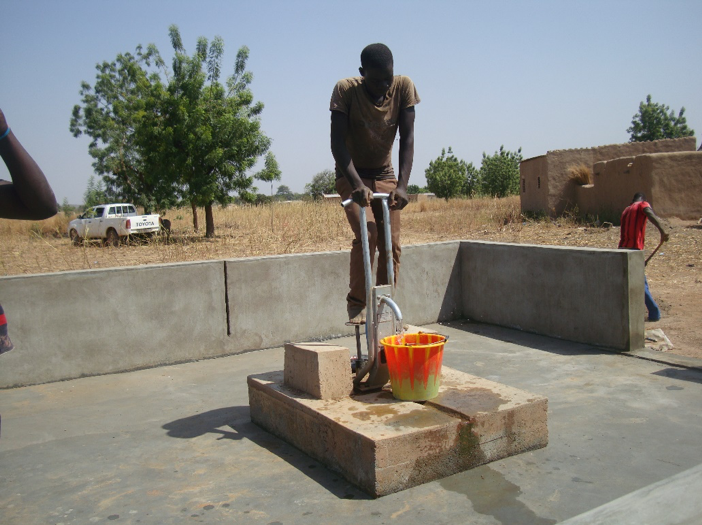 Uduma's digital water payment and sales system
Through the grant, Uduma introduced a digital pre-payment and sales tracking system with both online and offline functionalities. In this system, each water point caretaker is equipped with a hand-held point of sale device, called a Famoco, and uses this to deduct credit from customers' NFC cards, so that water payments are cashless and tracked. The Famoco device is GSM-enabled for remote communication,  but can also work offline in areas with poor GSM coverage, however it has less functionality than a phone, so that it has limited re-sale value. Uduma and its customers use the technology as follows:
Customer registers for an NFC card with water point caretaker;
Customer tops-up NFC card with digital water credit through two possible methods;

Customer gives cash to water point caretaker who uses the Famoco device to transfer credit to NFC card
Customer makes a mobile money payment to Uduma/water point caretaker via merchant account, then caretaker uses Famoco to transfer credit to NFC card;

Customer purchases water by presenting their NFC card with water credit to water point caretaker who deducts the amount corresponding to the number of jerrycans purchased; and
The water point caretaker sends sales data from the Famoco device to Uduma daily by moving to an area with strong GSM network (if needed) and syncing the device. Area managers make periodic visits to water point caretakers to collect a back-up of data as needed, by extracting the Famoco data to a USB drive.
Results from the grant
As of February 2020, Uduma established 244 water points in Burkina Faso and 30 water points in Mali (including manual handpumps and standpipes) with caretakers using the Famoco devices to facilitate digital payments and to send Uduma regular data about water sales. Through this pilot, Uduma was able to impact over 13,400 consumers with improved water services. Although there was limited time to quantify consumer impacts due to the challenges discussed in the insights section below, the early evidence of impact on Uduma's consumers and water service includes the following:
Consumers gain convenience and comfort with NFC cards: For customers, the cashless payment for water saved time, reduced risks associated with cash transactions at the water point (e.g. loss of cash, or embarrassment of not having enough cash) and allowed households to better anticipate and regulate water consumption over time. The NFC card also meant households could delegate water collection to a third party, or children, instead of risking cash. (Although a frequent practice, water collection by children is concerning when it comes at the cost of schooling.)
Decreased cost of water through ability to charge exact amount: The cashless payments allowed Uduma to charge the exact tariff for water (as set by government) because cash payments were restricted by the coin denominations, and this decreased the cost for users. For example, a tariff of 500 FCFA per m3, translates into 11.5 FCFA for a 23-litre water jerrycan. In practice however, only a 5f and 10f coin exist, so the customer would have to pay 15 FCFA. With the NFC cards storing digital credit, Uduma is able to charge the exact tariff, meaning a 23 per cent drop in cost for users in this example.
New data on water consumption for Uduma: The pre-paid NFC cards and water point data provide Uduma with key information to better manage and plan their services. For the first time they have access to household information when customers register for cards, and they can pair this with how much water is consumed (based on purchases registered through the Famoco), which is valuable for Uduma and the government to plan and price appropriately.
Efficiency through mobile money: Uduma trained customers on topping-up their NFC card with mobile money. While customer adoption of mobile payments faces challenges and may require incentives (see below), Uduma was ultimately able to achieve 36 per cent of customer top-ups via mobile money. The biggest improvement for Uduma is that now all revenue is collected via mobile money, as water point caretakers send bulk cash collections via the merchant accounts. Previously mobile money was only used occasionally through personal accounts (which have a higher transaction fee) or via local banks.
Uduma is highly enthusiastic about these early impacts and is scaling their solution across Burkina Faso and Mali.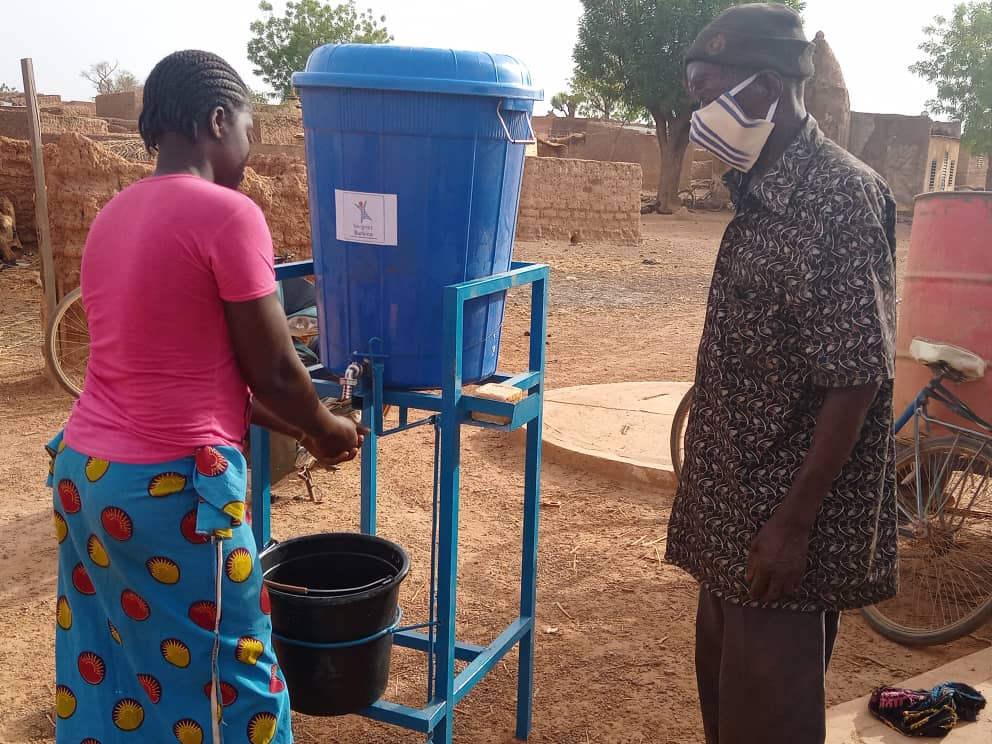 Insights from the grant
As Uduma expands their digital payment and tracking system, they're taking into consideration some of the important things they learned during this pilot related to hardware, software, staff training, willingness to pay and implementation of mobile money. The pilot was highly ambitious considering that, in many areas, they had to generate local buy-in for a paid and well-maintained water service, whereas previously there had been low willingness to pay for hand-pump services, and there were alternative (but unsafe) water sources available. Additionally, mobile network coverage, and existing mobile money adoption were limited. On top of this, many of Uduma's staff and customers were unfamiliar with mobile technology and the Famoco devices. Altogether, these challenges take significant time and resources to overcome, as detailed below.
1. Generating willingness to pay for water is possible, but takes time and an intentional approach
Historically, many of the communities Uduma serves were accustomed to free water services, though accompanied by frequent breakages, or at unsafe sources. Uduma worked with national and local governments, plus local NGOs, to set tariffs and build confidence in a paid service by demonstrating it would lead to an improved quality and level of service. Still, it was especially hard for local water point caretakers to enforce the new payments within their community. Uduma hired outside, but local NGO workers to raise community awareness of the new system and enforce payments. However, when engagement activities with the NGO workers stopped, payments declined, and Uduma had to re-instate them for more training.
Ultimately, in order to build willingness to pay, and a financially viable business, Uduma points to three requirements:
Exclusivity: All water sources in the contract area should be managed by one operator to create an economy of scale.
Visibility: Preventive and curative maintenance, as well as water quality checks should be visible to the community to create appreciation for the service.
Long-term investment in attitude changes: A continuous flow of information to consumers and open communication lines with water point caretakers is essential for trust in the service.
2. Long-term training and incentives are important for deploying new technology that requires behaviour change
As mentioned above, local NGO workers were used to help train communities and water point caretakers – not only on the need for payments, but on using the new Famoco devices and NFC cards. Similarly, the initial scaling back of NGO workers led to issues. The water point caretakers did not reliably move to strong GSM-network areas to sync their devices, so Uduma didn't always receive data. This required more training on the importance of sending data, and incentives such as free internet credit or additional payments. Uduma also eventually gave incentives to consumers (i.e. a small credit for water) for registering an NFC card, in order to further encourage adoption of the digital payment system.
Software and hardware issues also presented challenges in the initial roll-out of the systems, which caused a loss of data collected when customers registered for a card.
3. Mobile money barriers must be overcome, but there's value for service providers and MNOs
Customer adoption of mobile money was also a significant hurdle for Uduma. In rural areas, women and children, who are often responsible for water collection, may not have mobile phones. For those who have phones, mobile network coverage was inconsistent, which was part of why customers didn't easily trust mobile money, and found it challenging. Additionally, in order to activate a mobile money account, rural users had to travel to nearby cities due to know-your-customer (KYC) requirements, delaying adoption. All of these combined meant customers had a strong preference for paying with cash.
Similar to the strategy Uduma applied to get consumers to register for NFC cards, they used incentives to encourage payments via mobile money (although customers still had the choice to top-up cards with cash). As noted above, this eventually led to 36 per cent of payments being made by mobile money. However, Uduma recognises this is not sustainable in the long-term as there's a cost to providing free water. Meanwhile, the use of merchant accounts for caretakers to send bulk cash collections has been a big improvement.
The pilot demonstrates that organisations like Uduma are important partners for MNOs and invest heavily in mobile money adoption. Uduma was able to grow the footprint of mobile money in rural areas and embed this in their own business operations. For a mobile operator, introducing mobile payments to rural consumers for such an essential service as water, can create a very important use case for mobile money, and very likely a 'stickiness' and increase in other mobile services.
The GSMA recently demonstrated evidence of this for an adjacent industry in our report, 'The Value of Pay-as-you-go Solar for Mobile Operators'. Across five countries we saw pay-as-you-go (PAYG)  solar customers increase their use of mobile money when they started using the new energy service, and grow their mobile money usage for other services as well.
In the case of both new solar and water services for rural households, mobile operators can benefit by building a positive brand image with these customers and learning new consumer insights as they regularly access the service through the mobile operator's platform.
Uduma's next steps and response to the COVID-19 crisis
In 2017, the WHO/Unicef Joint Monitoring Programme report revealed that three billion people still lacked basic handwashing facilities at home,1.6 billion had limited facilities lacking soap or water, and 1.4 billion had no facility at all. This is a cause for extreme concern, particularly during a pandemic. In Burkina Faso, 51 per cent of the rural population does not have access to handwashing facilities.
Scaling up water, sanitation and hygiene services is paramount in fighting the spread of COVID-19 and preventing deaths. As a response, Uduma has initiated the 'clean hands' campaign, which involves the deployment of foot-operated hand washing points near its water stations across rural Burkina Faso, where over 71,000 users are now benefiting from Uduma's handwashing facilities. By the end of July, this service will have reached over 200,000 people.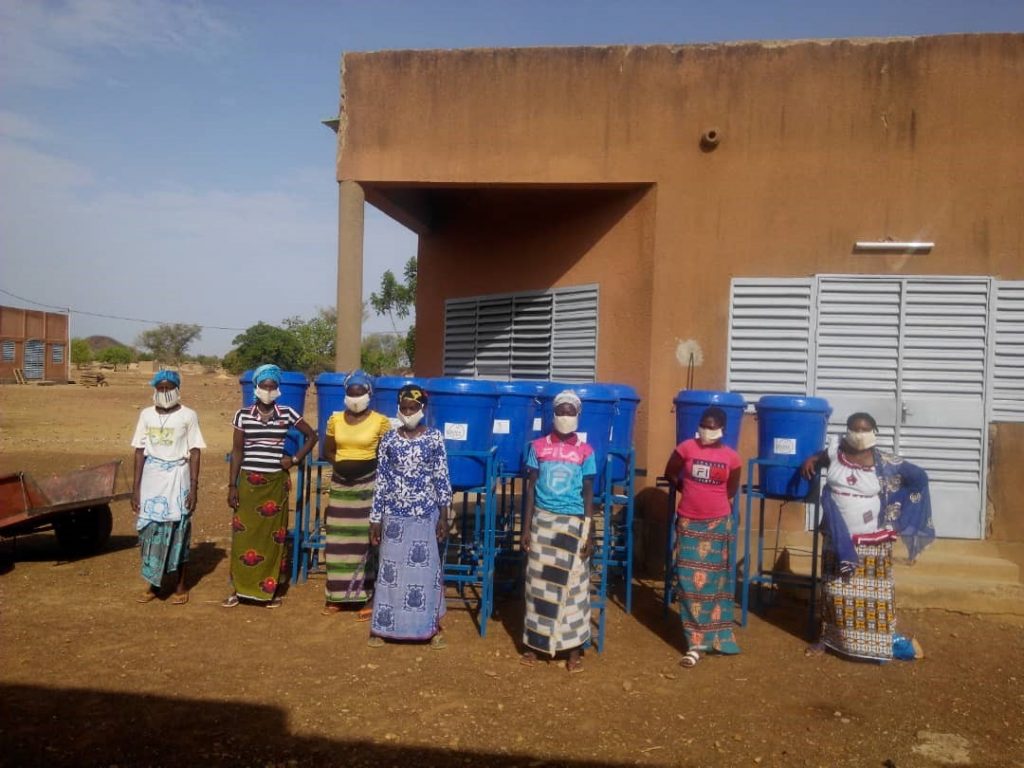 Uduma's cashless payment system also plays a crucial role in slowing the spread of the virus by reducing the handling of cash and allowing for social distancing.
Uduma remains committed to scaling their digital water payment and tracking system across Burkina Faso and in Mali. Along with other water providers, Uduma has joined a consortium, called Uptime, to share evidence for how digital payments and data collection can support results-based financing models for reliable water services. From our experience at the GSMA of supporting digital water solutions, we're highly enthusiastic about this approach, and look forward to working with Uduma and others on scaling these solutions.
The GSMA Mobile for Development (M4D) Utilities programme is funded by the UK Department for International Development (DFID), USAID as part of its commitment to Scaling Off-Grid Energy Grand Challenge for Development and supported by the GSMA and its members.