In a previous blog, we found that last mile digitisation has been gaining traction in Uganda, with initiatives focusing on the onset of payments. Here, we are taking a closer look at the status of last mile digitisation in Côte d'Ivoire, following the release of the second in a series of three country-focussed reports that highlight pathways to digitising the agricultural last mile.
The agriculture sector is crucial to Côte d'Ivoire's economy and to the livelihoods of its citizens. In addition to being the primary source of employment, agriculture contributes 21.2 per cent to the country's total GDP, and has fuelled the recent expansion of export revenues. Among the major export commodities, cocoa (including cocoa beans and processed cocoa) claims 50 per cent of total exports. Cocoa has taken centre-stage in early efforts to digitise the so-called agricultural last mile, which can be described as the web of relationships and transactions between buyers of crops such as agribusinesses, cooperatives and middlemen, and the farmers who produce and sell their crops.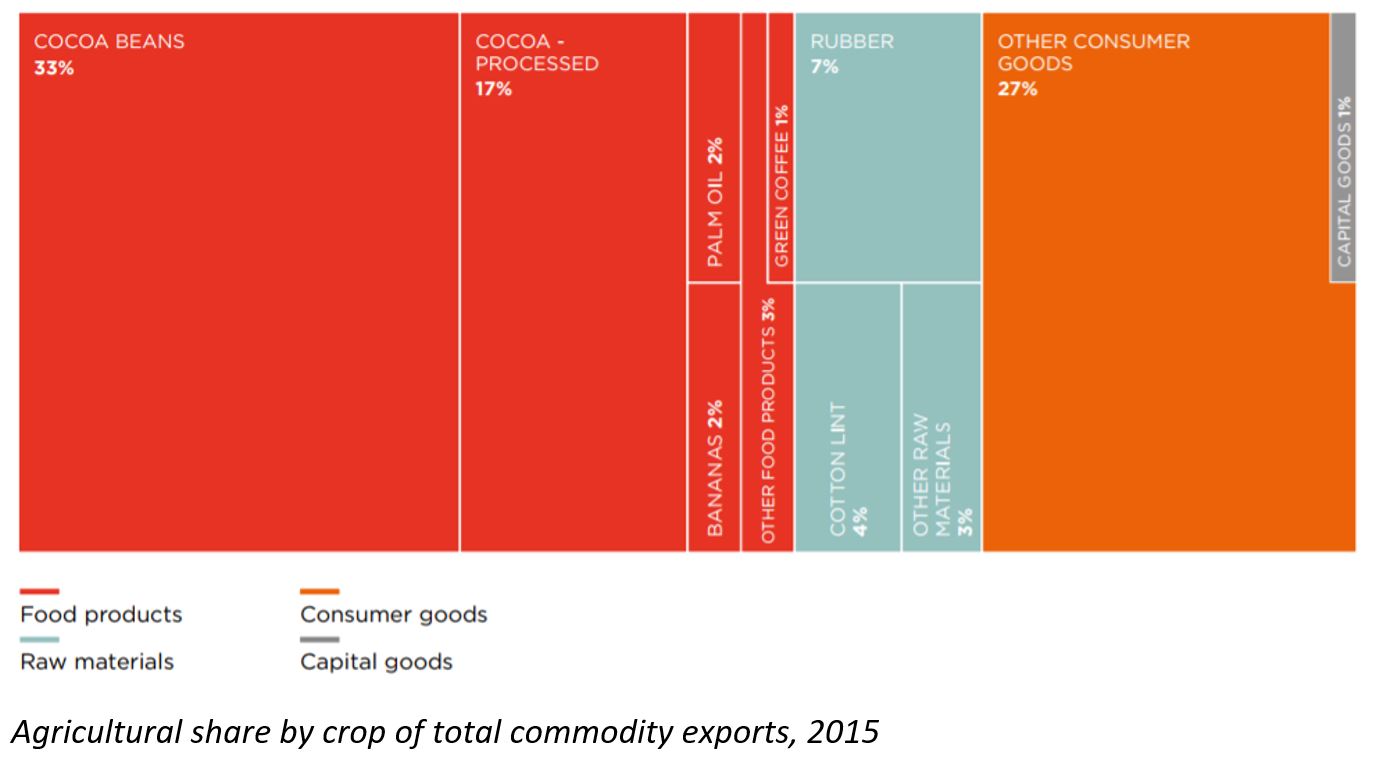 What is the focus of last mile digitisation in Côte d'Ivoire?
In our latest study we explore four ongoing initiatives of last mile digitisation from Côte d'Ivoire. Two of these initiatives are savings accounts offered by financial institutions, Advans Côte d'Ivoire and the Société Ivoirienne de Banque (SIB) respectively, in partnership with Mobile Network Operators (MNOs). In both initiatives, the bank offers previously unbanked farmers – members of cocoa cooperatives – access to remunerated savings bank accounts. The digital solution then includes integration with a MNO's mobile money service to allow farmers to cash out their savings via the mobile money account.
Alongside digital financial solutions, we have also seen examples of agricultural last mile supply chain efficiency solutions, where agribusinesses such as Olam and Barry Callebaut, have deployed digital tools that facilitate collection and analysis of farmer data. Drawing on resources supplied by a specialist software firm or utilising in-house capabilities, these agribusinesses have led the development of digital enterprise tools that meet organisational objectives to:
Optimise last mile operations and drive ongoing sustainability initiatives;
Roll out certification and traceability schemes;
Build farmer group and field agent capacity; and
Deliver targeted information to farmers in a cost efficient and systematic way.
Across the four initiatives that we have researched in Côte d'Ivoire, the last mile digital solutions were developed by stakeholders other than the MNOs (i.e. third parties), such as the financial institutions and the agribusinesses, using MNO core assets, such as connectivity and mobile money.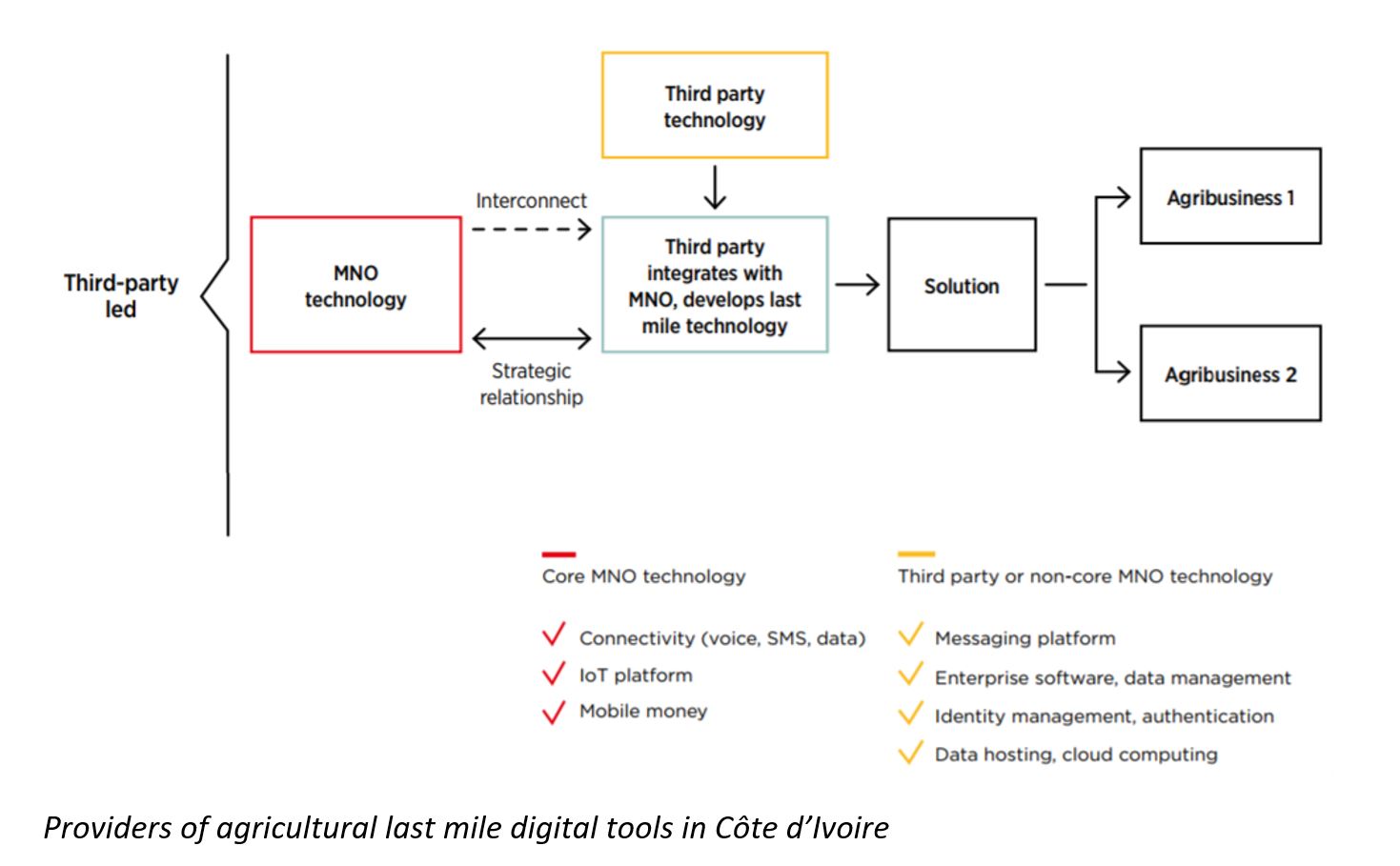 What have been the benefits of digitisation?
In Côte d'Ivoire, digital financial services (DFS) address farmers' needs for credit by allowing them to overcome the barrier of accessing formal financial services. In addition, DFS help even out irregular cash flows resulting from the seasonal nature of agricultural production by offering farmers access to savings accounts at a formal financial institution. Once farmers enter the digital ecosystem, they can benefit from other mobile money-powered products and services that have resulted from Ivorian MNOs' investment in supporting mobile money to reach its socioeconomic potential.
For a cooperative, implementing a digital financial solution can serve to strengthen relationships with its members, thus promoting farmer loyalty (having farmers returning to sell their crop) in a competitive marketplace. In parallel, digital financial solutions mitigate the cooperative's cash handling risks and may lead to membership growth as a result of positive word-of-mouth. For the financial institution, the partnership with the MNO offers a gateway to footprint expansion in low-density, rural locations at a profitable scale by penetrating previously untapped customer segments. For the mobile money provider, integration with the bank stimulates flow of money into the ecosystem and growth on the number of mobile money transactions. Besides, the MNO benefits from new SIM registrations and new mobile money account creation.
The last mile supply chain digital solutions developed by the agribusinesses allow for monitoring and optimisation of last mile operations, communication with farmers and rollout of traceability and sustainability programmes. Demand for sustainable cocoa in developed markets has hit an all-time high, making some of the largest chocolate manufacturers commit to sourcing 100 per cent fully certified sustainable cocoa by 2020. Commitments of this type extend to upstream actors in the supply chain, which seize the opportunity to replace pen-and-paper data collection with digital tools in the deployment of sustainability programmes.
For farmers, agribusiness-run, last mile digital solutions offer empowerment through transaction transparency and clear terms of trade thus building a fair environment where farmers can supply their produce. Additionally, last mile digital solutions can enable access to reliable information and effective training programmes which, when combined with new lines of credit, allow farmers to invest in their farms and improve productivity and overall crop quality.
Following our market-level reports on agricultural last mile digitisation in Uganda and Côte d'Ivoire, keep an eye out for our forthcoming study on Ghana.
This project was funded with UK aid from the British people.