On 10 November the GSMA Ecosystem Accelerator team was invited to judge Seedstars Nairobi's pitching competition. Eleven start-ups representing multiple sectors, such as insurance, health and transportation, participated. Here are our three main takeaways from the event.
1. Mobile-driven innovation enables start-ups across all sectors to scale rapidly
Eight out of eleven start-ups that pitched at the Seedstars Nairobi event leverage mobile technology to deliver products and services to their end-users. For example, Brilliant Pay has integrated mobile operator APIs to process mobile money payments for small businesses with an online presence. BuuPass, the winner of the $1 million Hult Prize in 2016, has built a USSD-based payment platform to facilitate seamless payment collection for bus and rail companies. Within less than two months of product launch, Buupass has generated about $10,000 in revenue and completed over 55,000 payments.
The combination of mobile technologies used by start-ups reflects a mixed strategy linked to the type of customers targeted. Products and services targeting middle-income urban populations seemed to lean more toward web and mobile apps. For example, ConnectMed, a telemedicine provider that partners with pharmacies in urban areas, has built a platform that leverages mobile data and smartphones to virtually connect patients with doctors. However, in most other cases, especially when the targeted customers are in rural areas, different mobile technologies such as SMS, USSD and IVR were preferred (see our latest report looking at how start-ups in emerging markets are using USSD technology).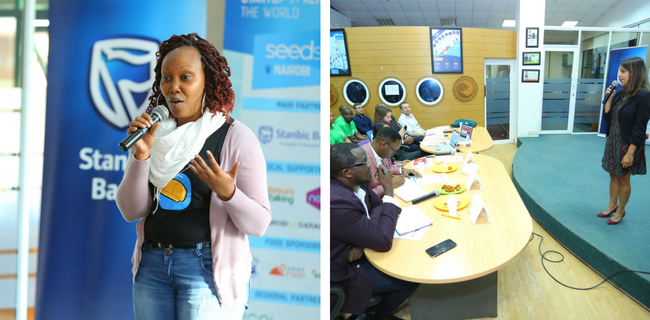 2. More female founders represented on stage
Five out of eleven start-ups that pitched at Seedstars Nairobi are led by a female founder or co-founder. This is in huge contrast to the global numbers showing that only 17 per cent of start-ups have at least one female co-founder. Figures we collected through our Innovation Fund are however showing a more positive trend. Among the top 100 start-ups that applied for the second round of the Ecosystem Accelerator's Innovation Fund, 25 per cent have been founded or co-founded by women entrepreneurs. This percentage rises to 71 per cent when we looked at start-ups that have women in their management teams. Both these ratios rose comparably to our 2016 figures of 13 per cent and 69 per cent respectively.
According to research backed by the Clinton Foundation, four of the top five countries with highest rates of women entrepreneurship are in Sub-Saharan Africa. In Nigeria, 41 per cent of women are reported to be entrepreneurs compared to 6 per cent in the UK. These numbers could reflect the high levels of unemployment in developing countries leading to a wave of entrepreneurship across Africa's largely young population.
We expect more women to play an active role in shaping the entrepreneurial landscapes in Kenya and Sub-Saharan Africa in the coming years, more so as the digital gender gap continues to close.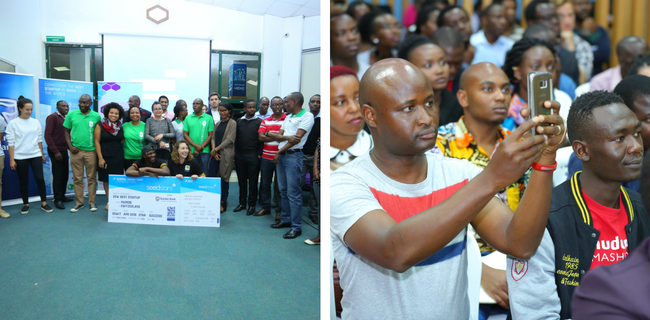 3. Everybody is a winner
M-Shule took the main award from the Seedstars Nairobi competition with their SMS learning platform targeting school attending students and schools.  M-Shule will now have the opportunity to represent Kenya at the Seedstars Africa Summit in Maputo and at the Seedstars World finals in Switzerland for up to $1 million equity investment.
The Seedstars Nairobi event provided an opportunity for start-ups to share their work with an enthusiastic group of investors, mobile operators such as Safaricom's Kevin Mwasigwa (Strategy and Innovation division), and other relevant ecosystem stakeholders.
Building win-win partnerships between start-ups, mobile operators and other stakeholders will remain a key priority to bridging gaps in Kenya's entrepreneurship space. The Seedstars Nairobi start-up competition clearly demonstrated the multifaceted approach required to solve some of these challenges while presenting an opportunity to build linkages between these stakeholders beyond the scope of the event.
We would like to end this blog post by congratulating and thanking the Seedstars Africa team for convening this event and more specifically Claudia Makadristo, Fanny Dauchez and Annis Kallel for inviting us to participate.
The Ecosystem Accelerator programme is supported by the UK Department for International Development (DFID), the Australian Government, the GSMA and its members.