The problem
Asia is one of the most disaster-prone regions in the world, but organizations still have trouble adopting decision support tools because of the challenge to collect & aggregate the right data, getting the right set of tools, and affording the right solution.
In the recent Global Climate Risk Index (CRI) conducted by Germanwatch, The Philippines ranked 4th in the world as the most affected country by extreme weather events.
With an average of 20 tropical cyclones entering the country — at least five of which can be destructive — Filipinos are always finding ways to protect themselves and their properties from disasters.
In December 2021, nearly 8M people were affected by Tropical Cyclone Rai with compounding effects due to COVID-19. The typhoon made its first landfall over Siargao Island, Surigao Del Norte leaving the popular surfing and tourist destination totally devastated. A total of 173,664 people were affected with an estimated damage of 20 billion pesos.
The company
Komunidad is a Singapore and Philippines-based B2G & B2B Software-as-a-Service company that focuses on Data and Analytics for Climate Resilience and Sustainability, helping governments and companies to manage climate risk and optimize for the low carbon future.
Komunidad's products and solutions are designed to enable businesses and communities in Asia to build and deploy their own decision support tools more effectively and sustainably to strengthen climate resilience and build the data foundation to enable climate action.
Project description
This project aims to empower the local government and low-income and vulnerable communities in Siargao Island, Philippines, which were devastated by Typhoon Rai last December 2021. Now is the time to take advantage of a data-driven approach that integrates environmental intelligence, early warning systems, and mobile dissemination putting vulnerable communities as its primary focus.
Within 2 months the system can be ready for implementation, and within 15-18 months the system can rapidly scale from municipalities to the whole province. The desired impact is to strengthen Climate Resilience and empower the community with preparedness information delivered in ways that adapt to culture and technology.
While we have an existing Climate Resilience tools, there will be customizations to adapt to the risk context in the Siargao communities. There will also be high focus on ground activities such as capacity building, education training, and onboarding using onsite and online approaches to guide user adoption.
Founders
Felix Ayque – CEO and Founder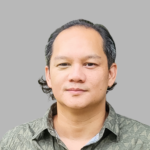 Allister Ayque – Chief Operations Officer
Message from the Founder
"The objective of the project is to have a digital inclusion that focuses on the climate resilience of Siargao Island and its coastal areas.
Using the latest technologies in telecommunications, information technology, meteorology and data science, it's now possible for vulnerable communities anywhere in the Philippines to have their own comprehensive climate resilience center that can be set up in just a few minutes without buying multiple systems and expensive monitoring equipment."
Organisation size
13 staff members