Part I
What is the value of pay-as-you-go solar for mobile operators?
Our multi-country analysis quantifies the value for pay-as-you-go (PAYG) solar models for mobile operators and demonstrates the impact it has on consumer and user behaviour.
Pay-as-you-go (PAYG) technologies, combined with mobile payments, have enabled a new wave of consumer asset financing for low-income customers. PAYG locking technologies, built on machine-to-machine communication, enable service providers to manage credit risk for low-income and unbanked customers. While the growth of mobile money has enabled cost-effective payment collection from remote customers. PAYG solar has emerged as one of the strongest use cases for this technology, and the sector has matured from a handful of pilots to a global industry in under a decade.
The synergies between mobile operators and PAYG solar providers have been clear from the start. Mobile operators provide the fundamental ingredients for PAYG through mobile money and connectivity. On the other side, PAYG solar boosts operator revenues from mobile money transactions and other services.
1
Introduction
A multi-country, multi-operator study in Africa
Part II
The rapid growth of pay-as-you-go (PAYG) solar has been enabled by mobile money and mobile connectivity that allows customers to pay by instalments, and companies to remotely control and monitor the solar home systems (SHS). And in turn, the PAYG solar industry has helped to drive the adoption and use of mobile money, by giving customers a regular and essential use case, and ensuring they have a convenient and safe power source to charge their phones.
This research focuses on the African continent where most of the mobile money enabled PAYG solar units have been deployed.
Taking a multi-country and multi-operator approach, data was collected from several mobile network operators (MNOs) across West Africa (Benin and Cote d'Ivoire), East Africa (Rwanda and Uganda), and Southern Africa (Zambia).
It was important to assess if the value measured differs greatly from one country to another, or if trends were consistent across different contexts and geographies.
Select a country on the map to display key mobile indicators
Uganda
Benin
CÔTE D'IVOIRE
Rwanda
Zambia
2
Methodology
A simple, four-step analysis
Part II
We conducted a four-step analysis that examined indicator data aggregated by cohorts of customers over time and compared this between groups of PAYG customers and non-PAYG customers.
Grouping of cohorts

Cohort groups were formed from the mobile subscribers that started using the PAYG service in the same month during an 18-month period.

Measurement of indicators

For each subscriber, the data came from 12 months: The six months before, and the six months after, the customer started using the PAYG service. Data used from mobile operator records included mobile money activity, mobile phone usage and MNO revenue.

Control group definition

To confirm that the impact was likely caused by the introduction of PAYG and not by external factors, the same methodology was also applied to groups of clients that did not enroll in a PAYG service but had a generally similar customer profile as the other group.

Measurement of Impact

The analysis of impact incorporates looking at changes both over time and between groups for each indicator.
3
Mobile money insights
PAYG solar customers increase their frequency of mobile money transactions
Part II
In every country we observed a dramatic increase in the frequency of mobile money transactions right after clients started using PAYG solar services.
Frequency of mobile money transactions in Benin before and after adoption of PAYG SHS
Each line represents a different cohort of PAYG SHS users
NUMBER OF MOBILE MONEY TRANSACTIONS PER USER PER MONTH (NORMALISED)
month relative to the adoption date of payg shs
Frequency of mobile money transactions before and after adoption of PAYG solar vs control groups in four markets
Côte d'Ivoire
Rwanda
Uganda
Zambia
All countries
FREQUENCY OF MOBILE MONEY TRANSACTIONS (PER MONTH NORMALISED %)
month relative to PAYG adoption
4
Mobile money insights
Transaction frequency increases for transactions beyond energy
Part II
Data from multiple MNOs shows that the increase in mobile money transactions reflects broader usage of mobile money, not just for solar payments.
Frequency increase per type of transactions before and after adoption of PAYG solar
FREQUENCY OF MOBILE MONEY TRANSACTIONS (PER MONTH NORMALISED)
Key
Solar
Cash-in
Person-to-person
Merchants
Cash-out
Others
5
Mobile money insights
PAYG services bring value into the digital ecosystem
Part II
The type of transactions – cash-in, cash-out, merchant payment, person-to-person payment, airtime purchase – all grew more for the PAYG group compared to the control group.
Increases in person-to-person transactions reinforces the point that PAYG adoption drives mobile money usage across transaction types, and that more value is circulating in the digital ecosystem.
Increased frequency of cash-in
Merchant payments
P2P payments
Cash-in
Cash-out
Airtime purchase
6
Mobile money insights
The adoption of high-value financial products in Uganda
Part II
In Uganda, the mobile operator collaborated with a national bank to launch advanced financial products, including savings and loan services.
PAYG customer cohorts increased their use of advanced financial products at a higher rate than the control group.
The adoption of advance financial products is encouraging as it demonstrates that PAYG can accelerate customer journeys towards financial inclusion.
Increased penetration rate of lending and savings products
Lending Users
Saving Users
Both products
month relative to PAYG adoption
7
Mobile money insights
PAYG attracts new and previously inactive users
Part II
PAYG providers play an important role in driving mobile money penetration and providing customer education on mobile money in remote rural areas.
In Zambia and in Rwanda, roughly one-third of the PAYG clients registered or reactivated mobile money accounts with the selected mobile operator.
In Uganda and Benin, this figure was roughly one-fifth. In Uganda, this was despite mobile money taxation policies introduced over the course of the study, which did decrease mobile money adoption, as shown in the UNCDF study.
Proportion of PAYG customers that newly subscribed to, or re-activated, their mobile money account with selected MNO
8
Mobile money insights
PAYG solar may increase data usage, and opens the door to PAYG smartphones
Part II
Increasing mobile internet usage is a high priority for mobile operators seeking to stimulate phone activities among their clients. The penetration rate of internet service among PAYG users was used to assess this.
Further research is needed to understand the exact reason why PAYG impacts data usage. However, it could be related to customers being able to charge phones more regularly, or as a result of improved digital literacy from using PAYG services.
Energy providers can, and want to, leverage their customer relationship to continue to offer services after a customer has completed the payment on their first solar home system. PAYG smartphones, associated with increased mobile usage, are a good example of this trend and are developing fast in those markets.
Mobile internet penetration rate before and after adoption of PAYG
Côte d'Ivoire
Uganda
Both countries
month relative to PAYG adoption
9
Mobile money insights
PAYG is driving new revenue streams for mobile operators
Part II
MNOs Average Revenue per User (ARPU) provides a granular view of individual customer behaviour, and allows mobile operators to track revenue sources and growth.
Mobile operators, particularly in emerging markets, have continuously tried to raise ARPU by launching new service offerings, building more strategic partnerships, and tapping into new revenue streams. The PAYG industry represents such a strategic opportunity.
Overall, PAYG adoption appears to amplify the market trend of rising data and mobile money revenues, further catalysing mobile operators' transition from a reliance on airtime as a main revenue source.
Overall mobile ARPU increase from PAYG subscribers vs control group
Mobile Money
Data
Voice & SMS
Overall
10
Conclusion
Future opportunities for the PAYG model and for strengthening partnerships with mobile operators
Part II
PAYG solar significantly drives mobile money adoption and transaction frequency, not only for solar payments, but for a broader range of transactions, therefore acting as a catalyst for digital and financial inclusion. The study also shows that PAYG solar clients are important for mobile operator ARPU, not only by increasing mobile money usage but also voice and SMS activities and mobile internet usage.
PAYG models have expanded beyond the household solar kit use case. The full value of this opportunity for mobile operators may lie just ahead, as PAYG models are being rapidly expanded to broader energy appliances, and to other service models. Increasingly, PAYG solar companies are financing other appliances like smartphones and seek to impact income generation through agricultural infrastructure like water pumps and processing machinery. PAYG models are also permeating urban services like clean cooking through PAYG LPG and piped water services.
For the mobile industry, we hope these findings support three key actions toward PAYG partnerships:
For mobile operators already working with PAYG solar providers, there's a need to look at how deeper collaboration with these partners can further drive these mutual benefits;
For all mobile operators, investing in mobile money as a full business platform is essential to attract innovative service providers, and allow them to quickly and affordably put it to work; and
For all mobile operators, they can gain unique business intelligence on their partnerships from their data.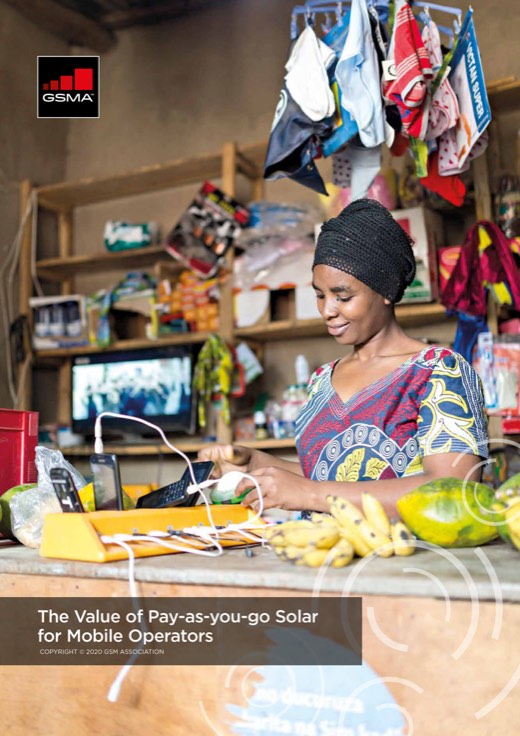 The Value of Pay-as-you-go Solar for Mobile Operators
This initiative has been funded by UK aid from the UK government and is supported by the GSMA and its members. The views expressed do not necessarily reflect the UK government's official policies.