Ecosystem Accelerator
Realising the potential of mobile innovation at scale
Our mission is to build synergies between start-ups and mobile operators, with the aim to scale innovative and sustainable mobile services in emerging markets.
Despite an increasing number of mobile products and services in emerging markets, reaching scale is still a challenge for most. The GSMA Ecosystem Accelerator works to bridge the gap between operators and innovators, enabling strong partnerships that support the growth of commercially sustainable mobile products and services.
By opening the dialogue between innovators and operators, the programme helps operators contribute their assets and expertise to the most promising ideas. This will in turn support innovators to secure the funding and direction they require in order to bring their products and services to scale.
In fostering these partnerships, we can bring the most impactful mobile solutions to the people and places that need them most, generating the greatest socio-economic impact.
Latest Publications
Document
Thursday 20 Oct 2022 | Climate | Ecosystem Accelerator | Frontier Technology | Indonesia | Mobile access and use | Mobile for Development | Mobile Innovation Hub | Report | Resilient technology | Resource |
The report presents an overview of the current use of mobile-enabled technology solutions in Indonesia, investigates barriers encountered that hinder the adoption of solutions, and explores the potential approaches to unlocking novel climate responses.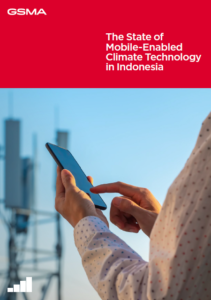 The Ecosystem Accelerator programme is supported by the UK Foreign, Commonwealth & Development Office (FCDO), the Australian Government, German Federal Ministry for Economic Cooperation and Development (BMZ), the GSMA and its members.