Emerging from the convergence of innovations around the Internet of Things, cloud computing and mobile financial services, the pay-as-you-go (PAYG) solar model is increasingly impacting lives around the globe. The model is on its way to achieving scale, with close to 800,000 home solar systems having been installed, and an average of 40,000 new systems installed per month. It has attracted more than $360 million in investment over the past four years, an unprecedented amount for the off-grid energy sector.
Using the learnings from Mobile for Development (M4D) Utilities Innovation Fund case studies and general industry trends in energy, water and sanitation sectors, our new report focuses the central mobile elements of the model. It investigates how mobile can further support the emergence and sustainability of innovative utility models, how partnerships with mobile operators can facilitate deployments and how service providers and operators can sustain growth. The reports uncover four key lessons:
A growing PAYG footprint:
Growth in solar PAYG is occurring in both existing and new markets. Steadily growing in East Africa, solar PAYG sales are also making good progress in West Africa and South Asia. However, as it is estimated that two thirds of the 1.2 billion off grid population covered by mobile networks, the addressable market remains largely untapped. In Kenya, where PAYG sales total between 450,000 to 500,000 units, we estimate that the current customer base still represents only a fraction (<8 per cent) of the country's addressable market (about 32 million people). This estimate does not include those with unreliable access to electricity and who opt for a PAYG solar system.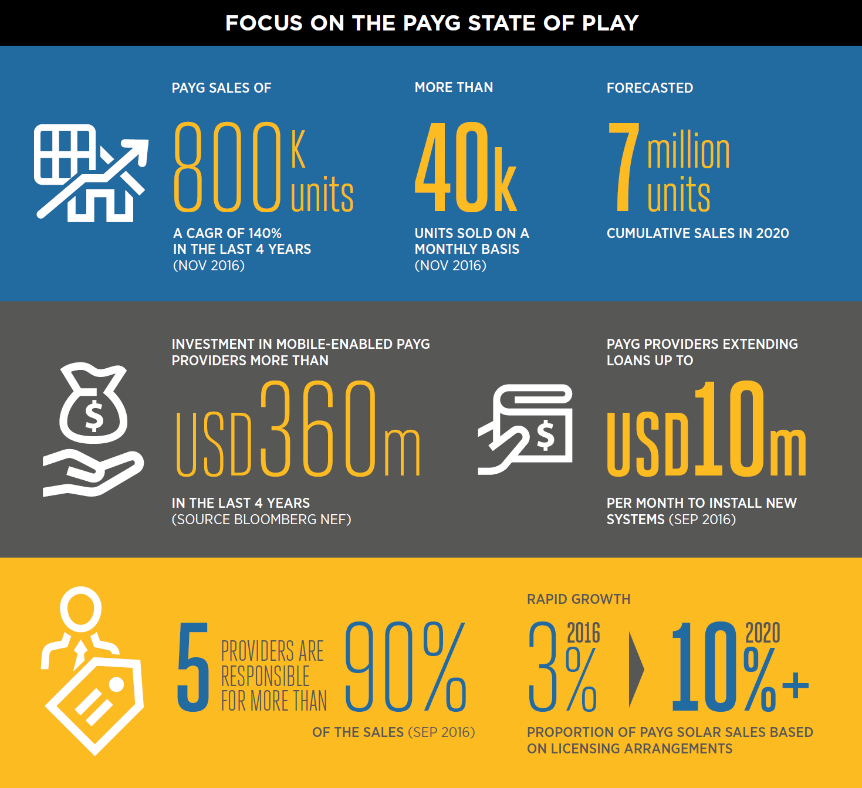 Licensing PAYG technology:
For new entrants, without the technical expertise to develop their own PAYG technology, licensing existing solutions is a good route to quickly launch operations. PAYG hardware and software building blocks are becoming increasingly available as the sector matures. d.Light, Angaza Design, Bboxx, M-KOPA or Kingo Energy are all licensing their technologies, including payment systems, customer support and inventory management tools.
As of September 2016, we estimate that the proportion of the deployments based on licensing arrangements constitute between two to three per cent of overall solar PAYG sales. This proportion should grow rapidly to double digits by 2020, as more providers are looking to licensed PAYG technologies for new markets, and licensors have more capacity to support new deployments.
Mobile money remains the preferred channel for mobile payments
Enabling mobile payments is inherent to the PAYG model. Of the several ways to conduct mobile payments, mobile money dominates in terms of volume of transactions made, based on its increasing availability and capacity to support deployments at scale. Mobile-based credit scoring, using transactional and social data, is also one of the great value in enabling mobile payments. Such methods are gaining traction, enabling customers with no formal financial history to access further loans, savings and credit products. However, beyond mobile money, alternative payments solutions can also be successfully used, as demonstrated by Lumos in Nigeria leveraging airtime credit to collect payments for its energy service.
To further support new PAYG deployments, the GSMA Mobile for Development programme is currently working on two projects to facilitate the mobile money integration phase, usually time and cost intensive for service providers. Starting in Rwanda, the IPN Hub will provide a single point of integration for PAYG service providers to connect them with multiple mobile money platforms; and GSMA Mobile Money team has also started to publish a first set of harmonised mobile money APIs that will be further developed and tested in coming months.
The large benefits of the PAYG model for mobile operators
Mobile-enabled PAYG providers are good partners for mobile operators looking to expand and stimulate their customer base in underserved and rural locations. Firstly, with an estimated 1.6 million mobile money transactions generated per month (September 2016), solar PAYG can generate significant revenues in transaction fees for mobile operators operating in low ARPU markets. Secondly, there are increasing signs of mobile financial inclusion occurring through access to the solar PAYG: examples in East Africa show 15 to 20 per cent of new customers sign up to a mobile money service to pay their energy instalments. Finally, mobile operators could also establish their Internet of Things strategies to lead the digitisation of utilities, as Dialog Axiata and Orange are respectively piloting in Sri Lanka and Tunisia. Providing a set of hardware and software tools and analytics platforms would help utilities become efficient, enable more accurate monitoring of leaks and theft or improve payment collection through mobile money.
For more insights on the mobile-enabled PAYG market, read our report.