Webinar: State of the Industry Report on Mobile Money
Now processing over $1.3 billion a day, the mobile money industry added a record 143 million registered customers in 2018. In today's dynamic and fast-evolving ecosystem, providers are attracting new investments and forming strategic partnerships, leveraging data and innovative financial technologies, and developing robust and interoperable payments systems to diversify their revenue, product offerings and customer base. What does this mean for the future of the industry and the millions of customers worldwide?
Join us for our interactive webinar where we'll discuss the most ground-breaking trends in mobile money, going beyond the key findings of the report and welcoming your questions.
Speakers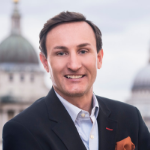 Ruan Swanepoel
Head of Mobile Money
Ruan Swanepoel
Ruan Swanepoel is the Head of the GSMA's Mobile Money programme, where he oversees the strategic direction of the programme, engaging with a broad range of external stakeholders. Prior to joining the GSMA, he worked in Southeast Asia for Wing Cambodia as the Chief Commercial Officer.
Ruan has qualifications from the University of Technology in Cape Town and has over 18 years experience in the telecommunications and financial services industry. Previously based in Tanzania, Ruan worked across a number of African countries on both digital and traditional financial services strategies with a core focus in developing and managing sustainable financial services. Ruan is passionate about the development of consumer products and digital innovation, having overseen many projects, involving a number of world firsts; cross border remittances on mobile wallets, interest distribution to mobile customers on their digital wallets, and enabling interoperable wallets with all mobile operators in Tanzania.

Francesco Pasti
Senior Manager, Inclusive Tech Lab
Francesco Pasti
Francesco is a Senior Services Manager for the Mobile Money Programme. He supports mobile money operators to analyse market opportunities, launch and scale new and existing ecosystem initiatives. Prior to joining the GSMA, Francesco worked for Finalta, a McKinsey & Company Solution, where he consulted banks in both European and emerging markets on how to improve their frontline efficiency through benchmarking and best-practice insight. Francesco holds a master degree in Finance and Development from SOAS University in London and a BA in Business Administration from Bocconi University in Milan.
Read the report