Female Micro-Entrepreneurs
Driving the digital and financial inclusion of women micro-entrepreneurs in low- and middle-income countries
About the project
In low- and middle-income countries (LMICs), women micro-entrepreneurs contribute substantially to household income and well-being, their communities and the national economy. Yet they face greater barriers than men when it comes to accessing opportunities and resources to start, manage and grow their business. Gendered social norms and structural inequalities exacerbate these and other barriers to women's equal participation in the economy and society. 
Mobile phones can be a source of economic and social empowerment for micro-entrepreneurs by providing access to information, services and resources that many would not be able to access easily otherwise, especially women. However, across LMICs, female micro-entrepreneurs are less likely than male micro-entrepreneurs to own and use mobile phones, including for accessing the internet and financial services. 
To address this, the GSMA Connected Women programme launched an initiative to empower women micro-entrepreneurs through mobile phone products and services. This project includes developing and sharing research insights from 10 LMICs, and supporting mobile operators to identify, test and scale approaches to reaching women micro-entrepreneurs.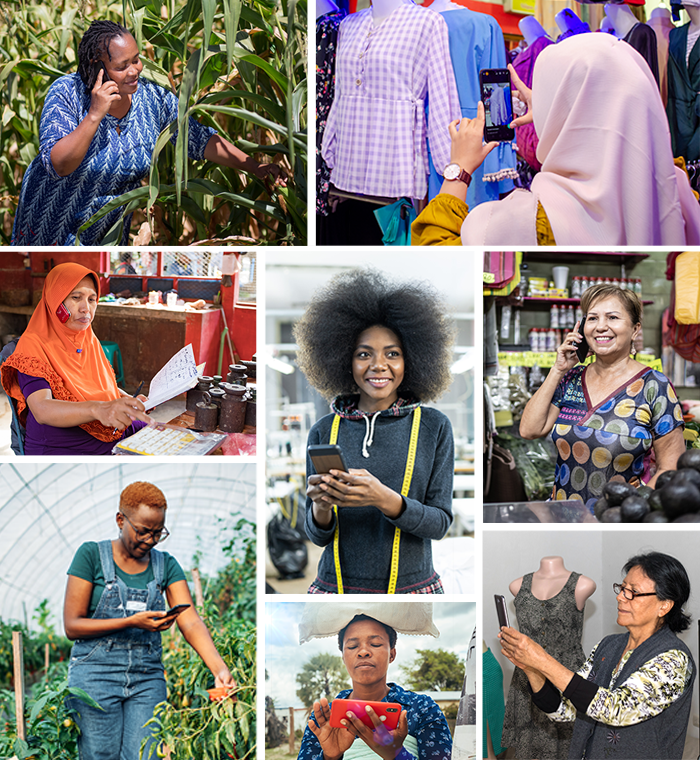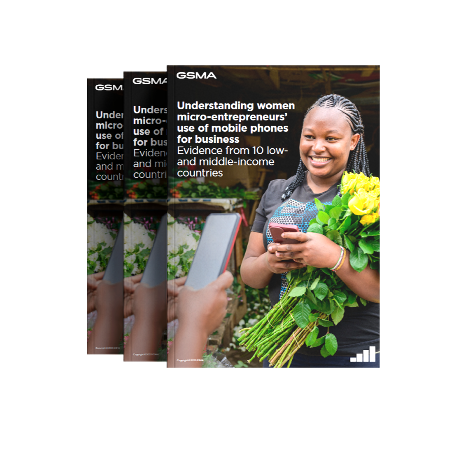 Understanding women micro-entrepreneurs' use of mobile phones for business
This report provides new data and insights from 10 LMICs on the use of mobile phones by women micro-entrepreneurs and the challenges that prevent them from using mobile services for business. It highlights the mobile gender gaps and how barriers such as not having the right kind of handset, and low confidence or digital skills, as well as gendered social norms, tend to put women micro-entrepreneurs at a disadvantage, causing them to miss out on the benefits of mobile.
Key findings
1

Mobile use for business

Women micro-entrepreneurs are less likely than men to use a mobile phone for business, even when they use one in their personal lives.

And women who do, use it for fewer business activities than men.

2

Owning vs. borrowing

Most micro-entrepreneurs own a mobile, but in some countries a high proportion of women borrow one for business use.

India has the highest rate of phone borrowing: 25% of women compared to 19% of men.

3

Business drive

A micro-entrepreneur's "business drive" is the most important factor in determining their use of mobile for business.

Women micro-entrepreneurs face more constraints to realising that drive.

4

Use cases

The five most common ways that micro-entrepreneurs use mobile for business include: Communicating with customers and suppliers, making/receiving payments, promoting their business, learning new skills or finding inspiration, and storing information and files.

5

Methods of communication

Micro-entrepreneurs, especially women, mostly use network calls to communicate with customers and suppliers. Instant messaging and videos calls are used significantly less.

6

Awareness

Awareness is an important barrier to adoption and use of mobile for business by micro-entrepreneurs.

Apart from communication, micro-entrepreneurs have low awareness of other ways mobile can support their business, especially women.

7

Top barriers

The top barriers preventing micro-entrepreneurs who own a mobile phone from using it for business are: Not having the right kind of phone, a preference for cash transactions, a lack of confidence and digital skills, and safety and security concerns.

8

Social norms

Mobile has the potential to help women micro-entrepreneurs circumvent some of the social norms that constrain them. E.g. Mobile phones can enable them to contact customers and pay suppliers remotely, which helps them balance household responsibilities and business needs without revealing their gender, location or identity.

9

The value of mobile for business

Most micro-entrepreneurs who use a mobile phone for business report that they could either not run their business without one or would find it more difficult to do so, although women are less likely than men to report this.
Watch the webinar
Missed our webinar? Watch the recording to learn about the key findings from our research, presented by Isabelle Carboni and Alida Taghiyeva, lead authors of the report. You'll also hear from Greta Bull, Director of Women's Economic Empowerment at the Bill & Melinda Gates Foundation, and Haaris Mahmood Chaudhary, Chief Operating Officer of Mobilink Microfinance Bank, on what we can do to drive the digital and financial inclusion of women micro-entrepreneurs.
Get in touch
Is your organisation working to drive the digital or financial inclusion of women micro-entrepreneurs in low- and middle-income countries?
If you're interested in working with us or finding out more about our research, we'd love to hear from you.
Get in touch

This research and work have been funded by the Bill & Melinda Gates Foundation, and in part by the UK Foreign, Commonwealth and Development Office (FCDO), and the Swedish International Development Cooperation Agency (SIDA).