Our mission is to accelerate the delivery and impact of safe, efficient, and dignified digital humanitarian assistance.
The Mobile for Humanitarian Innovation programme catalyses partnerships by bringing together mobile operators and humanitarian partners; invests in innovation through a humanitarian innovation fund; unlocks policy barriers with advocacy efforts; and builds a learning and research agenda to inform the future of digital humanitarian response.
The mobile industry continues to grow its engagement and investment in partnerships and solutions that will deliver a digital humanitarian future — 160 mobile operators have committed to the GSMA Humanitarian Connectivity Charter, a set of shared principles on humanitarian preparedness and response.
We have reached over 10 million people with improved access to and use of life-enhancing mobile-enabled services during humanitarian preparedness, response and recovery.
The programme is funded by the UK Foreign, Commonwealth and Development Office (FCDO), and supported by the GSMA and its members.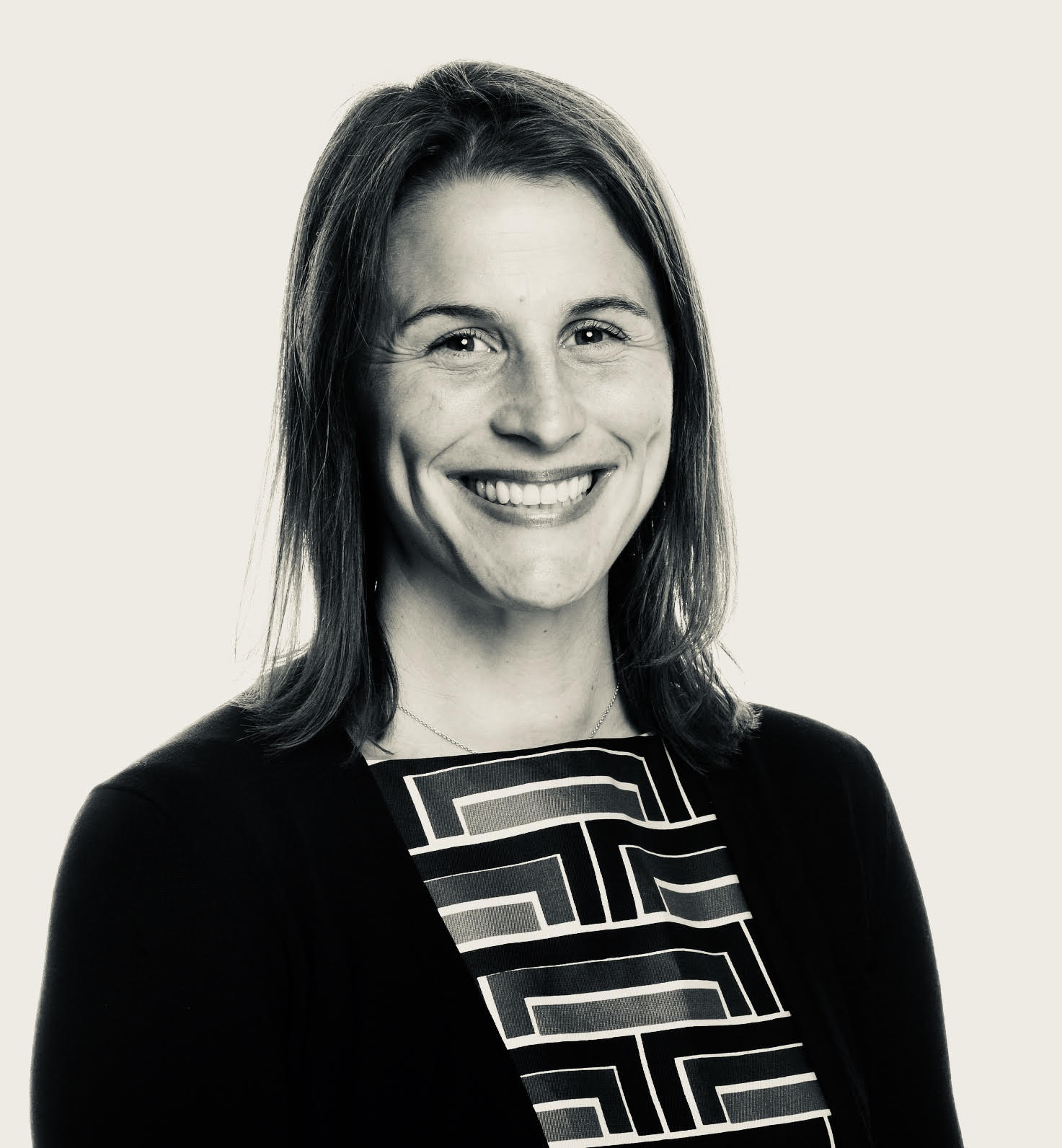 Kimberly Brown
Head of Mobile for Humanitarian Innovation
Kimberly joined the GSMA in July 2020 as the Head of Mobile for Humanitarian Innovation. Before GSMA, she was the Head of Humanitarian Policy at the British Red Cross, where she led the department responsible for policy, advocacy, and research on international humanitarian issues. She acted as adviser to the Chairman on the organisation's role on the Governing Board and General Assembly of the International Federation of Red Cross and Red Crescent Societies (IFRC).
Kimberly has worked for several humanitarian organisations, with a focus on building partnerships in multilateral processes and negotiations. She has worked on the Sustainable Development Goals, the New York Declaration on Refugees and Migrants, the Grand Bargain (World Humanitarian Summit), the Paris Climate Agreement, the Mine Ban Treaty, and the Convention on Cluster Munitions. Kimberly worked in Asia-Pacific with the IFRC, during the time of the Indian Ocean tsunami, where she carried out advocacy on global disaster preparedness guidelines. She has also focused on humanitarian issues such as children in armed conflict, principled humanitarian action, and protection of civilians.
She holds a BA in Psychology from UBC (Vancouver), a MA in International Development Studies and Political Science from Chulalongkorn University (Bangkok) where her thesis focused on the Myanmar refugee situation in Thailand. In July 2020, she completed an Executive MBA at London Business School. She has been deployed to, and worked across, several humanitarian contexts in Africa, Asia, and the Middle-East.

Julie Schurei
Operations Director
Julie has extensive UK and international leadership experience in programme and project management. She joined the GSMA in 2017 after spending four years in Afghanistan as the head of Monitoring and Evaluation (M&E)/Communications for several USAID-funded development programmes. Previously, she gained strong business development and stakeholder management skills working with US- and UK-based international NGOs.
Julie oversees operations across her portfolio of five M4D programmes and the M&E team, and also works closely with Heads of Programmes to support strategy development. She holds a Master's degree in International Affairs from the George Washington University in Washington, DC and is MSP certified.

Isaac Kwamy
Director of Strategic Partnerships
Isaac is the Director of Strategic Partnerships for the Mobile for Humanitarian Innovation Programme. In this role, he is responsible for building and managing partnerships between MNOs and the humanitarian sector for Sub-Saharan Africa and MENA.
Isaac has over 19 years of senior- level experience in the humanitarian and development sector. Prior to joining GSMA, Isaac worked for NetHope as Global Programs Director for Disaster Management and Crisis Informatics, provides leadership, oversight and execution of NetHope's Global Humanitarian Operations Programs including Emergency Preparedness and Response efforts, Crisis Informatics, Access to Information as Aid and Humanitarian Digital Financial Services.
Isaac also worked for World Vision International as Director of Humanitarian Technologies and Operations. Throughout Isaac's career with World Vision International, he provided effective strategic leadership, resulting in externally positioning World Vision International as a key player in the Humanitarian Technology sector. For example, he was Instrumental in setting up the first NGOs Emergency Telecommunication Cluster Coordinator. A model that has now been adopted as standard for all large scale emergency responses.
In addition, Isaac held various positions in the Humanitarian sector and has a deep and practical understanding of humanitarian and development operations and the use and adoption of technologies to enable Aid efficiency over a vast number of contexts. Isaac's field experience includes: The Tsunami response (2004/2005), The Sichuan earthquake response in China (2008) the Cyclone Nargis response in Myanmar (2008), Darfur refugee response in Sudan (2009), Haiti Earthquake response (between 2010 and 2012), the Horn of Africa drought response (2011), the Pakistan flood response (2011), South Sudan (2013), the Typhoon Haiyan in the Philippines (2013-2014), the Nepal earthquake response (2015), among others.
The combination of Isaac's extensive field experience in disaster management and technology background provides Isaac with a deep understanding how digital technologies can be applied to enable effective humanitarian aid operations.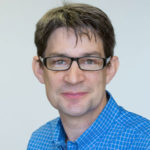 Barnaby Willitts-King
Research and Insights Director
Barnaby joined the GSMA in November 2021 as Research and Insights Director of the Mobile for Humanitarian Innovation team. In this role he manages the team developing thought leadership on the role of digital technology in humanitarian crises, research and guidance on mobile technology, and overseeing monitoring, evaluation and learning activities for the M4H portfolio.
He previously worked as a Senior Research Fellow in ODI's Humanitarian Policy Group, leading research and policy engagement on digital technology and inclusion, reform of the humanitarian system and new business models including public-private partnerships. He started his career with Save the Children and then the UK's Department for International Development in Pakistan/Afghanistan before working across Asia, Africa and the Middle East for a range of donors, UN agencies, the Red Cross/Crescent movement and NGOs.

Sheila Moa
Senior Operations Manager
Sheila is the Senior Operations Manager responsible for overseeing the implementation of the Mobile for Humanitarian Innovation programme. Since joining GSMA in September 2017, she has worked across the Mobile Money,  Assistive Tech and Connected Society programmes where she managed operations across various workstreams to ensure projects objectives are met on time, within scope and budget.
Prior to joining GSMA, Sheila worked in grant-making with focus on scaling innovation and strengthening health systems at Comic Relief and Vitol Foundation. She has extensive programme management experience, having previously overseen the implementation of public health projects at Options for 11 years across Africa, Asia and the Caribbean funded by UKAID, EU, GIZ and German development bank KFW. Sheila holds an MSc in Development Studies from the University of Bath and a BA in International Business from Richmond, the American International University in London.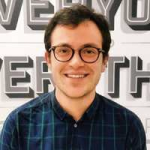 Matthew Downer
Senior Insights Manager, Monitoring and Evaluation
As a Senior Insights Manager with a focus on M&E/MEL Matthew splits his time between thought leadership work and the coordination and delivery of the Mobile for Humanitarian Innovation programme's MEL framework. To this end he delivers work with a range of colleagues and key partners to generate evidence and learning around the programme's work. He also leads programme learning activity to ensure the team is continuing to learn and adapt from its work.
Prior to the GSMA, Matthew worked as a Senior Researcher at the British Red Cross. He has also held a number of other research and evaluation positions in the UK including for a leading social research agency focussed on government policy evaluation. He has an MSc in Politics of Population, Migration & Ecology from Birkbeck, University of London as well as a BA(hons) in International Relations and Politics from the University of Sheffield (both had a focus on research methods). He also has an Advanced Certificate in Market and Social Research Practice from the UK Market Research Society.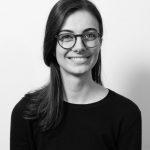 Zoe Hamilton
Senior Insights Manager
As a Senior Insights Manager, Zoe is responsible for designing and delivering a range of research projects, aligned with the M4H team's priorities. Her work builds on experience at the intersection of participatory research methods, communication technologies and the rights of vulnerable or marginalised groups. She works across M4H's five thematic areas: mobile money, climate change and food security, mobile utilities, gender and inclusivity, and digital identity.
Previously, Zoe worked as a Program Design and Insights Manager, creating and evaluating communication technologies for a wide range of social development issues across West Africa and South Asia. She has also worked as a Fulbright Scholar in India, a UNFPA researcher, and an independent documentary filmmaker, researching issues of sexual and reproductive health and rights.
Zoe holds a MSc in International Development Management from the London School of Economics and a BA (Hons) from Middlebury College in Political Science and French.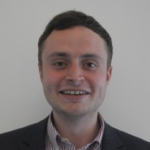 Guy Peggram
Senior Market Engagement Manager
Guy joined the Mobile for Humanitarian Innovation Fund team in March 2020, having previously worked in the Digital Identity team at GSMA. As Senior Market Engagement Manager, Guy mentors Innovation Fund grantees and is involved all aspects of the Fund lifecycle, including the application and selection process, due diligence, and monitoring and evaluation. Prior to joining GSMA in 2018, Guy worked at Vodafone, firstly at Vodafone UK and more recently at Vodafone Group. While at Vodafone, Guy was a Digital Product Owner for the My Vodafone app, managing the delivery of components to be used in local market apps around the world and leading on strategy regarding the types of components that were relevant for each market. Guy has also spent significant time living and working in East Africa. Guy holds a BA in History from the University of Exeter.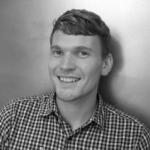 Hector Matthews
Monitoring, Evaluation and Learning (MEL) Manager
Hector provides monitoring, evaluation and learning support across both the DFID Strategic Partnership and Mobile for Humanitarian Innovation teams. In this split role he works to evidence impact, support adaptive programming and facilitate cross-programme learning across a variety of digitally led humanitarian and development initiatives.
Hector has a broad background in research and evaluation having previously worked for a number of global insight, innovation and development organisations. Hector has always championed data driven design and enjoys nothing more than working on evidence based solutions to persistent global issues. He has hands-on qualitative and quantitative fieldwork experience working on projects that have covered a variety of subjects and involved people and places around the world.
Before starting this role Hector spent a number of years living and working in Dakar, Senegal. His last project there was for Plan International helping to guide their selection of research, advocacy and influencing partners throughout West and Central Africa. Hector holds a BA in Geography and Marketing from the University of Hull.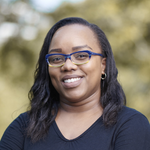 Joanne Kiarie
Senior Policy and Advocacy Manager
Joanne has joined the GSMA, with over 10 years of experience in public policy and public administration. Previously, Joanne was at Sanergy, a social enterprise involved in sanitation & circular economy where she led their policy, advocacy, partnerships and government relations work. Here, she, in concert with the Kenyan government, institutionalized the National Sanitation Management Policy as well as the Sustainable Waste Management Act. Previously, Joanne worked for the Kenyan government, in the Presidency, spanning various capacities, in public administration and public policy.
Joanne holds an undergraduate degree in Actuarial Science from the Jomo Kenyatta University and Technology, a qualification in Applied Accounting from the Strathmore University, and is completing her master's degree in Public Policy & Management from the Strathmore Business School.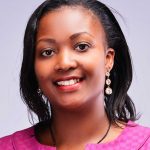 Carol Gitobu
Senior Market Engagement Manager
Carol is a Market Engagement Manager for the Mobile for Humanitarian Innovation programme. In this role, she is responsible for building and managing strategic partnerships between MNOs and the humanitarian sector for Africa.
Prior to joining the GSMA, Carol worked for Equity Group Holdings Limited in various business functions. Carol joins from Finserve Africa part of Equity Group where she served as a product manager engaged in financial services, emerging technology and spearheaded the Jenga payment gateway platform. Prior to her work at Finserve Africa, Carol was a special projects manager at Equity Bank where she championed social payments projects in East Africa, enabling financial and economic inclusion in marginalized areas. Among successful initiatives that Carol led include cash payments using technology and channel innovations to achieve effectiveness and efficiency in Kakuma, Kalobeyei settlement and in arid Northern Kenya . The cash transfers innovative model was extended to vulnerable children, older persons, persons with severe disabilities and to Refugees in Kenya, Rwanda and Uganda. Carol also led Huduma Kenya Card Payment project and eCitizen platform. Carol was also a co-chair of the East Africa Humanitarian Private Sector Partnership Platform EA-HPPP (2016-2017).
Carol holds a Master's degree in strategic Management from Catholic University of the Eastern Africa and a Bachelor's degree in Finance and Accounting from Kenya Methodist University.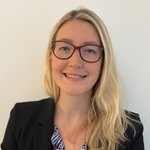 Jenny Thornton
Market Engagement Manager
In October 2022, Jenny joined the Mobile for Humanitarian Innovation team where she works on the Humanitarian Innovation Fund.
Jenny has an undergraduate degree in Geography and Social Anthropology from the University of St Andrews, a Masters degree in International Relations from the University of Cambridge and was previously a Research Associate at the University of Rwanda. Prior to joining the GSMA, Jenny helped launch the University of Cambridge's 'Cambridge-Africa' programme, where she managed the Alborada Research Fund and post-doctoral Fellowships for academics in sub-Saharan Africa. Jenny then moved into the 'tech for good' space when she joined the Internet Watch Foundation, managing a global project to remove child sexual abuse imagery from the internet in developing countries, whilst building support from national law enforcement, regulators and civil society. Jenny expanded her career by joining Get Safe Online where she managed FCDO funded projects delivering digital inclusion and digital literacy in the Pacific, Caribbean, Rwanda and Indonesia. Jenny is passionate about working at the intersection of technology, multi-stakeholder partnerships and human rights.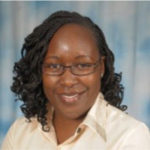 Ida Juma
Market Engagement Manager
Ida joined the GSMA Mobile for Humanitarian Innovation team in January 2022. She is currently responsible for accelerating the delivery and impact of digital humanitarian assistance through catalysing partnerships and innovation for new digital humanitarian services.
Since June 2015, Ida has led different initiatives for Safaricom and M-PESA Foundations including ISO 26000 on Corporate Social Responsibility, Monitoring and Evaluation, documentation, programmes and partnerships with the community, peer corporates and corporate foundations, the Civil Society, National and County governments among others.
Ida holds a postgraduate diploma in Project Management (Jomo Kenyatta University of Agriculture and Technology) and a bachelor's degree in Public Administration and Sociology (University of Nairobi). She also holds a diploma in Legal Studies (Kenya School of Professional Studies). She has also completed other key courses namely: African sustainability implementers programme, Social Return on Investment (SROI), ISO 26000 Lead Auditor, Monitoring & Evaluation among others.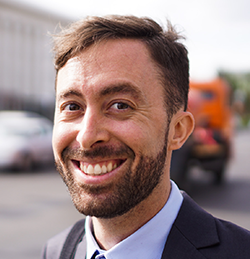 Bryce Hartley
Senior Market Engagement Manager
Bryce is joining the M4H team after leading the Digital Inclusion team's work on the Mobile Coverage Maps and the Mobile Internet Skills Training Toolkit (MISTT). In addition to his experience in mobile infrastructure and digital skills, he has a broad range of experience in the humanitarian sector including disaster preparedness, response, and recovery. Bryce works across the humanitarian sector, mobile network operators, and other industry players within the mobile ecosystem on various M4H programmatic activities relating to humanitarian disaster preparedness and response.
Bryce has worked in the International Aid and Development space for nearly a decade with a focus on leveraging technology to achieve positive social outcomes. He previously worked at the United Nations Secretariat's Asia-Pacific hub (UN ESCAP) in Bangkok, International Organization for Migration (IOM) Asia-Pacific regional office in Bangkok, the International Federation of Journalists' (IFJ) Asia-Pacific office in Sydney, and the Children's Investment Fund Foundation (CIFF) in London.
Bryce holds a master's degree in International Development from the National Chengchi University, an honours bachelor's degree in Applied Linguistics from the City University of Hong Kong, and Associate's level in Economics and Finance from Franklin University Switzerland. He also studied at Fudan University and Seoul National University.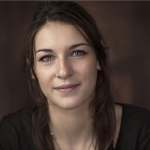 Susanna Acland
Insights Manager
As an Insights Manager in the Mobile for Humanitarian Innovation (M4H) team, Susanna is responsible for engaging with the mobile and humanitarian sectors to deliver research projects and evidence on humanitarian connectivity and digital humanitarian assistance. Her work aligns with M4H's priority themes including forced displacement, cash and voucher assistance, climate change, disaster response, global hunger, and gender.
Susanna joined the GSMA in 2019, working with the Innovation Fund and Insights teams in M4H. She has also worked as an Analyst in the Central Insights Unit at the GSMA, researching frontier technologies in emerging economies and engaging with partners to deliver capacity building workshops with the UK Foreign, Commonwealth and Development Office country posts. Previous to the GSMA, Susanna has worked in Senegal on youth employment and sexual health, and on the refugee crisis in Greece in aid logistics and women's empowerment.
Susanna holds a Masters degree in Conflict, Security and Development from the University of Sussex.

Sophie Pitcher
Senior Marketing Manager
Sophie joined the GSMA in April 2018 and has previously led the marketing strategy for Digital Identity, Assistive Tech, ClimateTech and the Central Insights Unit. Since December 2021, Sophie has led marketing and communications for the Mobile for Humanitarian Innovation (M4H) programme. She is responsible for the strategy and delivery of digital advocacy campaigns, developing video content, infographics, blogs and other multimedia content, as well as editing and managing the design of programme publications.
Following university where she studied history, Sophie started her career at Condé Nast before joining the Marketing and Subscriptions team at The Spectator. She joined the GSMA from a creative digital agency called Forge – as a Campaign Manager she was responsible for marketing strategy, content creation and project management for a number of different clients. Sophie recently added to her qualifications and skillset on completion of a graphic design course at Shillington College. Sophie is passionate about the impact of Mobile for Development's work and is excited to continue to learn more about the development sector at large.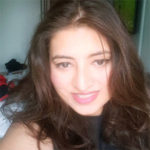 Sarah Tariq Hassan
Senior Marketing Manager (maternity cover)
Sarah joins the GSMA team as a Senior Marketing Manager – Maternity Cover for Sophie – where she will be leading on marketing and communications for the Mobile for Humanitarian Innovation (M4H) programme. Sarah has recently relocated to the UK from Pakistan.
Following university where she studied Finance and Management, Sarah started her career at British American Tobacco as a Management Trainee and went on to work with them for 5 years in Internal Communications, Sustainability Reporting and Trade Marketing. Following a short career break, Sarah rejoined the workforce as a communications consultant working with international agencies including UNICEF, The Asia Foundation and Mercy Corps. She then joined the British Council in Pakistan in 2016 as Head of Digital Marketing & Communications where she worked closely with the FCO and DFID teams and led on several UK-Pakistan donor funded projects. In 2019, Sarah was recruited by Telenor in Pakistan to lead the brand marketing portfolio comprising all Telenor products and services. As the Senior Brand Manager, she was responsible for strategy development, KPI achievement and delivery of all marketing activities.
Sarah values the impact mobile technology has in the lives of those who are most disadvantaged, experienced first-hand in her role as a team member for Telenor's Naming the Invisible (Digital Birth Registration) initiative in Pakistan – the project was a recipient of the Cannes Lion Grand Prix Award.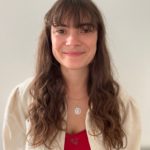 Lauren White
Operations Coordinator
Lauren joined GSMA as Operations Coordinator for the Mobile for Humanitarian Development (M4H) in June 2022. Lauren has a BSc in Psychology and is completing her MA in Conflict, Displacement, and Human Security. Her dissertation is determining the extent to which host community's expectation that refugees should be grateful can be understood as a process of Othering. Previous research includes the National Register of Citizens (NRC) in Assam and the protracted conflict in Balochistan. Lauren also volunteers as a Project Advisor for Restless Beings, focusing on marginalisation in South Asia.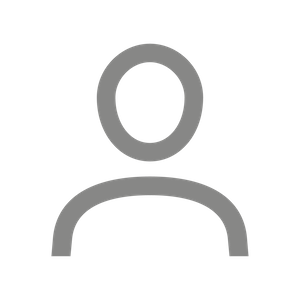 Angela Nkonu
Assistant Operations Manager
Angela is the Assistant Operations Manager for the Mobile for Humanitarian Innovation team.
Prior to joining GSMA, Angela managed multi-country donor-funded programmes across Africa, Europe, and Asia. Angela has extensive programme management experience, having previously overseen the successful implementation of both Agriculture and Independent Evaluation programmes funded by the FCDO, EU, DGIS, USAID, World Bank and DFAT.
Angela holds a Masters's degree in International Business Administration from the University of East London.
Latest publications
Document
Tuesday 25 Oct 2022 | Disaster response | Mobile for Development | Mobile for Humanitarian Innovation | Papua New Guinea | Refugee crisis | Refugees and forced migrants | Report | Resource | South Sudan |
This report presents a holistic understanding of how displacement-affected communities in three humanitarian settings are using their mobile phones.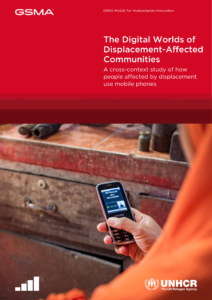 Featured Strategic Partnerships
Video
Wednesday 9 Sep 2020 | Mobile for Humanitarian Innovation | Podcasts | Video |
In Episode 9, Jaki Mebur (Market Engagement Manager at GSMA), Hamse Koshin (MEAL Specialist at Care International Somalia and Somaliland) and Ali Bosir (Head of Business Development at Telesom Somaliland) ...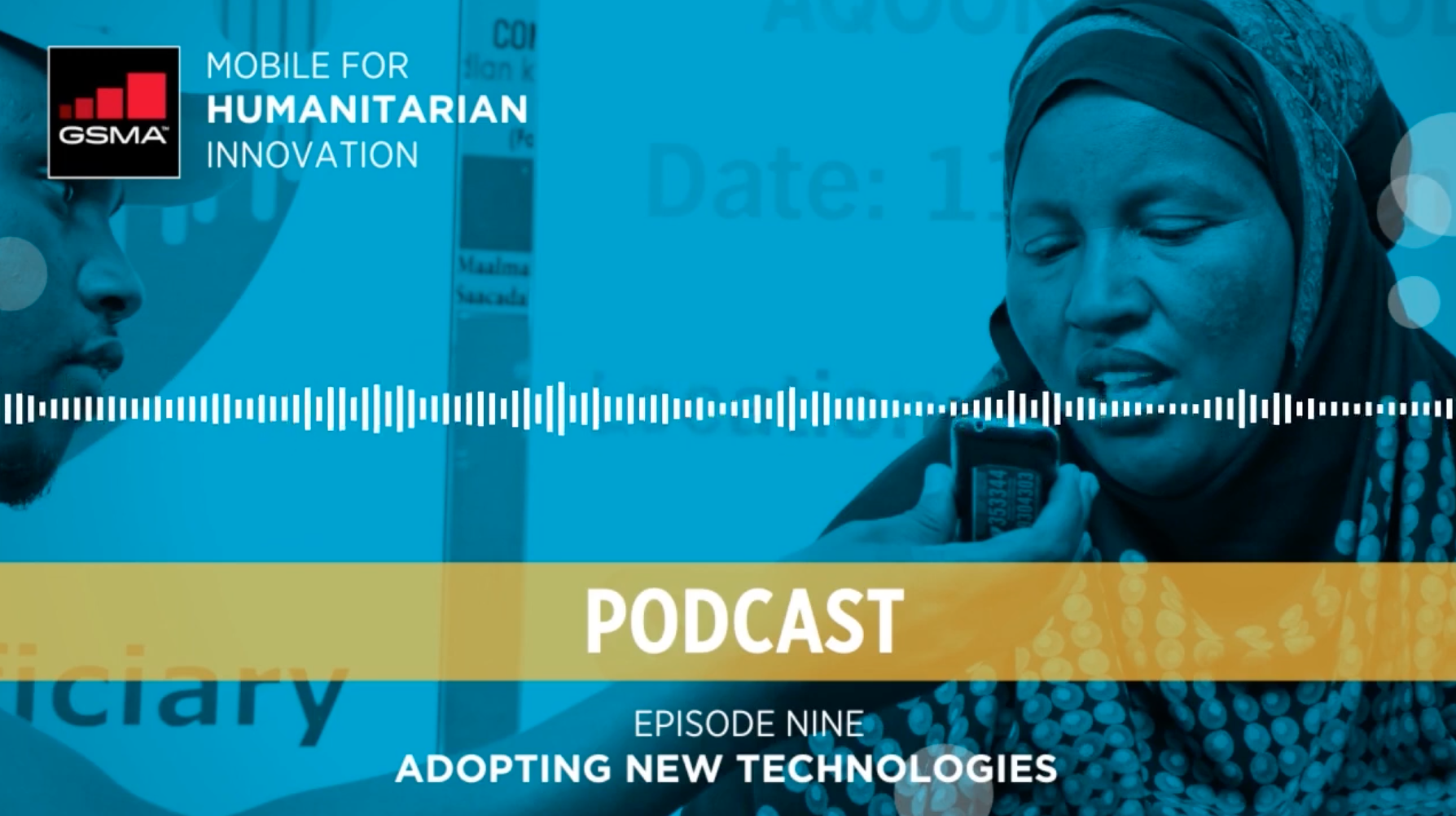 Video
Tuesday 1 Oct 2019 | Mobile for Humanitarian Innovation | Rwanda | Sub-Saharan Africa | Video |
In July and August 2019, the GSMA Mobile for Humanitarian Innovation programme conducted training in Rwanda with MTN mobile money agents on the humanitarian code of conduct. This is to ensure that agents working with Rwanda's refugee ...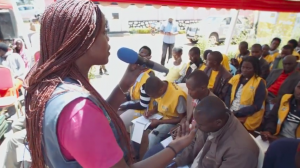 Mobile money enabled cash aid delivery courses
Cash and voucher assistance (CVA) has increasingly been the modality of choice in many crisis situations and using digital mechanisms for disbursement has been growing alongside it.
These two courses have been designed for participants to understand how mobile money enabled CVA works in practice, and what is needed to ensure effective operations work to the benefit of recipients, mobile money providers and aid implementers.
---
This initiative is currently funded by the UK Foreign, Commonwealth & Development Office (FCDO), and supported by the GSMA and its members.