As the reach and impact of mobile money increases, so do the demands on the technical platforms that underpin mobile money. Substantial work is required to connect multiple partners in the ecosystem. If mobile money platform vendors each implement their own bespoke API solutions, ecosystem solution vendors are required to implement separate integrations for each mobile money platform. Ultimately bespoke APIs will limit the growth of the mobile money ecosystem by causing fragmentation of vendor service APIs, per platform, per service and per region.
What is the GSMA Mobile Money API?
The GSMA Mobile Money API is an initiative developed through collaboration between the mobile money industry and the GSMA, aimed at helping the mobile money industry speak the same technical language by providing a modern harmonised API for mobile money transactions and management that is both easy to use and secure. This common technical language, the API Specification, enables easy integration between mobile money providers and organisations who want to interface with these providers, by allowing any third party to implement a common solution which will work with all mobile money platforms which implement the API. The API is based on RESTful principles, a common easy to use set of principles used in modern APIs which provide benefits such as flexibility and scalability. The Specification also provides best practice security recommendations to ensure a high level of security.
The GSMA harmonised API initiative aims to increase adoption of the mobile money API through dedicated engagement with mobile money providers and support for ecosystem vendors. The GSMA also aims to maintain updated versions of the API Specification with new features and up to date functionality.
Use Cases
The Mobile Money API supports the core set of mobile money use cases:
Interoperability between mobile money and banks, and between mobile money providers;
Merchant payments, online and offline (including delegated authentication);
Bill payments (including instant payment notification);
Basic account management;
International transfers (including quotations);
Bulk transactions; and
Cash in/out.
Design Principles
The Mobile Money API uses best practices from the technology industry in API design and security.
Use of REST architectural principles;
Providing a set of well-defined mobile money objects;
A standard set of transaction types;
Use of ISO international standards for enumerations such as currency and country codes;
Support for supplementary metadata for bespoke properties; and
Best practice security guidelines.
Specifications
Developer Portal
The GSMA has provided developers with a Developer Portal including all the documentation and tools required to assist with developing a Mobile Money API which meets the specification requirements or a mobile money solution which uses the Mobile Money API.
If you are interested in adopting the Mobile Money API or wish to know more about existing adopters, please contact us at support.mmapi@gsma.com.
Related resources
Document
Thursday 30 Jul 2020 | Building the financial ecosystem | English | Industry assets and standards | Mobile Money | Mobile Money Programme - filter |
This paper examines the different approaches mobile money providers could potentially use to deliver open APIs, and outlines the findings of analysis undertaken on the scope of the existing API standards and APIs, and how they compare with the GSMA API.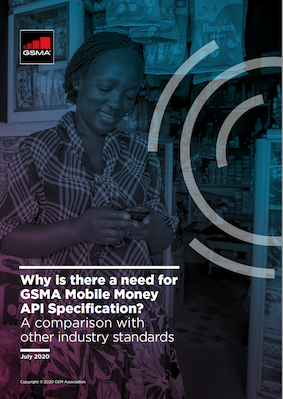 Document
Thursday 26 Mar 2020 | Building the financial ecosystem | English | Global | Industry assets and standards | Mobile Money | Mobile Money Programme - filter | Report | Research | Resource |
The seamless integration of third-parties with mobile money platforms is a key catalyst to achieving wider access to critical products by the underserved. Third-parties' ability to integrate with mobile money platforms is also a first ...