In October 2019, we hosted the webinar Collaborating for success in the agri e-commerce sector, where we spoke to industry players Tani Hub and Lima Links as well as AgriTech investor GreenTec Capital Partners about setting up agri e-commerce platforms, and what considerations and challenges they had faced.  During the webinar, we invited the audience to ask questions to these players, which we have collated here alongside some other key themes and considerations that emerged during the discussion.
Deciding on a business model
The development of e-commerce in any given market hinges on a number of enabling factors. In our recently published report, we delve into these factors, which play a key role for the sustainability and scalability of agri e-commerce. These include high mobile internet quality and penetration levels, a good logistics network at the national level, and the availability of digital payment solutions like mobile money. When deciding their business model, providers of agri e-commerce platforms should also consider the implications of working with different types of farmers (smallholder, cooperatives or large scale), whether farmers may already have access to formal buyers, the geographic location of farms and buyers, and the perishability and seasonality of produce.
Some considerations
From our research into agri e-commerce businesses, we know that the more successful platforms invest in and offer more than just 'digital' solutions matching buyers and suppliers. They provide many of the offline functions agribusinesses provide in formal value chains, which gives them more control over the activities that take place, in spite of the high CAPEX and OPEX required. For example, in Indonesia TaniHub has invested in cold chain infrastructure with an IT warehouse management system, which has significantly reduced perishable food waste from 30% to less than 2%. In Zambia, Lima Links, with a view to acquire and maintain an active farmer base, uses USSD as a communication channel with suppliers, leveraging the familiarity that farmers have with the technology. In addition, the agri e-commerce company has invested in extensive farmer training on using the platform and has established regular touchpoints with farmers.
A strength of agri-ecommerce platforms such as Tani Hub and Lima Links is that they provide strong incentives for farmers to remain engaged. However, capital intensity increases in line with the number of functions a business performs, thus enabling higher levels of value chain integration and control.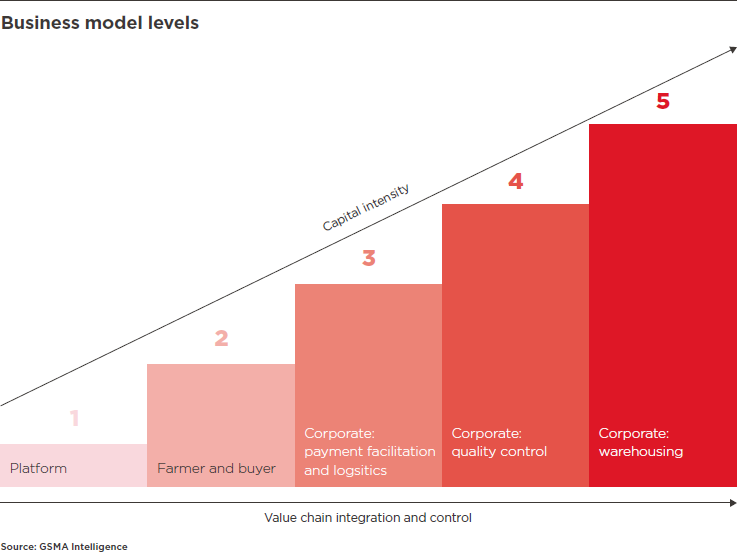 During our webinar, Peter Grouev, the Head of Investment and Strategy at GreenTec Capital Partners, an early investor in African start-ups and SMEs, emphasised the need for e-commerce players to think through their business models early on. Once the business model is established, it is then fundamental to be able to track and visualise its operational and financial metrics, such as operating profitability, a key measure of a company's performance.
One of the reoccurring questions asked during the webinar was "what challenges have you faced?"
Both TaniHub and Lima Links cited the high level of support required for farmer training as a challenge. As part of this training, both TaniHub and Lima Links send customer service representatives to spend time with farmers, to on-board them on the platform and walk them through processes such as placing orders for inputs. Along with face-to-face training, customer support staff must be available when farmers experience any challenges on the platform. In order to ensure that farmers stay active and that customers keep coming back, it is fundamental for e-commerce platforms to ensure agile response from support teams.
Lima Links also spoke about the fact that as savvy consumers already familiar with the USSD channel, farmers frequently request additional features and services from the platform to enable them to engage with a wider range of stakeholders. For example, Lima Links currently focuses on the input supply chain, linking farmers to input suppliers, however farmers are requesting access to buyers of agricultural produce through the platform, which Lima Links is working to enable. Maintaining the momentum of platform use also requires an agile response from the teams to ensure customer satisfaction.
These challenges indicate that for agri e-commerce platforms to be successful, they need to support and incentivise farmers to use the platforms, a capital intensive process. By offering this support and the integrated services that farmers want, the platforms are much more likely to be able to scale and become sustainable businesses.
Interested in reading more about agri e-commerce? Find out more about how e-commerce is enabling financial inclusion for smallholder farmers through formalising value chains here and stay tuned for our next blog: Improving scalability through partnerships coming soon.