Deployment of 3G in Bangladesh has proven to be very expensive for mobile operators in the country, they invested around US$3 billion in the last 30 months, but yet to make significant progress on 3G market penetration. 35% of adult population are still to gain access to 3G signal, mostly in rural and semi-urban areas. Besides, only 15% of operator's revenue comes from 3G data which does not do justice to the investment that the mobile industry made . Based on this there is a big chance that the current market condition may not be able to serve these people with 3G signal in the foreseeable future.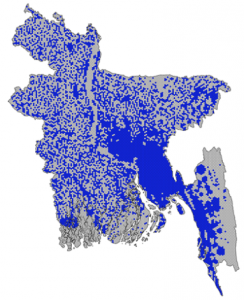 Figure 1: Map of 3G Coverage
How can we as an industry address this issue?
The GSMA Connected society programme has been actively supporting operators in various markets in addressing mobile broadband accessibility challenges collaboratively. As a part of this mandate, the GSMA engaged with Bangladeshi operators to assess their existing 3G coverage, identify key inhibitors and develop possible solutions.
In January 2017, GSMA conducted a series of industry meetings and workshops at Dhaka to facilitate the industry with the right set of information and capacity to overcome existing challenges. Key findings identified were as follows:
3G coverage is significantly higher than the market uptake.
Serious scarcity of 3G spectrum allocation resulting in bad Quality of Service (QoS)
Heavy dependency on 3rd party fiber transmission resulting serious challenge on QoS
Lack of regulatory framework to support active network share
Uncertainty of tech-neutral spectrum allocation
Lack of clarity on regulatory governance and taxes
Inadequate consumer insight and digital literacy
Slow uptake of 3G enabled handset penetration

As a takeaway of the workshop, GSMA will further investigate coverage, OPEX, tax & regulatory scenarios to identify specific recommendations to convey back to mobile operators and government policy makers. This will help to prepare a realistic roadmap of infrastructure deployment for universal broadband access.
To follow up, GSMA created a yearlong activity/engagement calendar for Bangladesh to address some of the findings during January workshop. This will help operators and policy makers to be better prepared with their future industry strategy.
The Digital agenda of Bangladesh's government clearly shows a great mandate to delivery public services through ICT. Mobile broadband can be a key enable to achieve it. If the mobile telecom industry can effectively collaborate with all relevant stakeholders and if the policy makers can rightly play their enablers role. Mobile broadband will certainly be universal, that eventually will bring a greater benefit for the society.