On 8 and 9 June 2017 the GSMA Ecosystem Accelerator team attended the Afrobytes conference in Paris. For its second edition, the event – designed as a "marketplace to meet key players of the global African tech ecosystem" – gathered hundreds of entrepreneurs, investors, tech enthusiasts and media around a comprehensive 2-day agenda covering all hot topics of the Africa tech scene with a very strong line-up. Here are our three highlights from the event.
Africa is not an afterthought, but a real priority for more and more players
It is no coincidence that the conference was hosted at the MEDEF headquarters (the largest employer federation in France), and opened by its president Pierre Gattaz. In his opening remarks, Gattaz made it clear that engaging with the African continent is no longer a luxury for French and 'Western' businesses: "Tomorrow our partners in Africa will be investors in Europe too". He went on to outline what he believes are the three key success factors in building successful relationships between Europe and Africa: the importance of 'win-win' partnerships, a focus on business, and on youth. In a very bullish manner, speakers debunked the arguments of those who might be reluctant to consider Africa as an opportunity. What if someone thinks there is no opportunity for companies to scale in Africa? They can look at the 400 companies that are generating over a billion dollars in annual revenue on the continent.
Most attendees, however, called for a shift of mindset from governments to truly unlock the potential of the continent. If some countries were called out for their efforts to promote business and entrepreneurship – Rwanda in particular – it was demanded of most to embrace the digital economy as an opportunity rather than a threat. At the continent's level, more standardised policies – on a large range of topics such as labour laws, visas or mobile money interoperability – are also requested to catalyse the continent's development.
Funding opportunities for African entrepreneurs are on the rise
Access to capital is often listed as one of the top pains for African entrepreneurs, especially for those who – usually with support from – have managed to launch a product or service, but need capital and support to take it to scale. Various initiatives were presented at the conference that are designed to address this issue, often led, or at least strongly supported by, Africans and members of the diaspora.
For seed level start-ups, our GSMA Ecosystem Accelerator Innovation Fund focuses on accelerating their growth by helping them to leverage mobile technology and build partnerships with mobile operators. XL Africa also targets a similar audience The programme, supported by the World Bank, financed by the governments of Finland, Norward and Sweden, and managed by IMC Worldwide, VC4Africa, and Koltai&co, will select around 20 start-ups in Africa and provide them with mentoring, visibility, and introductions to potential investors. Some voices were heard that criticised 'impact VCs' and grant mechanisms, but as Jason Spindler from I-DEV International put it: 'There would be no ecosystem in Kenya if it were not for impact funds'. If these – along with grant funds – play an active role in the development of local systems, it is also their responsibility to ensure start-ups keep being built with commercial sustainability at their core.
For more mature start-ups – Series B, and beyond – various mechanisms and funds are also getting more and more active. Pierre Louette, Deputee CEO of mobile operator Orange with a large footprint in Africa, announced a €50m commitment to invest in African start-ups, both directly through its own VC arm Orange Digital Ventures (€25m), and by contributing to two other funds, Partech Ventures and AfricInvest. Other investors – like IFC's Venture Fund, but also more discreet private funds – were also present and are deepening their involvement on the continent.
Building 'success stories' is the best way to promote Africa
As a growing number of funding opportunities are made available to local entrepreneurs, many players advocated for a change in the narrative around tech in Africa. As Wale Ayeni, regional lead for IFC's Venture Fund, put it: 'The focus should not be on the lack of money anymore, but rather on building more success stories'. Only by highlighting how start-ups are succeeding in Africa can the community attract more attention. And with interest will come talent and capital. In the words of CEO of Mall for Africa Chris Folayan: 'As an investor, you will not invest in what you don't know. If we want Silicon Valley to invest in Africa, it is our responsibility to educate ‪Silicon Valley investors on Africa.' What is at stake is to keep positioning Africa on the map, and giving it the visibility it deserves.
We would like to thank Haweya Mohamed, Ammin Youssouf, and the entire Afrobytes team for putting together this event and for giving us the opportunity to get involved.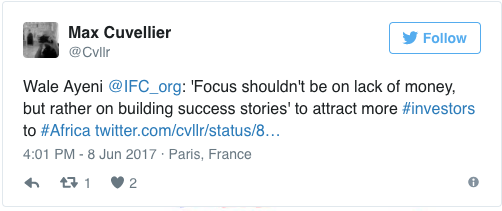 The Ecosystem Accelerator programme is supported by the UK Department for International Development (DFID), the Australian Government, and the GSMA and its members.