An API, or Application Programming Interface, is what allows software programs to "talk" to one another and reach a broader audience. APIs are what allow you to share a news article on LinkedIn or send your location on WhatsApp using your smartphone. APIs are also what allow a farmer in Senegal to check crop prices via SMS (MLouma) or a student in the Philippines to pay for their bus ride using their mobile airtime credit (Bustayo) . Services like these are powered by the APIs of local mobile operators.
*In 2006, fewer than 400 public APIs were available globally. Today, there are around 15,000 APIs, with 40 new ones created every week. Salesforce already generates 50 per cent of its revenues via APIs, eBay generates 60 per cent, and Expedia 90 per cent. Welcome to the new API economy.
In emerging markets in particular, APIs are bridges between mobile operators and start-ups that launch mobile services. These bridges, if open to developers and easy to walk over, can benefit both parties, and the whole ecosystem. They may also have a positive socio-economic impact on the potential four billion unique mobile end users of these services in emerging markets.
As activity around operator APIs is ramping up in emerging markets, the GSMA Ecosystem Accelerator programme has just released a report which looks at the landscape of operator APIs in emerging markets, as well as the reasons why both operators and start-ups need to get strongly involved. It extract findings as well as operational lessons from a variety of interviews with ecosystem players as well as five case studies on Globe, Orange, Dialog, Airtel, and MTN.
The report concludes with a call to action for mobile operators in emerging markets to adopt start-up friendly API strategies.
In emerging markets, operator APIs can still play an enabling role to unlock the growth of start-ups. This is a window of opportunity for both operators and start-ups, but it may not last. In this context, we are calling mobile operators to OPEN their APIs, HARMONISE them, and COLLABORATE with one another in order to seize this opportunity. In the meantime, teams behind operator API programmes need to accelerate their OUTREACH efforts to educate and support the local start-up community about operator APIs and engage with them more broadly.
In response to GSMA's call to action and as a strong believer in open innovation, we are also glad to announce that Orange Middle East Africa (MEA) has already confirmed its commitment to further opening APIs and making them increasingly accessible to the digital ecosystem in the region. To find out more about Orange's start-ups activities in the MEA region, please visit their Entrepreneur Club and Orange Partner websites.
We are strong believers in the value of APIs and hope Orange will be joined by other key operators in emerging markets in order for the industry to realise the full value of APIs, while contributing to the growth of local and regional innovation ecosystems.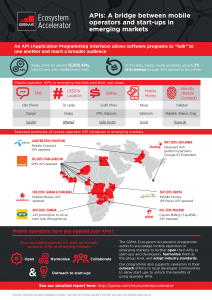 * Flowroute (2016), "The (Telecom) API Economy: Making integration easier than ever", https://blog.flowroute.com/2016/03/31/the-api-economy/ – Harvard Business Review (2015), "The Strategic Value of APIs", https://hbr.org/2015/01/the-strategic-value-of-apis – ProgrammableWeb, http://www.programmableweb.com/