The Ecosystem Accelerator team recently attended a few events in London and Paris as part of the three-week PitchDrive start-up tour of five European cities (London, Amsterdam, Berlin, Zurich and Paris) between August 14th and September 6th. PitchDrive is an initiative powered by CcHUB, one of Nigeria's leading tech hubs, in partnership with Google for Entrepreneurs, a programme that provides support, resources and campuses to start-ups across the world. Together they selected 14 start-ups from across Africa to participate in the tour, during which the entrepreneurs pitched to a large number of investors and learned about European tech ecosystems.
14 African start-ups, 5 European cities, 3 weeks
Earlier this year for an initiative dubbed "Geeks on a Plane", a group of investors from Sillicon Valley and Europe went on a two-weeks tour across Nigeria, Ghana and South Africa to meet with leading local start-ups. By taking these 14 start-ups from 8 African countries on a European tour to meet with local investors, CcHUB and Google have taken a reverse approach.
The selected start-ups cover a wide spectrum of verticals with their products and services, from Fintech to HR Tech and E-commerce, Edtech to E-health and Transport Tech. The group included founders from six Nigerian start-ups (PrepClass, Piggybank, LifeBank, Fashpa, Tradedepot and Gloo), two start-ups from Zimbabwe (BitFinance and Real Food), but also Kudobuzz (Ghana), Firefly Media (Senegal), Ongair (Kenya), Gebeya (Ethiopia), GoMetro (South Africa) and ClinicMaster (Uganda). Thirty percent of them were founded or co-founded by women entrepreneurs.
One of the start-ups, PrepClass (Nigeria) – a tutoring marketplace that connects learners and tutors through an online platform – is one of the nine start-ups that constitute the first cohort of our Innovation Fund grantees. Just a few days after their selection for PitchDrive, the PrepClass team were also selected to join XL Africa, a pan-African accelerator programme designed to support later stage tech start-ups that are ready to grow and scale.
Meeting leading African start-ups in London and Paris
The week in London started with an opening evening hosted at Omidyar Network's offices on August 14th. On the 16th we listened to the 14 start-ups' pitches at Campus London, Google's co-working space for entrepreneurs. Calling out for VCs and Angel investors in the room to join the fundraising of these start-ups, CcHUB founder Bosun Tijani claimed: "the 14 start-ups from PitchDrive are on a mission to change the lives of millions, we need to support them".
On September 4th, we joined the PitchDrive entrepreneurs along with the CcHUB and Afrobytes teams for a visit of Station F in Paris. With a 3,000-desk open space, this new business incubator inaugurated this summer is now the world's largest start-up facility. It was a good occasion for the CcHUB team in particular to reflect on their journey, having opened the first open living lab in Nigeria back in 2011.
The event organised by Afrobytes on September 5th was a great opportunity for the PitchDrive start-ups to pitch one last time in front of a room of investors from France and beyond. The session was followed by two panels of experts covering African tech industry trends, the role of local tech hubs and scale-up strategies. Our programme was featured in the latter, alongside Grégoire de Padirac from Orange Digital Ventures who announced back in June a €50m commitment to invest in African start-ups, and Olivier Midière from MEDEF – France's largest employer federation – who concluded with remarks on his landscaping exercise of tech ecosystems and policies globally.
Three start-ups using mobile tech to make a difference locally
Although most of the 14 start-ups we heard pitching in Paris and London are using mobile technologies in a way or another, we wanted to share further insights on three start-ups that were particularly innovative in the way they were leveraging this technology.
Tradedepot (Nigeria) helps brands automate their entire route-to-market, eliminate tedious reconciliation and get products to consumers faster. They operate a mobile B2B supply platform for retailers in consumer goods which allows them to get real time access to distributors' stock levels, online bulk order placement and auto-generation of sales promotion. According to one of the co-founders Onyekachi Izukanne, there are 5m small retail outlets in Africa responsible for providing products to most consumers, 1.4m in Nigeria alone, and manufacturers can only focus on providing supply to 20% of the retailers. Tradedepot bridges that 80% gap between manufacturers and retailers.

Firefly Media is putting devices in city buses in Senegal, that allow people to connect to the WiFi for free and buy digital products (airtime for instance) while allowing advertisers to get their spots broadcasted to commuters. The team is hence using advertising to make public transportation more appealing to people as they get to use WiFi for free on their smartphones during their bus ride.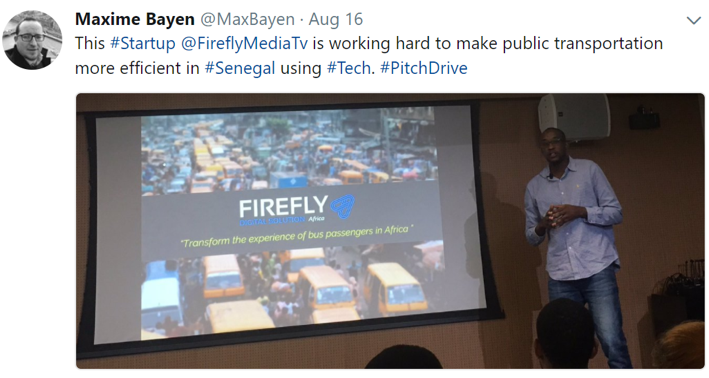 LifeBank (Nigeria) is disrupting blood donation by mobilising blood donors, taking inventory of all blood available in the country, and delivering blood in the right condition to the point of need. The mobile platform is operating in a "Robin Hood" model through which larger hospitals pay for smaller ones.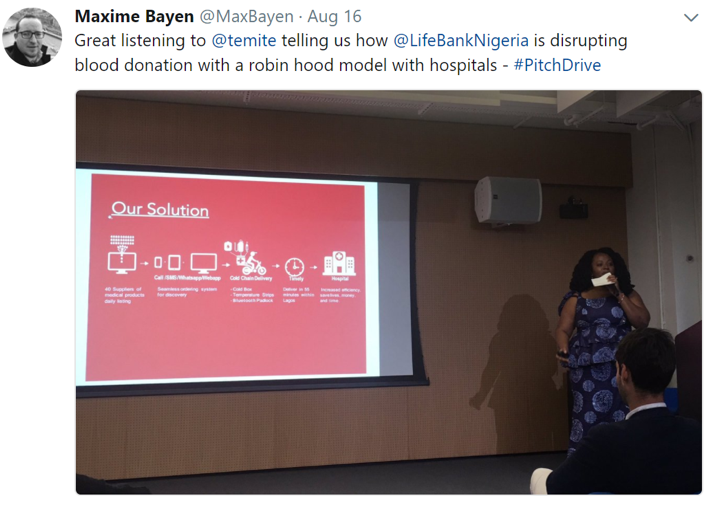 We would like to conclude this post by thanking the organisers of PitchDrive for inviting us to take part in those great events, especially Bosun Tijani, chief executive officer (CEO) and co-founder of CcHUB and the broader CcHUB team.
The Ecosystem Accelerator programme is supported by the UK Department for International Development (DFID), the Australian Government, the GSMA and its members.