Now in its third year, Mobile 360 – Africa brought together mobile operators, government officials, ICT, finance, NGO and media leaders from across Africa and beyond with a specific focus on digital inclusion, network coverage and quality of experience. The event was held in Dar Es Salaam, Tanzania from July 26-28.
The GSMA Ecosystem Accelerator team had the chance to host three sessions during the event. Here are three takeaways from those sessions that we wanted to share with you.
1. APIs: a bridge between mobile operators and start-ups in Africa
Following the publication of our report on APIs (APIs: A bridge between mobile operators and start-ups in emerging markets), we organised a panel session on the topic, featuring participants from mobile operators and start-ups.
Etisalat Nigeria and Orange MEA, represented respectively by Adia Sowho (Director Digital Business) and Aurélien Duval-Delort (Marketing Director for Open Innovation MEA) presented their initiatives on APIs.
• Orange has made significant progress in working with start-ups by establishing an online API platform to onboard startups and developers. To date, Orange has opened four APIs in nine countries of the MEA region. Whether it is through this API platform, through one of the Orange Fabs or through their investment vehicle (Orange Digital Ventures), Orange supports start-ups at all stages of their growth. In return, partnerships with start-ups has allowed Orange to detect the new disruptors in the mobile space.
• Beyond APIs, Adia Sowho articulated the need for African start-ups to understand the way mobile operators work in order to put together relevant value propositions. She then broke this piece of advice into three specific tips for start-ups:
1. Monetisation: Start-ups must understand their path to monetisation and also the monetisation path for mobile operators;
2. Support: Start-ups need to seek external support in understanding how mobile operators work and how to work with them. This will help them reach out to the right people within the operators and to craft the right value proposition; and
3. Product Differentiation: Operators are keen on propositions that are unique and will give them an edge in the market. This differentiation should be reflected when reaching out to them.
Adia closed her remark by acknowledging the need for harmonisation of operator APIs both at a country level (interoperability) and across countries for group operators.
While appreciating the amount of capital and time invested by African mobile operators to make their APIs available to local start-ups, the co-founders of start-ups AlemHealth, SafeMotos and Kopo Kopo, drove the panel discussion to a number of barriers that still prevent start-ups in their markets (Rwanda and Kenya in particular) to fully realise the benefits of operator APIs. These barriers include:
• Operator's maturity in the management of APIs (e.g. clear and actionable documentation);
• Lack of access to stable sandbox environment;
• Difficulty in identifying the API 'point of contact' within the mobile operator;
• Integration issues with some APIs (often requiring to connect through a VPN); and
• Lack of standardised APIs across markets.
Concluding the discussion, operators participating in the panel acknowledged that APIs are a new business for operators and they just embarked on this new journey. They reaffirmed however their willingness to commit to doing more in this field.
2. GSMA Ecosystem Accelerator Innovation Fund launch
There was a lot of excitement in the air as we launched our Innovation Fund. The Fund aims to support start-ups using mobile to drive positive socio-economic impact in emerging markets. Opened to post-revenue start-ups in Africa and Asia (selected countries), this initiative will provide funding, mobile-focused mentoring and technical assistance to start-ups. It will also help establish partnerships with local mobile operators to increase the reach of innovative mobile services.
The Innovation Fund will commit around GBP two million through 10 to 15 grants (between GBP 100,000 and 250,000) to start-ups in January 2017 and the Fund is set to attract hundreds of applications from mobile tech start-ups across the two regions. Eligible start-ups would need to fall into one of our two segments for this first round: Sharing Economy and Mobile Services for SMEs
To find out about further details and apply, please go to: http://gsma.com/innovationfund
3. Jumpstart Session @M360 Africa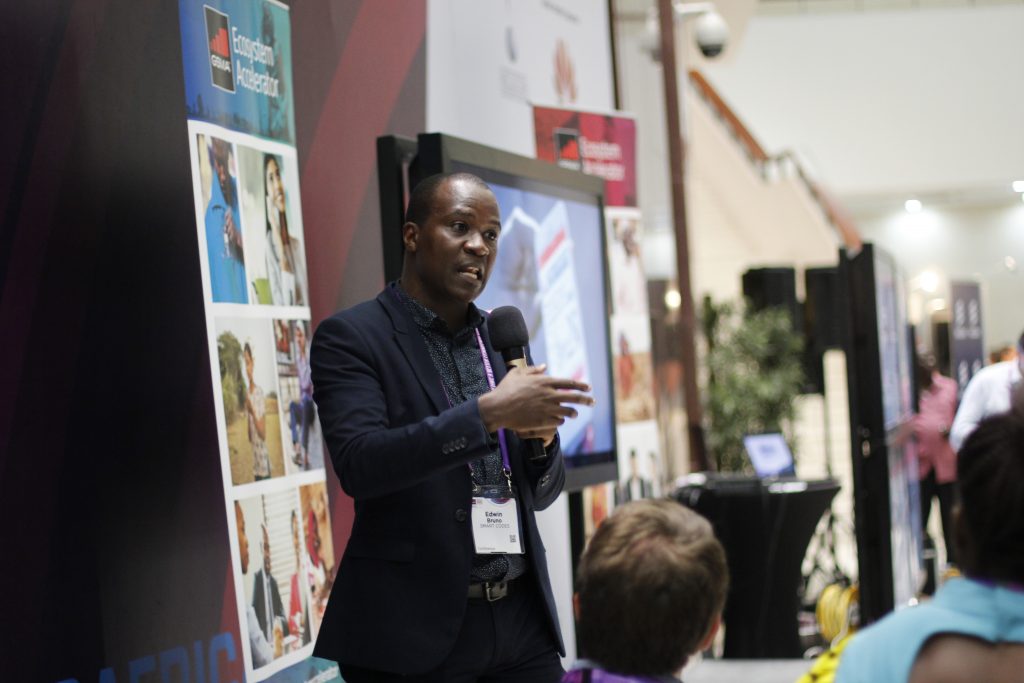 Finally, we hosted one of the event's "Jumpstart sessions" offering five start-ups an opportunity to pitch in front of potential business partners and mobile operators.
After a five-minute pitch, start-up founders were asked a number of questions by our jury, made of Nana Yaa Oti Boateng (Vodafone Ghana), Aurélien Duval-Delort (Orange MEA) and Marcello Schermer (Seedstars)
While being commercial ventures, the five start-ups pitching at the session all use mobile technologies to tackle critical socio-economic issues faced by populations across the continent today:
• Unemployment: Ajira (Tanzania) presented its job matching technology-based platform while Shortlist (Kenya) aims at using technology and human screening to improve how SMEs hire;

• Access to information: Backed by Vodacom, mPaper (Tanzania) offers users in Tanzania the opportunity of reading the local newspapers and magazines on their mobile phones;

• Road safety: Ride-sharing service SafeMotos (Rwanda) is working on making roads safer for moto taxis and their passengers by using mobile phone based telematics;

• Access to healthcare: AlemHealth (MEA) is a telemedicine services provider that connects hospitals in developing countries to a network of diagnostic imaging, pathology and specialist consultation services.
Mobile 360 – Africa was a great event and we enjoyed the opportunity to interact with many stakeholders. We encourage people to read our content and get in touch with us at accelerator@gsma.com should they have any questions.