On January 25th, the GSMA Ecosystem Accelerator was invited to participate in the Eurasia Mobile Challenge hosted by mobile operator Vimpelcom in Yerevan, Armenia. The event was the regional finale for the 24 start-up teams which gathered from 8 countries after local competition selections. Although Eurasia is not presently in our programme's geographical focus, it was refreshing to listen to these 24 start-up pitches, and to witness Vimpelcom's involvement in the regional tech ecosystem. As we usually do, we thought we'd share our three takeaways from this day.
1. Pitch competition: only one chance to make a good impression
Invited to participate in the judging panel of the regional start-up competition together with seasoned investors, tech journalists and team members from Vimpelcom group innovation department, I had the chance to listen to the pitches of some of the best early-stage mobile focused start-ups in the region. With only a few minutes to pitch in front of the judges, nothing is as key as the overall impression you are giving. Some of the teams clearly understood this and stood out in that regard:
The Kazakh team of Charba.kg – a mobile platform for farmers to directly sell to the end-consumers – actually gave each of the judges a cucumber (!) produced by one of the farmers they have been working with
The founder of Treepex from Georgia – a mobile app that allows people and corporates to plant trees remotely and watch them grow – ended up convincing one of the judges to try the app live and turned him into a supporter after planting his own tree in Tanzania!

In an unfortunately still very male-dominated segment like tech, having a female founder is also a way to stand from of the crowd. From this perspective it was great to hear the pitches of female entrepreneurs behind start-ups like Augep (Georgia), Torgai (Kazakhstan) or Donate-Asia (Kyrgyzstan). It is worth noting as well that the winner of the Eurasia Mobile Challenge, Russian start-up Confbot – was also founded by a woman.
2. Eurasian, South Asian or African start-ups are addressing similar challenges
The GSMA Ecosystem Accelerator programme is just over one year old and over these past 12 months, we've had the chance to discover a great number of start-ups across emerging markets. While this specific event focused on the Eurasian region, it was striking to see that the start-ups had two things in common with a lot of their African or Asian counterparts that we've met: they are all mobile-centric and they are tackling problems and challenges that resonate across geographies. Here are a few noteworthy examples:
Giving more people access to quality healthcare: Persomedic (Georgia) is a mobile solution for patients to reach out to doctors and avoid auto-medication
Making education more accessible: Repetitor (Tajikistan) is a mobile application that creates bite-sized visual content for students based on textbooks
Solving logistical issues for SMEs: 20tonn (Kazakhstan) is a mobile sharing economy platforms that connects carriers (trucks) with loads (customers)

This point will be even more strongly emphasized at the end of February, when the all the winners of the regional Mobile Challenge stages (Europe, Africa, Middle East, North America, Eurasia, Latam and Asia Pacific), will meet during Mobile World Congress (at the 4YFN event) to pitch one final time for the global awards.
3. Why this matters to mobile operators
Sponsoring an event of this kind certainly comes at a cost, but judging from the engagement of Vimpelcom's management throughout the event, it also generates some benefits.
As we highlighted in our recent report Building Synergies: How Mobile Operators and Start-ups Can Partner for Impact in Emerging Markets, there are a great number of potential synergies between mobile operators and start-ups in emerging markets. This kind of event is one of the methods mobile operators can use to identify relevant start-ups and their potential synergies with that mobile operator's activities. This was highlighted clearly by Vimpelcom Eurasia CEO, Mikhail Gerchuk:

"We are not very good at innovation, but we are very good at marketing and distribution. This is where we can work with start-ups"

Turning words into actions, a number of Vimpelcom management teams actually engaged with some of the finalist start-ups at the event to discuss these potential synergistic collaborations in their respective footprints.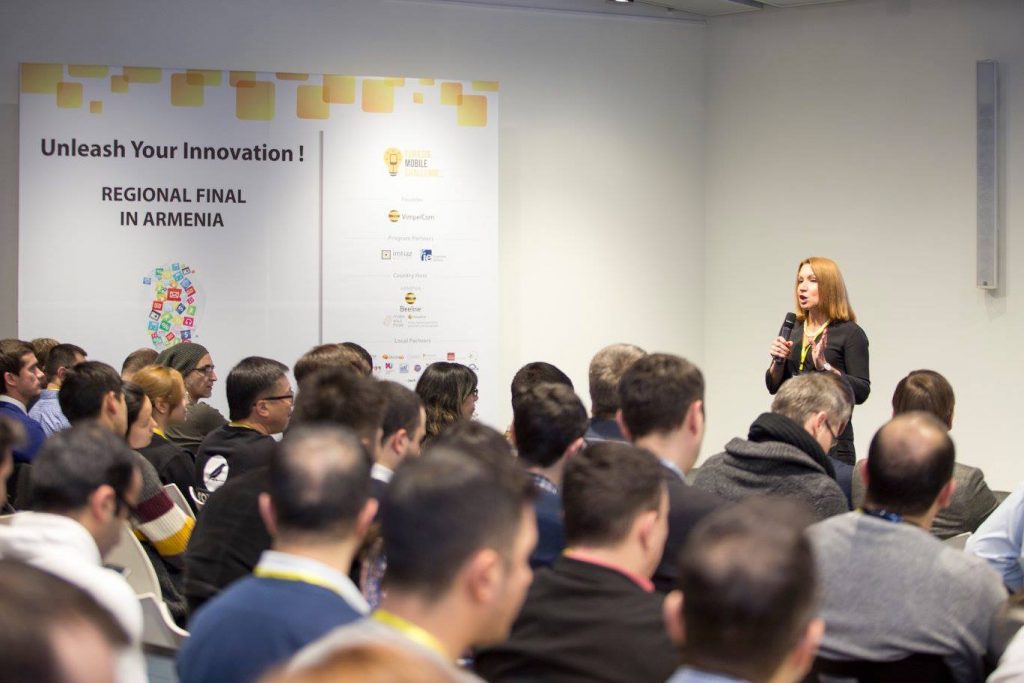 We would like to use this blog to once again thank the team behind the Eurasia Mobile Challenge and more specifically, Anna Boyko (Vimpelcom), Dana Shaddad (Imtiaz) and Paris de l'Etraz (IE Business School) for putting together this great event and allowing us to contribute.