Back in July 2016 we launched our first publication and our Innovation Fund with great enthusiasm, with the aim to promote a seemingly simple idea: start-ups in emerging markets are making breakthroughs using mobile technology and should, therefore, consider turning to mobile operators to partner for scale.
Fast forward 15 months, and after reviewing close to 1000 applications to our Fund and diving into APIs, mobile operator corporate venture capital, and the breadth of possible synergies, we are ever more convinced that it is the case.
This process has also been a great opportunity to interact with hundreds of players in the ecosystem, and get a better understanding of the type of content that is most engaging and relevant to them. Based on this precious feedback, it is our pleasure to share with you the first edition of our 'Start-ups and Mobile in Emerging Markets' publication.
Our team has designed this new format to best capture the evolution of a fast-moving space, and with a wide range of stakeholders in mind. Mobile operators and start-ups obviously, who are at the core of our work, and who we strongly believe hold the key to large-scale impactful digital transformation, especially as they continue to explore more way of working together. Tech hubs who play a critical role in local innovation ecosystems, and have the power to promote ideas and collaboration locally. But also investors, who provide the capital to help projects get off the ground and go to scale. And more broadly, this is relevant to anyone who recognises start-ups and mobile technology are forces to be reckoned with in addressing the SDGs in a commercially sustainable manner.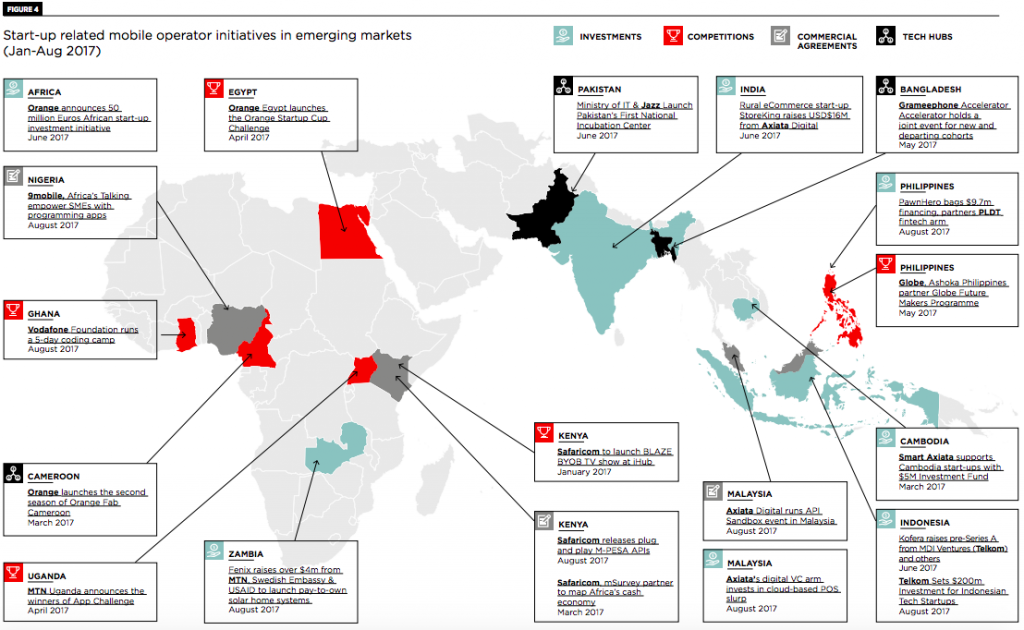 Our thanks go to those who kindly contributed to this piece, but also to all those who make change happen on the ground by creating and supporting impactful innovation, especially our donors the UK Department for International Development (DFID) and the Australian Government for their continued efforts to support the growth of local innovators.
We hope you enjoy reading this publication as much as we enjoyed putting it together. Your feedback is always welcome!
The Ecosystem Accelerator programme is supported by the UK Department for International Development (DFID), the Australian Government, the GSMA and its members.