In early November 2017, our team was invited to take part in the 2017 edition of AfricaCom hosted in Cape Town, South Africa. This was also the opportunity for us to participate in the residency week of XL Africa's 20 start-ups, join the inaugural AfricArena event and to meet disrupting start-ups from the booming local ecosystem. As usual, we wanted to share with you a few takeaways from this exciting week.
Investors and corporates alike are putting more skin in the African start-ups game
In 2015, research from Disrupt Africa had shown the volume of Africa tech funding had raised significantly year-on-year. For 2016, the same report claimed the number of deals had actually increased a lot over the year, while the volume somehow stagnated. It is expected that for 2017, both numbers should be on the rise…
Indeed, not only are the investors with an African focus like CRE Ventures, TLcom, Omidyar Network, Knife Capital or Singularity Investments now joined by other similar vehicles, but an increasing number of global VCs are also joining in. Beyond traditional VCs, African start-ups platform VC4A's founder Ben White claimed that the continent is also witnessing the "rise of a business angel movement". Reflecting on the data accumulated on 8,500 African start-ups through their platform, White highlighted that "most investors in Africa have been active for less than five years".
This acceleration can also be seen among corporates. At the inaugural AfricArena event, several French corporates have shown a strong interest to work with African start-ups. During the event, French airline Air France for instance selected African start-ups WeCashUp and GoMetro to run pilots locally in the coming months. A few days later, on the AHUB stage of AfricaCom, Google's head of Ecosystem for Sub-Saharan Africa Andy Volk, announced the launch of a "Launchpad Accelerator Africa" programme run from Lagos and consisting in a three-month programme, with the first application period open until December 11. In their selection, Google will assess the relevance of the problems the start-ups are tackling locally.
The later concern around the "problem solved" is also constant for local investors, as highlighted by KNF Ventures partner Andrea Böhmert: "We are looking to fund companies that address not a 'nice-to-have' but a 'need-to-have'.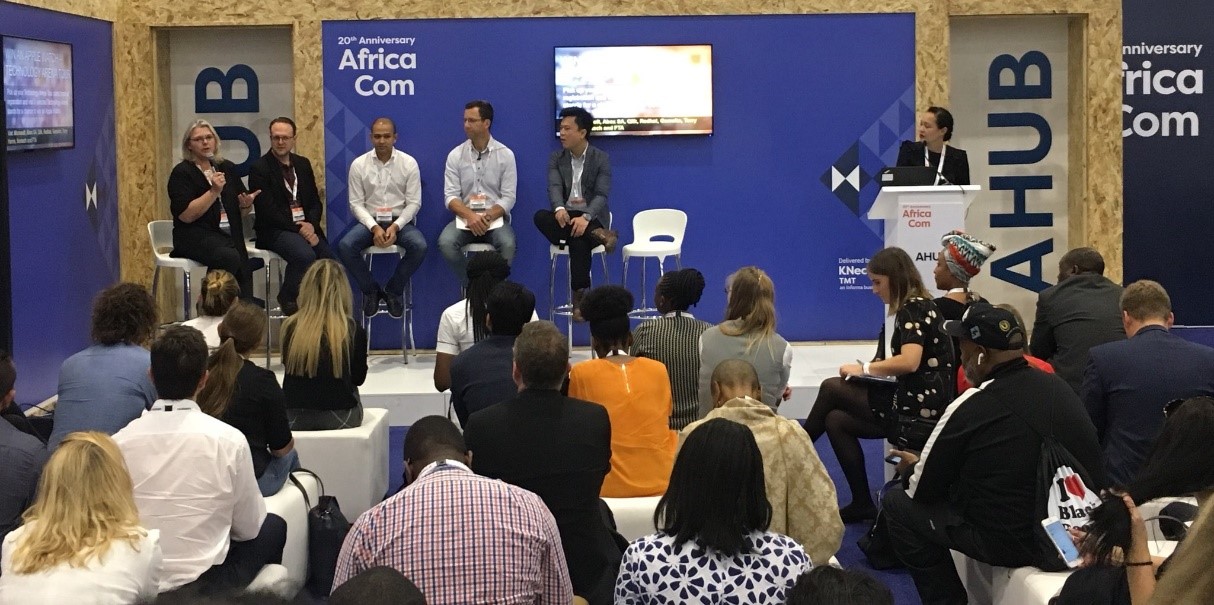 Mobile operators as start-ups enablers in Africa: from concept to reality
Mobile operators were among the first 'corporates' to actually engage with African start-ups a few years ago. Their role on the continent has clearly expanded. "In the last ten years, mobile operators have enabled people in Africa to move from one call per month to their loved ones to several calls per day" reminded Vodafone Ghana CEO, Yolanda Zoleka Cuba. "Today, MTN, through the start-up Jumia, is the largest eCommerce player in Africa" highlighted MTN Group's Chief Digital Officer, Herman Singh.
This year's AfricaCom conference was a good illustration of the enabling role mobile operators are now playing with start-ups across the continent. What seemed still at concept stage during the previous editions of the conference we attended over the past years, is now turning into a reality.
While examples of mobile operators partnering with start-ups in Africa were difficult to find a few years ago, things are changing rapidly. Among the twenty start-ups selected by the XL Africa programme – funded by Finnish, Swedish and Norwegian Aid programmes and run by the World Bank – nine are actually currently working with mobile operators we found during the workshop we ran with them just before the AfricaCom conference.
Collaborations can take various forms: Coin Afrique works with Tigo in Senegal to push their best classifieds to the operator's users, while Jamii Africa, in Tanzania stroke a marketing and branding partnership with Vodacom to scale up throughout the country.
In a panel we moderated at AfricaCom, Lilian Makoi, founder of Jamii Africa and Malaika Judd, COO of Kenyan on-demand courier app Sendy – one of Safaricom's fund's portfolio start-ups – mentioned their respective start-ups were pioneers when they started engaging with Vodacom and Safaricom respectively. Orange's Arnauld Blondet (Innovation Director for MEA) and MTN's Manny Teixeira (Head of Digital Media and Services) confirmed on the same panel that mobile operators and start-ups are still learning from each other on building best practices to collaborate efficiently.
Those are the best practices, our programme, the GSMA Ecosystem Accelerator, has been built to foster and emphasise, as we shared in our talks across XL Africa, AfricArena and AfricaCom events.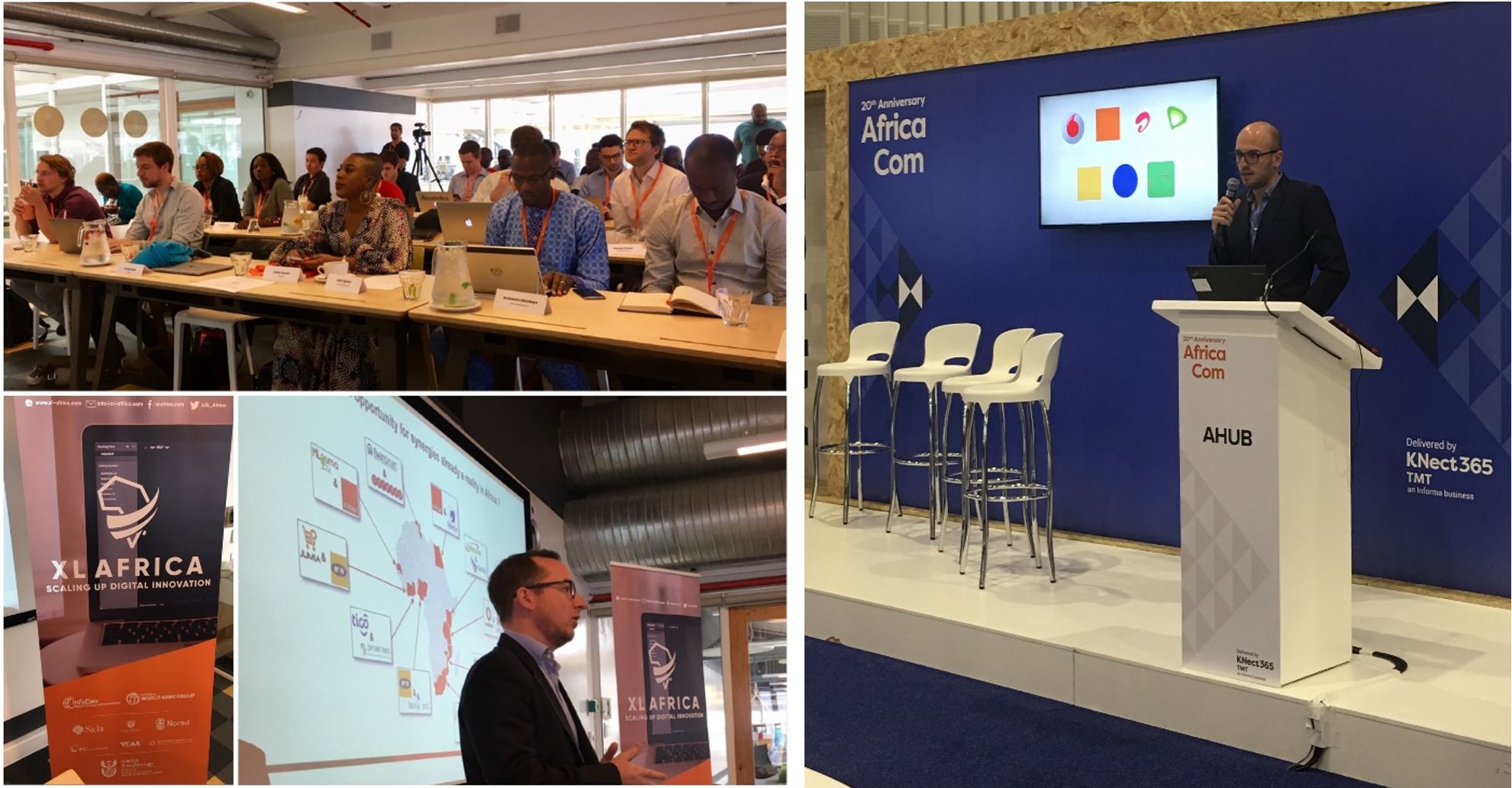 SMEs: a growing focus for African start-ups
When investors, corporates and start-ups are aligned and the puzzle is well assembled, the positive disruption of African start-ups can be very strong.
A critical segment which these three stakeholders are keen to support are micro, small and medium enterprises (SMEs). A number of start-ups we met during the week have actually articulated their entire strategy around this segment.


These strategies could have a real impact for Africans when looking at the size of this segment. According to a March 2017 report from the World Bank, "SMEs represent more than 95% of registered firms worldwide, account for more than 50% of jobs, and contribute more than 35% of Gross Domestic Product (GDP) in many emerging markets." These ratios are even higher when informal and non-registered SMEs are included. In Sub-Saharan Africa, the informal economy contributes between 25 and 65 per cent of GDP (depending on the country) and accounts for between 30 and 90 per cent of total non-agricultural employment.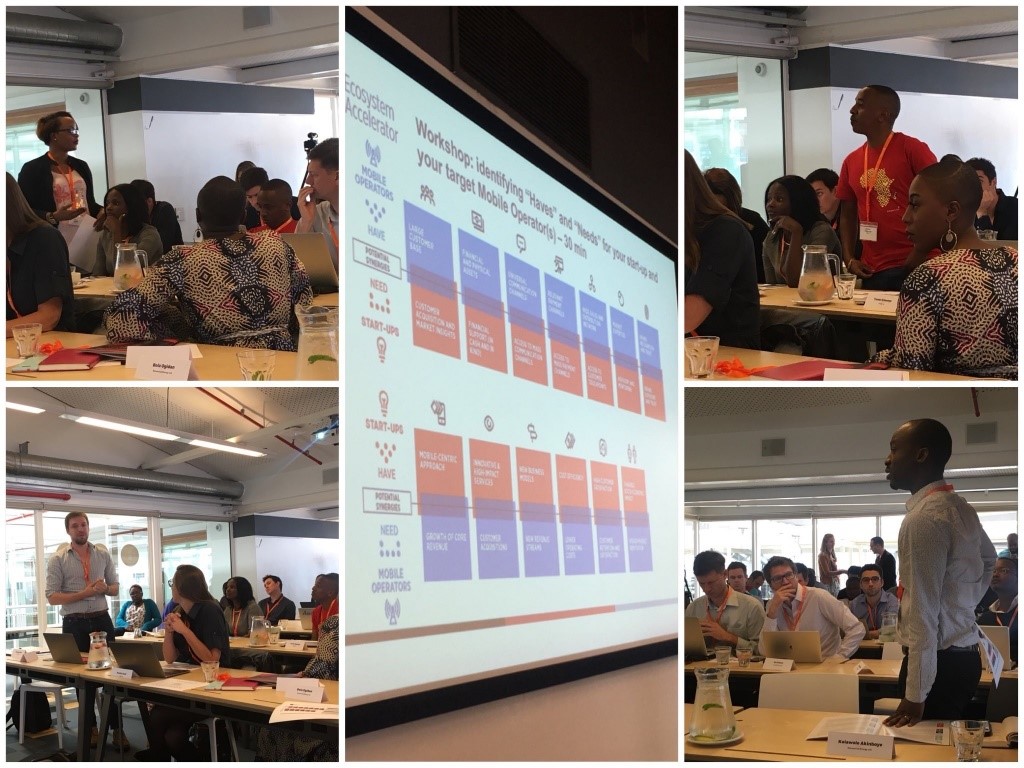 We would like to end this blog by thanking the teams at XL Africa, AfricArena and AfricaCom for inviting us to participate and contribute to their respective events and initiatives.
The Ecosystem Accelerator programme is supported by the UK Department for International Development (DFID), the Australian Government, the GSMA and its members.