This is the second in a series of blogs where local, national or international innovations using mobile or mobile networks in the disaster response area will be highlighted. The usage of technology to improve humanitarian action and make disaster preparedness and response more efficient has been increasing in the past number of years. A large number of mobile operators have been leading this trend and have released products or services that can be used by subscribers in disaster scenarios. In this blog we look at two innovations that SK in South Korea have developed.
SK Telecom has recently started a series called 'ICTnomics' that creates new products for subscribers through the fusion of ICT with other industries using SK's advanced network technologies. SK Telecom has a variety of possibilities across a diverse range of areas including healthcare, education and personal safety. The focus is on developing new ways of enhancing customer's lives through expanded use of smartphones that have become an integral part of South Korean people's daily lives. The following two innovations apply to disaster response in the domain of personal safety.
Smart Green Button
Smart Green Button is an emergency calling Appcessory (where App meets Accessory) that automatically dials and sends the location of the user to the pre-defined guardians when the user simply pushes the button. Once the guardian receives the call, he/she can listen to the situation unfolding at the user's location. Depending on the urgency, the guardian can also forward the call to police. A service flow is shown below.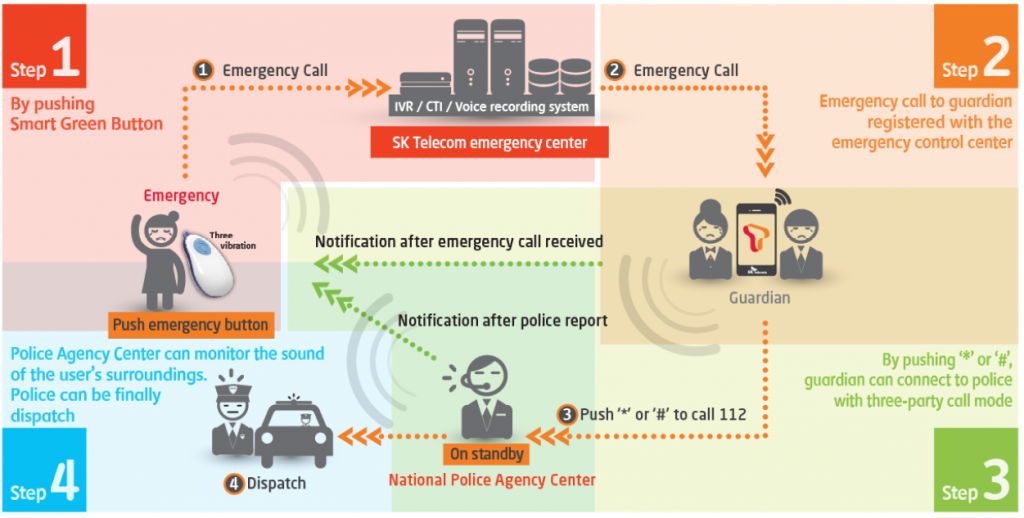 The location of the user is automatically sent to the guardian and the user will also receive reassuring confirmation notifications once the guardian has been contacted and the police have been advised. The device itself is a dongle weighing just 11grams and measuring 30mm x 44mm by 17mm, making it very suitable for children. The product is also marketed towards the sick, vulnerable and to women as a safety alarm.
First showcased at Mobile World Congress in 2014, the Smart Green Button was well received by visitors and industry related professionals as it brings a new way of self-protection against crime and violence
Air Cube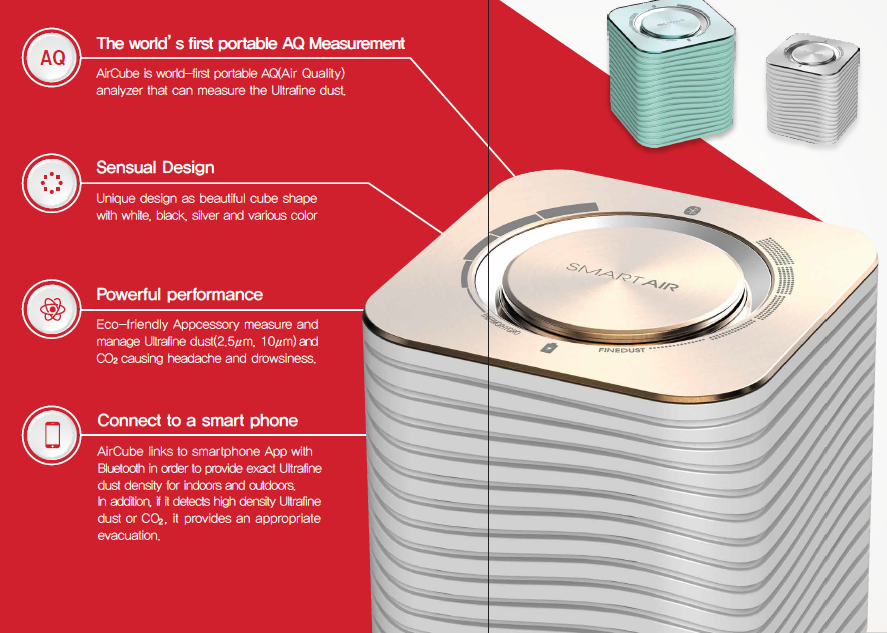 Air Cube is a small device that measures the amount of fine/ultrafine particles and CO2 in the air and sends the measured data to a smartphone application through Bluetooth. SK Telecom completed a prototype as of June 2014 and plans to launch the device later this month. In Korea, industrial cities with large and high density populations are known to have pollution problems which can be health-affecting. While the government does provide timely information about air pollution levels in some cases, for the most part the radius of detection is too large to be useful for schools, hospitals and other public buildings or locations. Air Cube counteracts this by giving customers more precise and sensitive data about air pollution levels before venturing outside. CO2 poisoning is also a risk in enclosed spaces as it is possible to suffer anoxia or asphyxiation from breathing carbon dioxide. SK aim to market this to individual consumers first but plans are in place to market to businesses at a later stage and even beyond the borders of Korea into other regional markets.
South Korea has long been an early adopter of technology and SK were one of the early leaders in deploying LTE commercially, termed as digital pioneer by GSMA Intelligence. Quite apart from having the necessary infrastructure to enable people to use more data and the ensuing additional services – ensuring even further ubiquity of the smartphone in the lives of South Koreans – SK is to be applauded for helping converge industries to aid people in their safety.
More information and a detailed step by step guide is available online at SK's website here: http://www.sktelecom.com/en/press/detail.do?idx=1072