Last month, in the aftermath of a super typhoon that hit Mindanao Island in the Philippines, I witnessed an inspiring cooperation amongst mobile operators and NGOs. It was encouraging to learn just how much more efficient and effective disaster response can be when different parties coordinate efforts, pool resources and make use of innovative new communication tools.
On the morning of the 4th December 2012, Typhoon Bopha swept across Mindanao, the southernmost island of the Philippines. By then, it was a category 5 "super typhoon" with winds of over 160 mph (260 km/h). The three coastal towns of Baganga, Cateel and Boston were hardest hit. As the storm worked its way inland, its power waned but it generated huge rainfall, which caused devastating landslides in the Compostela Valley region. All told, Typhoon Bopha was the most devastating typhoon to hit the area for 100 years. It claimed 1,500 lives and left 200,000 people homeless.
The typhoon had a devastating effect on communications in the area, bringing down lines, destroying mobile towers and damaging backhaul links. The lack of communications together with destruction of some of the road infrastructure meant that information was slow coming out of the disaster zone and the mobilisation of support was delayed.
I arrived in Mindanao as a volunteer with Télécoms Sans Frontières (TSF). TSF is an NGO that provides communications for the affected population and emergency responders after disasters. The journey from the provincial capital, Davao, to hard-hit Baganga usually takes about 3 hours; after Typhoon Bopha, it took more than the double that time as the main bridge had collapsed into a river.
The new route was a switchback road that followed the coastline. Lush coconut groves gave way to barren expanses where the majority of trees had been felled and those that hadn't were stripped of all vegetation. As we neared the town of Cateel, we saw families living by the road in makeshift shacks as their wooden homes had been pulverised by the storm. In Cateel itself, the more substantial civic buildings had fared a little better but all were significantly damaged and electricity was out. Landlines and electricity poles had been toppled and loose cables snaked across roads and over houses.
These scenes were repeated along the coast, as we travelled on to Baganga, which was to be our base and the main operations centre. TSF's rapid deployment to the challenging environment of Mindanao would not have been possible without the support of local operator SMART. TSF had already established a good working relationship with SMART, through a training provided by TSF for SMART employees on emergency telecommunications.
In Baganga, our team's first task was to set up a "calling operation", which provides free calls to any worldwide number for the affected population, so that they can reassure worried family members or request help and/or financial assistance. The call centre was established outside a medical clinic, where the affected population was gathering for assistance.
TSF provided portable satellite technology to make calls and bridge the gap whilst the mobile and land services were restored (though satellite calls are expensive, they are still one of the only viable communication options in such high infrastructure damage scenarios), SMART provided vital logistical assistance and support staff. Call centres were operated under the banner of both TSF and SMART.
Over the following days, this cooperation had great benefits. TSF was able to set up calling operations in Cateel and cooperated with the Philippine Red Cross to provide free calls at their aid distribution points along the coast. In addition to these call centres, we deployed BGAN satellite internet stations to enable connectivity at each of the command centres in Baganga, Cateel and Boston. These connections were used by responders (both government and NGO) to send situation reports to headquarters in Manila and beyond, increasing awareness of the severity of the disaster and further enabling the flow of aid.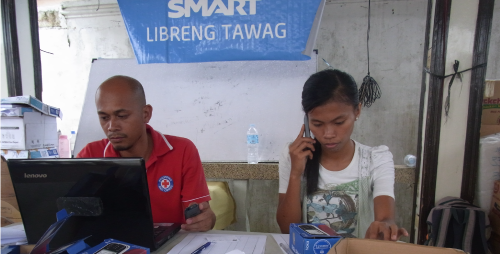 We were later joined in Baganga by a team from the Vodafone Foundation that had brought their Mobile BTS – the "Instant Network". Vodafone's Instant Network was quickly installed which enabled the local population to use their own phones and receive money from relatives via SMART's mobile money service. The Instant Network also provided emergency responders with greater communication capabilities that improved the efficiency of their operations. Thanks to this cooperation, SMART was able to focus its resources on restoring mobile connectivity to other towns in the disaster area. The Instant Network was operational for 17 days until normal services were restored – during that time it enabled an impressive 300,000 calls and nearly 600,000 SMS messages.
This partnership between Vodafone, TSF and SMART proved tremendously effective. I was particularly encouraged by how different actors in the communication sector, both commercial and non-commercial, were able to bring complementary capabilities and skills to a disaster scenario. For TSF and the Vodafone Foundation, partnership with a local operator sped up deployment to the affected area and the operator's local knowledge and situational awareness was key to effective planning and the more efficient use of scarce resources. For SMART, these partnerships provided specific equipment and specialised services necessary in disaster conditions thereby bolstering their support activities and increasing the speed of their network restoration. It's a win-win situation that I hope will be replicated in future disasters.
Many thanks to the teams of TSF, Vodafone Foundation, SMART and to the people of the Davao Oriental region for their warmth and generosity in challenging times.