This blog was written by Salima Fazal Karim, former Senior Market Engagement Manager for Mobile for Development Utilities.
In 2015, the GSMA Mobile for Development Utilities Programme awarded a grant to Devergy to roll out their mobile-enabled pay-as-you-go (PAYG) solar mini-grid to the Mbeya region of Tanzania. Their mini-grid infrastructure consists of an Enbox (or energy box) that connects and powers five households.  Each household has its own energy meter that can be recharged with mobile money, either Tigo Pesa (Tigo) or M-Pesa (Vodacom). Daily, weekly or monthly energy packs can be purchased to power light bulbs, phone chargers and optional appliances such as sound systems or TVs.  Meters are connected to a gateway via a Zigbee-based mesh network and the gateway is in turn connected to Devergy's cloud servers by the mobile network (2.5G).

A Devergy Enbox and meter in Mbeya region, Tanzania
Devergy had initially proposed to partner with Tigo Tanzania to develop an integrated bundle for both mobile services (voice, SMS, data) and energy.  A rural customer would then be able to make a single discounted purchase by mobile money to satisfy their mobile and energy needs in one go.
In the second half of 2016 however, Tigo Tanzania had a change in strategy, which meant that the idea of a combined mobile and energy bundle was altered into a bonus of 5 minutes of airtime, 5 SMS and 5 MB of data whenever Devergy customers used Tigo Pesa to purchase energy.  The Tigo bonus was launched in March 2017 and was applied to energy purchases above TZS 400 ($0.18) through Tigo Pesa with the dual objective of driving energy sales and the use of Tigo Pesa, wallet payments in particular for these purchases.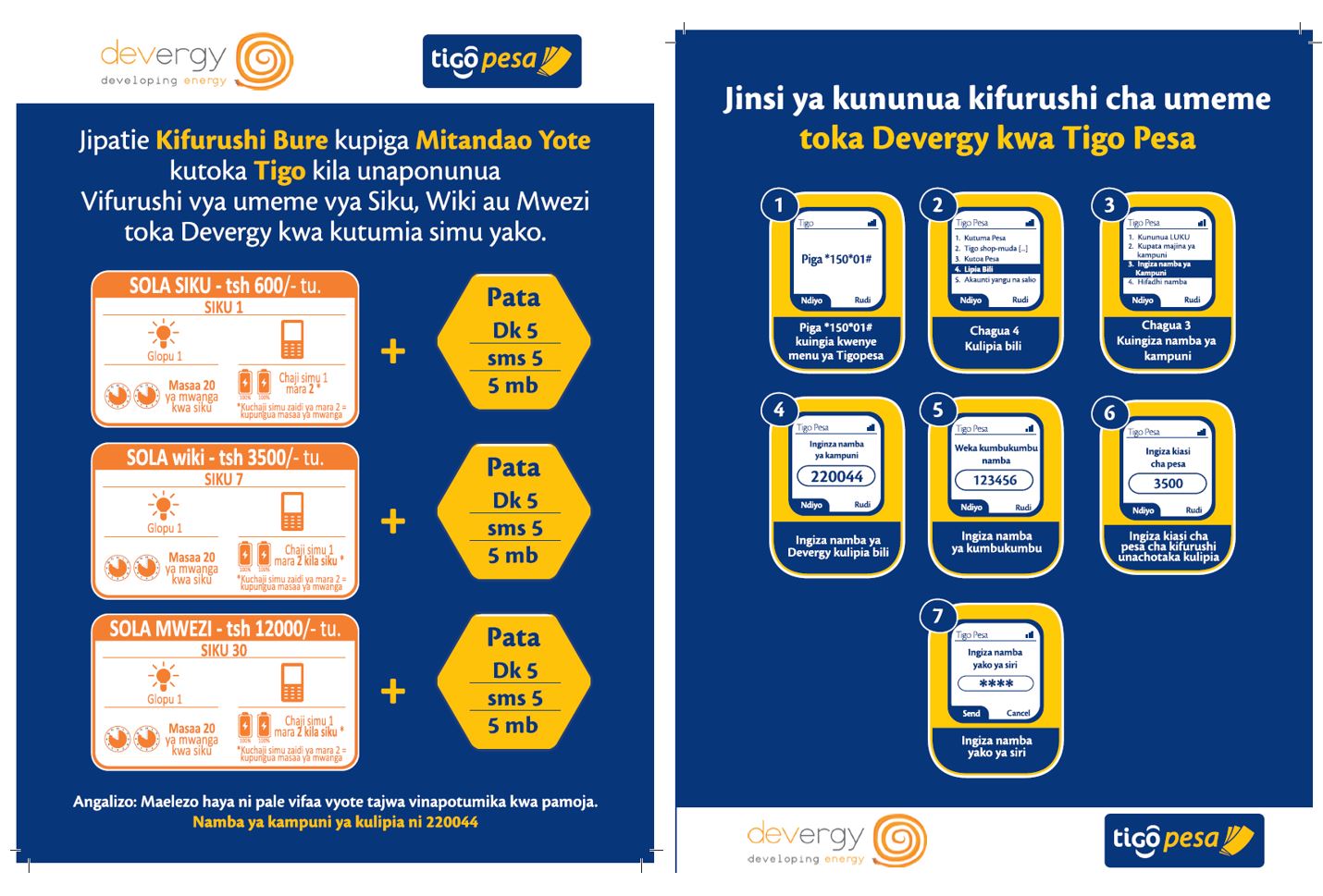 Marketing flyer for the Devergy energy packs with the Tigo Pesa purchase bonus, courtesy of Devergy
Lessons from the project
The Tigo bonus was successful in driving better adoption of the Tigo Pesa wallet.
In the Mbeya region where the new mini-grids were deployed, Devergy connected a peak of 539 households where Tigo had network coverage and 226 households where Tigo did not.
The impact of the bonus on Tigo Pesa's usage for Devergy energy purchases was low as the Tigo Pesa agent network in the Mbeya region was under-developed and the usage of Tigo Pesa among Devergy customers was therefore limited. The highest level of Tigo Pesa usage peaked at only 9 per cent in April 2017.  However, the bonus was successful in driving higher average purchase amounts by customers using their own Tigo Pesa wallet in villages where Tigo had network coverage as seen in the following graph.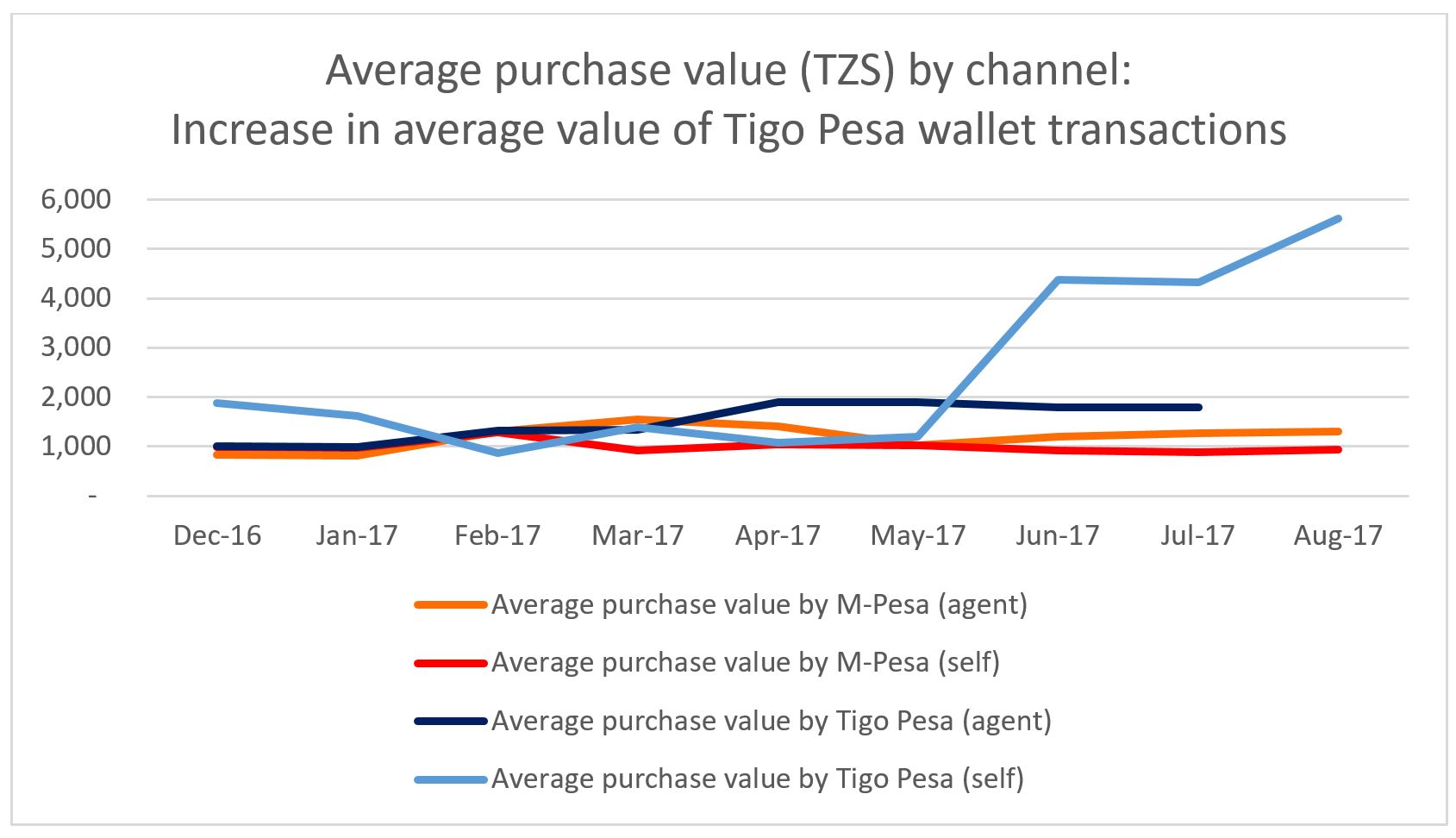 Source of data: Devergy
In the Morogoro region where Devergy had already established mini-grids (445 connections in March 2017) and Tigo Pesa good agent coverage, the impact of the bonus was more noteworthy in driving wider usage of the Tigo Pesa wallet.  The usage of Tigo Pesa (wallet or agent-assisted) did not increase. However, in the following graph, Tigo Pesa customers are seen from June 2017 onwards to use their own wallets to pay for their Devergy energy to take advantage of the bonus as opposed to using an agent for over-the-counter transactions (OTC).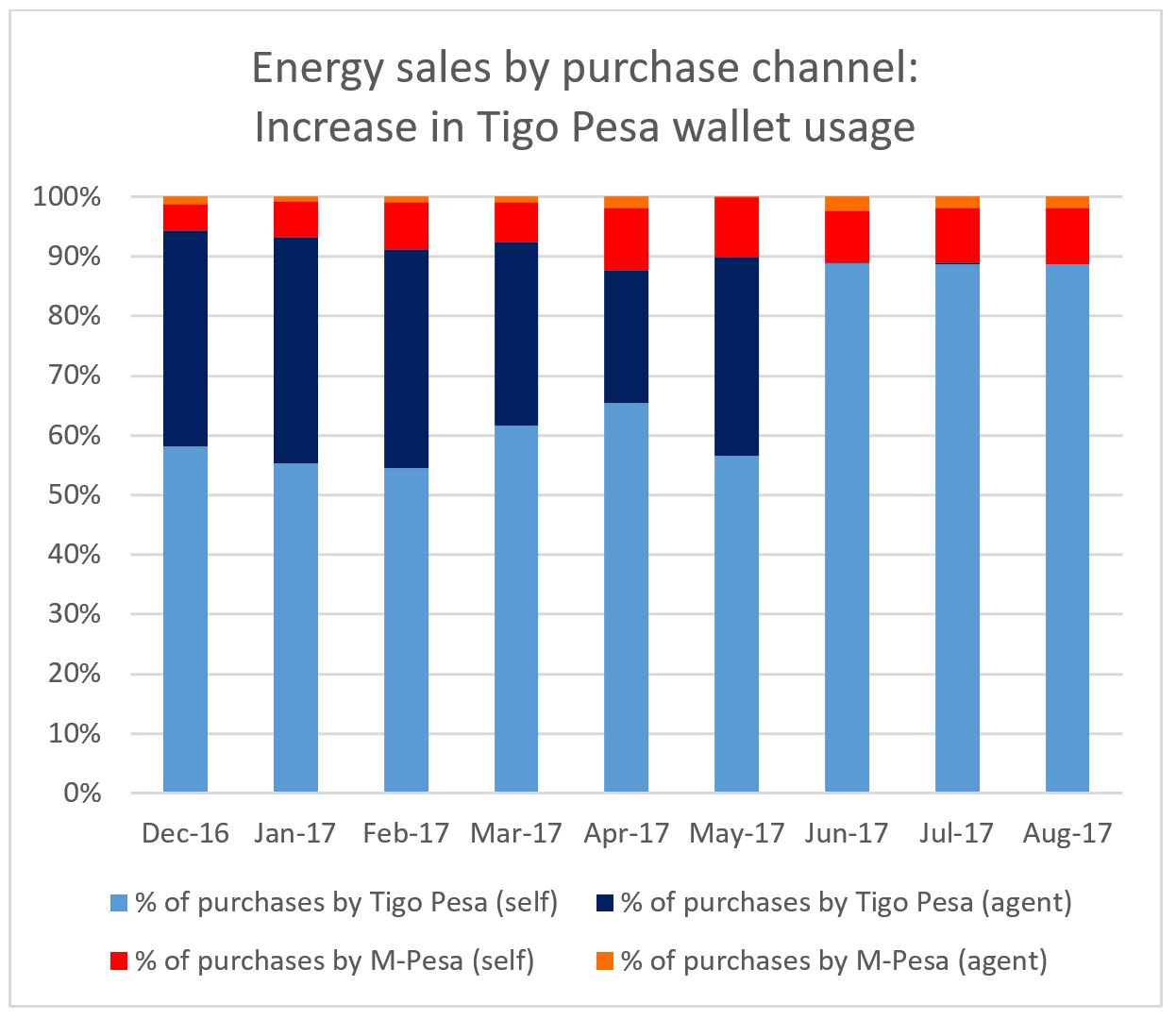 Source of data: Devergy
Therefore, while the bonus did not result in a higher Tigo Pesa penetration, it was successful in driving adoption of the Tigo Pesa wallet with both higher usage over OTC and higher average transactional value.
The Devergy mobile-enabled energy service drives adoption and usage of mobile money and mobile services.
Customer surveys were conducted by Acumen in July – November 2016 (baseline) with new Devergy customers in the Mbeya region and again with the same customers in November 2016 – February 2017 (follow-up) and June 2017 (endline).
According to the survey, 17 per cent of Devergy customers did not have a mobile money account prior to the Devergy service and opened one in order to use it. 64 per cent of users reported using mobile money more since starting to use the energy service for the various use cases below: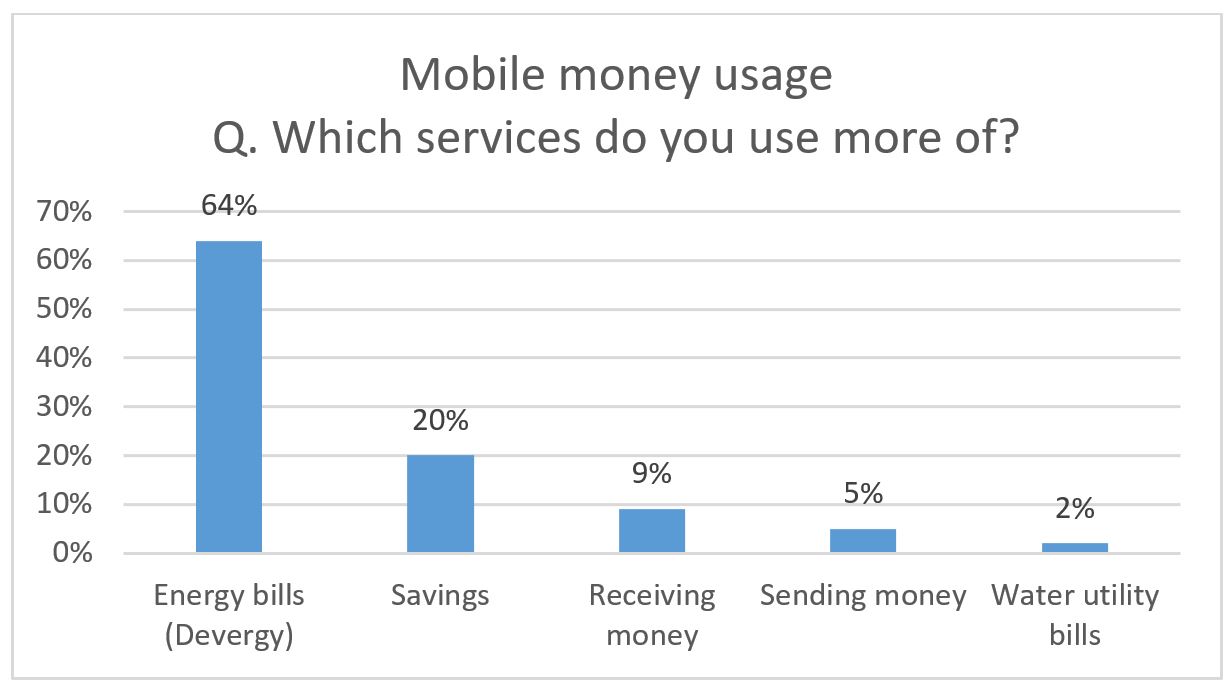 Source: Acumen
Similarly, households reported spending 30 per cent more on mobile credit every week from TZS 2,115 ($0.95) to TZS 2,775 ($1.22) and using their mobiles more often: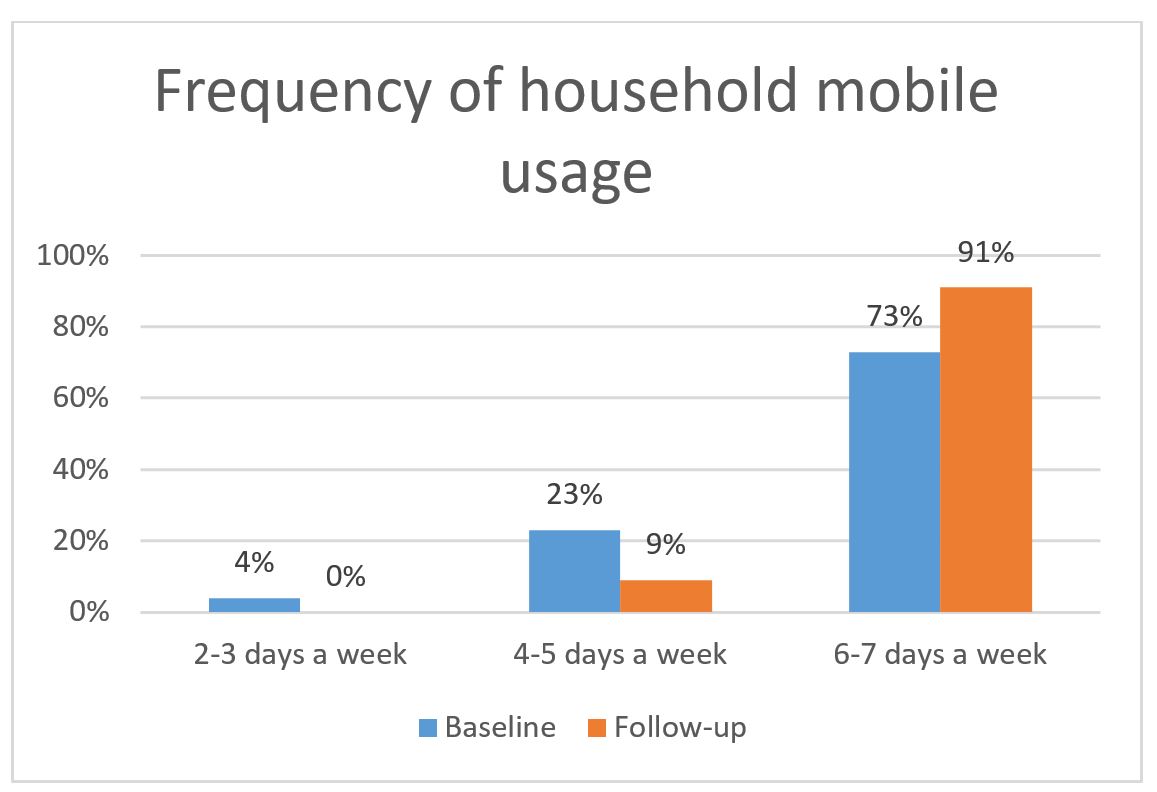 Source: Acumen
Since the use of Tigo Pesa was limited in Mbeya, only one Mbeya customer interviewed at the endline had actually received a Tigo bonus. He reported that the bonus motivated him to purchase a more expensive Devergy energy pack and incentivised him to use his Tigo SIM more.
Mobile handset charging is the second most important driver of the energy service's purchase and source of satisfaction behind lighting.
At baseline, households reported spending TZS 5,200 ($2.33) on lighting and phone charging per month.  At the time of the endline, this spend decreased by 20 per cent to TZS 4,200 ($1.86) – including payments for the Devergy energy packs. This is not negligible considering that 85 per cent of households live below the threshold of $3.10 per person per day and explains why lighting and phone charging are not surprisingly the main drivers of purchase and satisfaction of the energy service.

Source: Acumen
Furthermore, for customers using the Devergy service for income generation, charging phones (31 per cent) was the second income-generating activity behind shop/retail (44 per cent) and ahead of bar or restaurant (13 per cent) and milling (6 per cent).
"I use it for charging my neighbours' phones to increase my income and get money to buy another [energy pack]." Nimanweli Simpokorwe
Recommendations
For MNOs: The synergies between energy and mobile services are compelling, with phone charging one of the main drivers of purchase for energy services on one hand, and energy services driving adoption and usage of mobile money and mobile services on the other . Beyond providing core mobile channels for the energy service, MNOs may benefit from deeper partnerships with energy service providers, trialling innovative strategies such as a mobile services bonus upon energy credit purchase, which could drive further adoption and usage of mobile money wallets.
For Service Providers: While partnerships with mobile operators beyond the core provision of mobile channels are attractive, caution should be exercised to weather any potential changes in strategy and outlook from MNO partners. In the case of the grant project, Devergy had to modify their marketing strategy when it became clear that Tigo's marketing support would be more limited than initially expected due to their change in strategy.
This initiative is currently funded by the UK Department for International Development (DFID), and supported by the GSMA and its members.