This blog was co-written by Janet Shulist and Jennifer Frydrych.
As part of a wider global project on person-to-government payments via mobile money, we've observed a few commonalities between two services in Pakistan – Easypaisa's traffic challan initiative and the JazzCash (formerly Mobicash) passport payment initiative. While it's too soon to report on the success of these initiatives, the commonalities we have observed in their approaches to P2G could point to future best practices when launching P2G mobile money payments in similar markets:
Providers initiated the conversations with governments: In both cases, providers reached out to the respective government departments with the initial idea for the P2G initiative. For JazzCash, this was the Directorate General of Immigration & Passports, and for Easypaisa, it was the Karachi Police Department. Further, both providers manage these relationships with a high-level of engagement, and have dedicated internal teams focused on fostering relationships with government departments. In both cases, it was more than a year from the initial engagement to launch of the P2G payment.
Political support for digitising government payments: In Pakistan, both providers cited government willingness and support for digitising government payments as important catalysts for helping the initiatives move from idea to launch. For instance, the Directorate General of Immigration & Passports was one of the first ministries to digitise their entire platform. Similarly, senior management within the Karachi Police department was also very forward looking for digitisation. In Pakistan, the government's Vision 2025 includes e-governance, e-commerce and e-services, which may drive this support further.
Emphasis placed on time savings for customers, which is reflected in the business model: In both cases, the potential time savings for customers was the primary driver for launching the P2G initiative. For JazzCash, passport application payments via mobile money has reduced the process from one day of travelling and queuing to just minutes. For Easypaisa, paying traffic challans via mobile money has reduced a three-hour process to less than an hour. As such, both initiatives use a customer-pays model, with providers charging 100 rupees and 18 rupees fees respectively for passport application payments and traffic challans.
Leveraging the existing national ID system: In Pakistan, all adults must register for a Computerised National Identity Card (CNIC)—an identification document used for authentication. Both providers have leveraged this system for their P2G initiatives. For instance, after a passport application fee is made via mobile money, customers receive an SMS receipt with a unique transaction ID. This transaction ID can be cross-reference with their CNIC to validate the payment and finalise the application process. For traffic challans, traffic officers use a GSM-enabled handheld device to enter a vehicle's licence number and the driver's CNIC number to generate an e-receipt, which can be paid at the collection centre when the driver collects their license.
Providers are solely responsible for marketing initiatives: Both providers are responsible for marketing these new initiatives to customers, and both use ATL and BTL tactics to do so. For traffic challans payments, Easypaisa has used billboards and collection centre branding, while JazzCash has used localised radio campaigns, in addition to retail branding and print ads.
JazzCash's passport payment initiative
In February this year, JazzCash launched a mobile passport payment product in partnership with the Pakistani Directorate General of Immigration & Passports and the National Bank of Pakistan. JazzCash was the first operator to implement this initiative by setting up a dedicated payment switch. The novelty of this approach reflects JazzCash inclusive strategy to encourage market collaboration in this space to quickly scale passport payments across Pakistan. Using a switch to process passport payments, the initiative aims to increase customer satisfaction by reducing the time it takes to submit a passport application (from 2 days to 1 day), and increase operational efficiency by reducing the number of people queuing at National Bank branches and passport centres nationwide. The pilot has proven successful at 16 passport centres, and JazzCash wishes to expand the initiative geographically across all 106 passport centres in Pakistan, as well as extend it by enabling other payment providers to plug into the dedicated passport switch.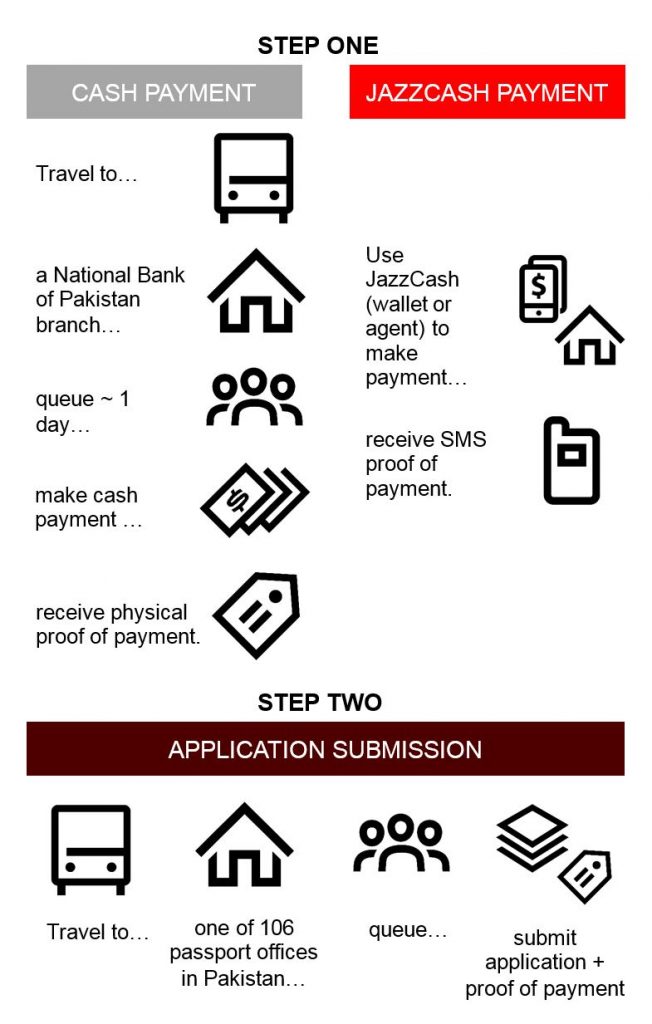 Easypaisa's traffic 'challan' initiative
Last December, easypaisa, in partnership with the Karachi police department, launched a mobile traffic fine 'challans' payment solution. The solution has digitised the way traffic fines are awarded and collected, significantly reducing the time it takes for drivers to settle their traffic fines. Easypaisa plans on ramping up the roll-out of this initiative in other regional provinces.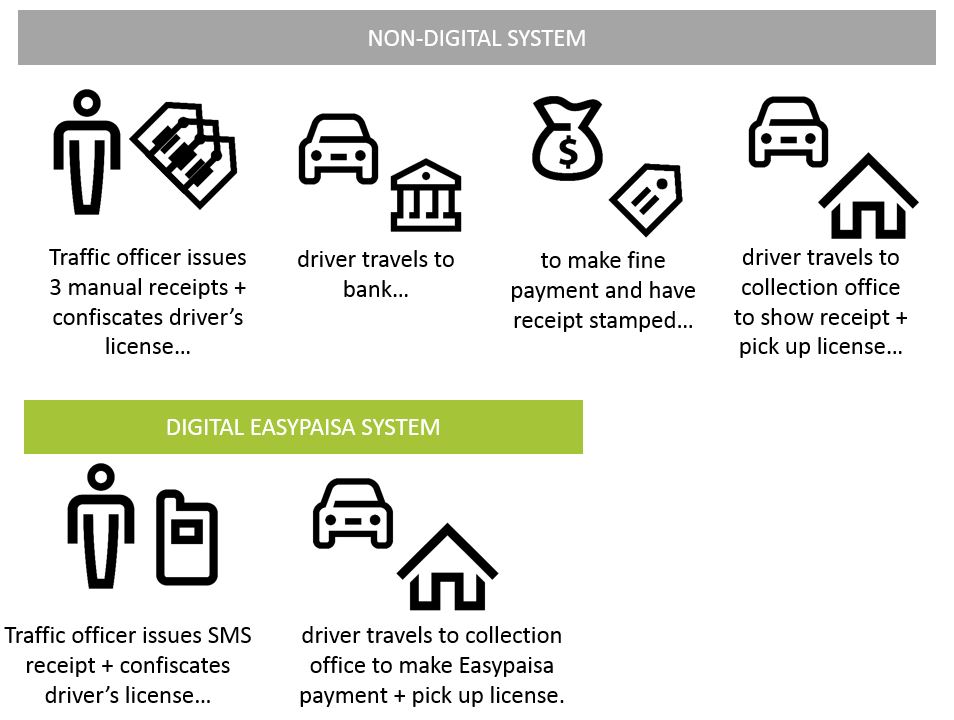 Banner image courtesy of www.pakwheels.com and www.jazzcash.com