Agriculture is a tough business in Africa's most populous country. In the last 30 years, agricultural productivity has remained stable or declined, highlighting low utilisation of good quality inputs and inadequate adoption of technology. Climate change has exacerbated the challenges faced by farmers, who are responsible for 90 per cent of Nigeria's agricultural output.
Yet, despite contributing a quarter to Nigeria's GDP, agriculture received less than 4 per cent of all credit provided by commercial banks in 2018. Investors are also weary of putting money into the agritech sector, a key enabler for a more efficient, profitable and resilient agricultural sector at large. In 2019, the agritech sector barely raised $2 million from investors.
The emergence of Nigeria's agritech sector
Despite the challenge of attracting investors, in the last decade over 80 agritech start-ups have emerged in Nigeria. Examples include crowdfunding platforms FarmCrowdy and Thrive Agric, last mile digital tools AgroMall and TradeBuza, commodity exchanges such as AFEX, and tractor-as-a-service as well as drone-as-a-service tools such as Hello Tractor and BeatDrone.
A range of early-stage funding organisations – incubators, accelerators, angel investors and donors – have begun to venture into agritech. Many agritech start-ups have been supported by local incubators, such as Passion Incubator, Wennovation and CcHUB. A few agritechs have also enrolled in international accelerator programmes. Both Thrive Agric and FarmCrowdy, for example, received investment and support from US-based Y Combinator and Techstars respectively.
The availability of early stage capital has facilitated a proliferation of agritech start-ups, however subsequent finance is not easily available. The sector faces a funding gap beyond early stages, both in terms of availability of institutional investors (impact investors, venture capital and private equity firms), and the difficulties of agritech start-ups to attract large ticket investments.
Figure 1: Agritech funders active during funding rounds in Nigeria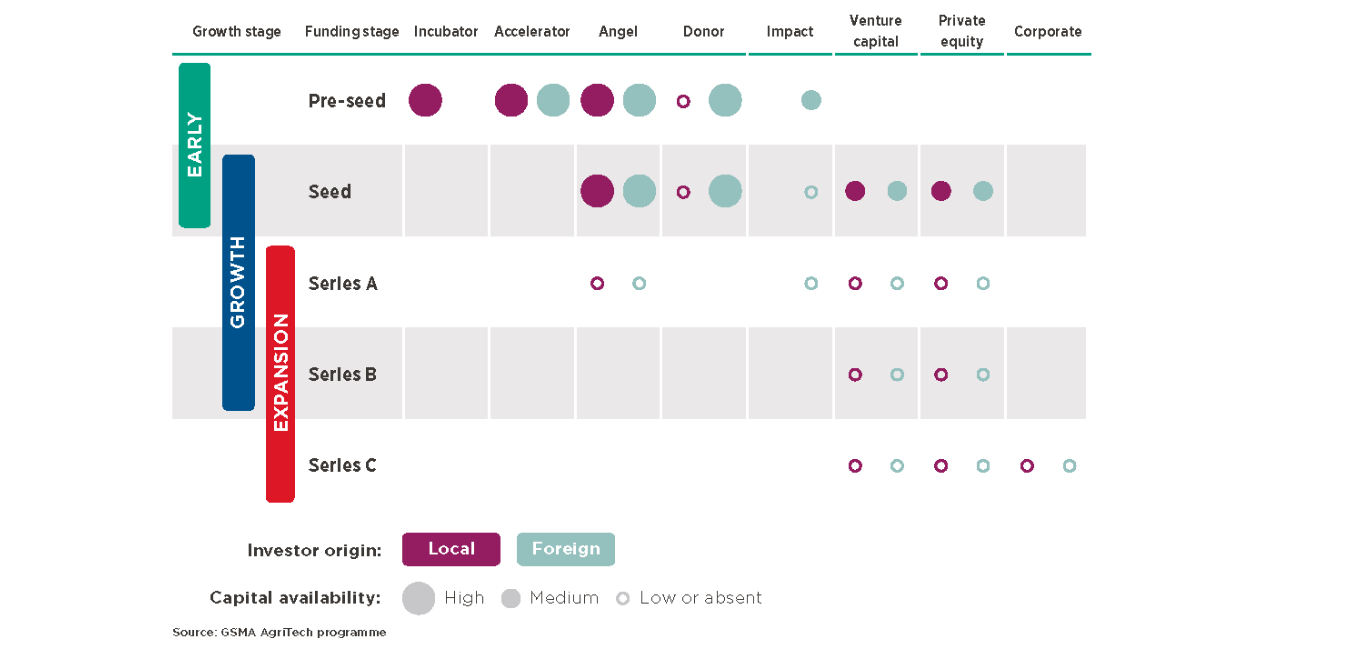 Some way from start-ups to established companies
To attract funding, a start-up must show clear signs of scalability to perspective funders. Despite the growth of Nigeria's agritech sector and the transition of a few start-ups into established companies, few have achieved scale. Barriers to scale in Nigeria include a challenging business environment, low access to skills, limited access to finance, and an ecosystem that is not geared up to support long-term growth.
As the country's financial infrastructure struggles to support investments that involve multi-year risk-taking and unproven business models, start-ups often have to generate revenue from the onset, rather than focussing on research and development, developing their value proposition and a business model.
For agritechs, the option of generating revenue by charging farmers (B2C model) is challenging, especially in a country where low agricultural productivity and income translate into high poverty rates. About 90 million people – roughly half Nigeria's population – live in extreme poverty, with farmers accounting about 40 percent of this population.
Given this challenge, business-to-business (B2B) and business-to-government (B2G) models, where either value chain actors, such as agribusinesses and cooperatives, or government institutions pay for the digital solutions have been implemented. Still, the pathway to commercial sustainability is a hard one. Our research has shown that the B2B model in particular is viable if a digital agriculture solution can resolve well-defined or multiple pain points along the value chain. Data monetisation is a growing B2B opportunity but it must be balanced against concerns regarding farmer consent, privacy, security and liability.
Opportunities for patient capital investment
Due to the unproven or shaky business models, institutional investors have shown so far a low appetite for sub-commercial returns available in Nigeria's agriculture sector (including agritech), exacerbating the funding gap that agritech companies face after early-stage funding. However, the sector remains hugely important for Nigeria's economy and livelihoods. New agritech start-ups continue to appear.
For those start-ups who are able to bring to market a strong value proposition and a clear revenue model, opportunities are available for investment that will take them to the next stage. Examples of success already exist. FarmCrowdy raised funds initially from a local angel investor and private equity firm. The company then raised seed investment of $1 million from foreign investors, using it to scale operations and increase the number of farmers and crowdfunding investors on its platform.
For investors, investing in agritech has much more to do with agriculture than in technology. Many of the agritech companies we have met in Nigeria have described themselves as value chain actors rather than "simple" technology providers. For patient investors that are prepared to take the time to understand the complexities of agriculture, and that are willing to provide support over a period of years with funding and mentorship, there will be opportunities to influence the agritech sector from early stages and drive its growth.
Our new report AgriTech in Nigeria: Investment opportunities and challenges explores the evolution of agritech investment in the country, the role different investors have played in growing the sector and new opportunities for investment.
We welcome your feedback and comments on this report.