Driving around the city, my eyes gleamed at what they could see, engulfed by beautiful hills at every turn – Rwanda truly lives up to its nickname – the land of a thousand hills. The country has made huge strides in the last 24 years, I watched as people tapped their cards on small readers next to drivers on public buses, I was impressed! This is a small part of Rwanda's digital development strategy. The Smart Rwanda Master Plan lays out the goal of transforming the nation from agrarian into a knowledge-driven economy and the role of digital features prominently. Our team was in Kigali for the GSMA Mobile 360 – Africa annual event, where we held a side session that brought together representatives from MNOs, agribusinesses, finance institutions and tech providers to discuss the role of mobile in digitising the agricultural last mile.
Transforming the agricultural last mile: shifting from paper records towards digital transparency and financial inclusion
The session kicked off with an introduction from Natalia Pshenichnaya, our head of programme. She gave some context, highlighting the significance of the agricultural sector in developing countries from which between 30% and 80% of GDP is derived. Matthew Strickland, mAgri Senior Market Engagement Manager gave an overview of the agricultural last mile and explained why we consider digitising business to person (B2P) payments the entry point for financial inclusion of farmers and how an enabling regulatory environment could open up over $300 million in revenue opportunity for mobile money providers in Sub-Saharan Africa (SSA).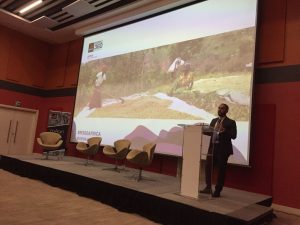 Tigo Pesa's strategy and experience in agricultural last mile digitisation
Our first speaker, Hussein Sayed, Chief Officer of Mobile Financial Services at Tigo Tanzania spoke about their new strategy, adopted in 2017 to transform Tigo Pesa from a payment solution to a full financial service platform which includes payments, savings, credit, insurance and more. He explained how they set out to create a mobile money ecosystem – they invested in more than 85,000 agents across Tanzania and enrolled over 40,000 Merchants who accept Tigo Pesa as a payment option. Additionally, they are integrated with more than 50 banks, and as a result, Tigo Pesa has seen massive increases in their subscriber base and transactions.
Hussein was particularly proud to speak about Tigo Korosho, a mobile money payment system initially rolled out to cashew nut farmers. They work with farmers through cooperatives as a centralised unit where unified pricing is applied. Farmers are given the right to choose their preferred payment option i.e. in their bank accounts or in their Tigo Pesa wallets. So far, Tigo Pesa has distributed funds to more than 3,000 farmers supporting an estimate of 30,000 families in their eco system. Hussein credits their success primarily to preparation – they met with farmers to understand their concerns, sent out a "Tigo Team" on the ground to interact with people, ensured high-level buy-in with commitment from senior leaders at Tigo and maintained a robust system, ensuring payments are made on time, every time. He concluded with: "the role of the private sector as technology leaders is to work together to improve the agricultural sector to take care of farmers' needs".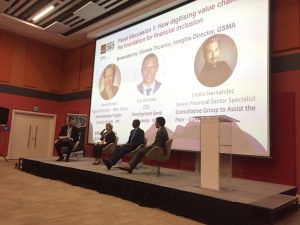 Panel 1: How digitising value chains sets the foundation for financial inclusion
We transitioned into a vibrant panel discussion focussing on different approaches to smallholder financing starting on the supply side. Eric Rutabana, CEO of the Development Bank of Rwanda (BRD) was the first to pitch in, highlighting how traditionally in banking, lending to the agricultural sector is considered extremely high risk but he highlighted that BRD has been able to work around this by reaching farmers through cooperatives. This resonates with the Rwandan government push for Savings and Credit Cooperatives (SACCO) membership for farmers. According to Eric, the model is working well – farmers gain access to the financial instruments they need, they have a readily available market for their products, they are committed to repayments and, the bank is able to recover the loans without any hassle. On the question of how banks can establish creditworthiness and what data could be used to do so, Eric pointed out that spending patterns using mobile money transaction data of farmers could be a good indicator of the funds available to farmers and that banks could use this data to assess individuals for loans.
Doris Bloniarz, West Africa Regional Director at Internationale Projekt Consult (IPC) introduced the work the IPC is doing in collaboration with Ibero Uganda Limited, a subsidiary of the largest green coffee trader in the world, Neumann Kaffee Gruppe and other partners. Ibero recognised that the supply of coffee available in Uganda was insufficient and yields were 4 to 10 times below what could be attained. Initially, they tried to find microfinance institutions on the ground to support farmers, but to no avail, so they resorted to contracting IPC to set up and manage a farmer financing unit with an entire enclosed cycle of funding as explained in our Field Focus Session blog earlier this year. Doris also spoke about how important mobile has been in their operations, even at the psychological level. She stated that farmers generally do not like borrowing as they do not want to put their livelihood at risk. Once a farmer receives an input loan, they receive a message informing them of how much they owe and with each subsequent repayment, they receive updates on their balance, ensuring farmers are fully aware of deductions coming their way.
From the demand side perspective, Emilio Hernandez, Senior Financial Sector Specialist at The Consultative Group to Assist the Poor (CGAP) shared some use cases on the financial needs of smallholder farmers. He argued that smallholder households tend to diversify their income sources (only up to a maximum of 50% of their incomes is derived from agriculture) making it unlikely that their creditworthiness can be judged based only their agricultural incomes. He iterated that farmers have other needs that extend beyond making and receiving payments – including savings and insurance. GSMA research supports this view, implying that more complex use cases require an ecosystem to be in place. Emilio stated that it is imperative to understand the nuances of how small holders use these products, however, he felt the supply side only offer use cases that aim to satisfy a very narrow part of farmers' needs e.g. Person to person (P2P) payments. He concluded saying that, farmers receive payments from agricultural players but they also make a lot of payment transactions to other businesses and they save for various reasons – as risk management strategy, for inputs for the following season and for school and medical fees.
We still have a long way to go it seems, but there are huge opportunities for mobile for development stakeholders to work together to build the ecosystem necessary to move towards a fully functioning digital money system. If you would like to find out more, please visit our resources page on our website or get in touch with us.