This case study is one of three released by MMU this week featuring GSMA Mobile Money "Sprinters."
Telesom's ZAAD has possibly the highest activity rate of any mobile money service in the world with the average active ZAAD user transacting 30 times per month or approximately daily. Alongside EcoCash from Zimbabwe that was highlighted in Monday's blog, ZAAD represent an evolution in mobile money. Telesom learned from existing services at that time in its neighbouring countries and then tailored these models to suit their own cultural and economic situation.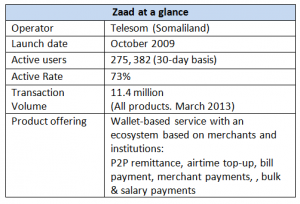 ZAAD has achieved this by creating an inclusive ecosystem that contained bulk payers and merchants from the very start. In this way, money gets into the system and stays in the system which solves two issues that other mobile money services sometimes find very challenging.
Perhaps one of the most unique features about the service is its pricing structure: There are no customer transaction fees. On a strategic level the service was initially designed as a customer retention tool but on a grander scale the vision was to bring financial services to Somalilanders.  Since there is no formal banking infrastructure in Somaliland, Telesom management realized the negative impact that the lack of formal financial services were having on Somaliland economy and that it was an opportunity for Telesom to address this issue through a mobile money service. In order to achieve this aim of financial inclusion, the service is offered for free to subscribers.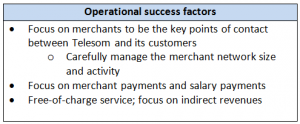 The results are very encouraging:  Telesom focussed heavily on establishing an active subscriber base and practically since launch they have around 70% of subscribers actively using the service. Furthermore, ZAAD seems to be functioning as a cash replacement tool more than many other services. On average customers maintain a positive average balance and every dollar cashed-in to the system, moves through the system four times before exiting. The case study examines these results in far greater detail.
Telesom see ZAAD as an important part of their business strategy and with only 40% of their GSM subscribers registered for ZAAD, there is considerable headroom into which Telesom can move. This service should continue to be one of the more successful services. Keep watching this space.