In our previous post, we released the COVID-19 Response Tracker, a tool that monitors and summarises mobile money-specific regulatory, policy, government and provider interventions globally, in response to the coronavirus pandemic. Earlier in April 2020, we examined the impact of Covid-19 on mobile money business and provided recommendations for regulators that will ensure business continuity and sustainability.
As many countries continue to gradually re-open their economies, there is a ray of hope that the COVID-19 crisis may be a short-term challenge, and the future holds the promise of long-term growth for mobile money.
In this blog, we provide an update of the COVID-19 Response Tracker as we examine the impact of the regulatory measures on mobile money operators.
A Snapshot of Mobile Money Policy Responses
We have seen an increase in social and humanitarian transfers via mobile money. Countries that have established emergency COVID-19 social cash transfer schemes are increasingly using mobile money to distribute money to vulnerable groups. There is also a preference for mobile money as a distribution tool for donor agencies involved in Covid-19 related social cash transfers. Mobile money reduces contact with physical cash by facilitating safe and efficient money transfer and payments services, thus contributing to the limiting of the risk of spreading COVID-19 via cash. Governments and humanitarian agencies are also able to disburse cash palliatives and other forms of assistance efficiently while ensuring that social distancing and lock-down measures are observed. There is also an increase in other policy interventions such as fintech booster programme and creation of innovation hub in countries such as Malaysia and India to support fintechs providers in these unprecedented times.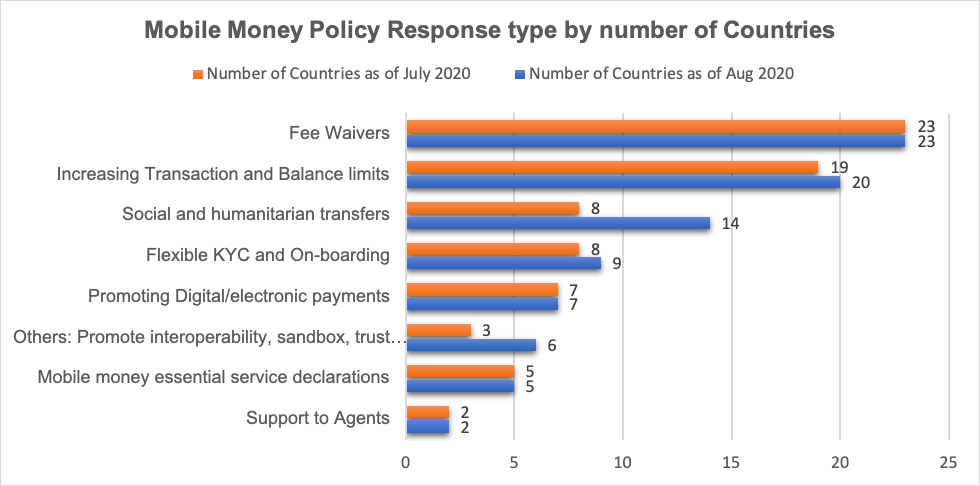 An interim analysis of the data collated in the tracker highlights key observations/lessons from regulators across markets, summarised below.
Observations I – Reinstatement of Mobile Money Fees (lapsing of Covid-19 measures). Extension of fee waivers negatively impacting mobile money businesses
Covid-19 regulatory measures have since lapsed for a majority of the countries in accordance with the official communication issued by the regulatory authorities. Countries, where these measures have since been reinstated, particularly mobile money fees, include Ghana, Zambia, WAEMU countries, Liberia, Uganda and Lesotho. Regulators in these countries note that the fee waivers are not sustainable, as in the case of Ghana. While a section of these countries is yet to formally issue directives to that effect, it is encouraging to note that they are engaging with service providers on the most ideal "return to normal" approach. While we applaud the collaboration, it is important for regulators to officially communicate the reinstatement of mobile money fees. This will ease the burden of marketing and communication efforts for mobile money providers as well as alleviate potential miscommunication on the part of users.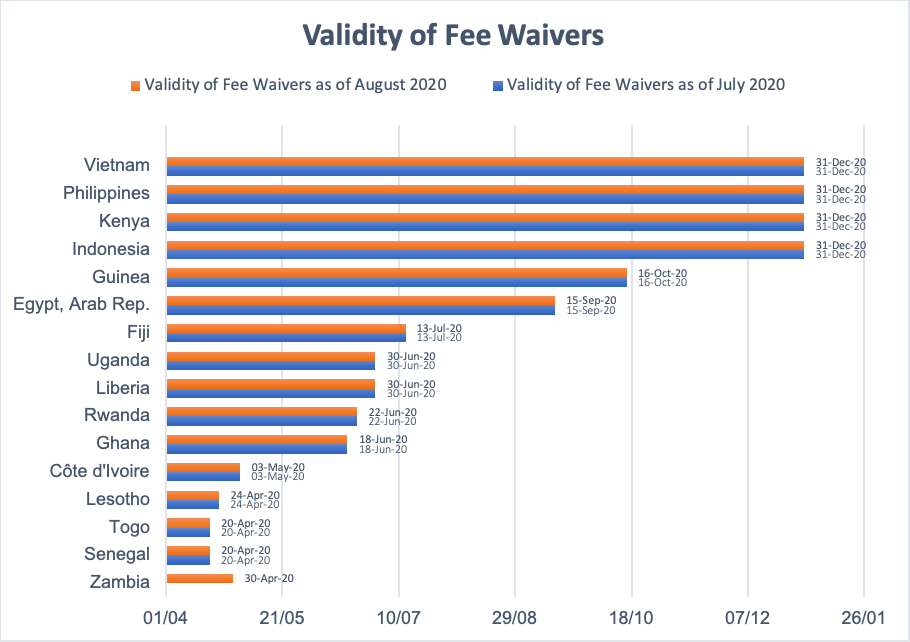 Observation II – Regulators see merit in permanently reinstating COVID-19 response measures around Flexible KYC and on-boarding and increasing transaction and balance limit
Figure 3 and 4 below demonstrates the change in validity for two policy response types i.e. Flexible KYC and on-boarding and increasing transaction and balance limit. While the validity for most countries remains the same as was in July 2020, regulators from Ghana, Rwanda, Kenya and Zambia have permanently reinstated these policy measures given the associated benefit for customers in these respective countries. We appreciate this policy move and urge other regulators to take note.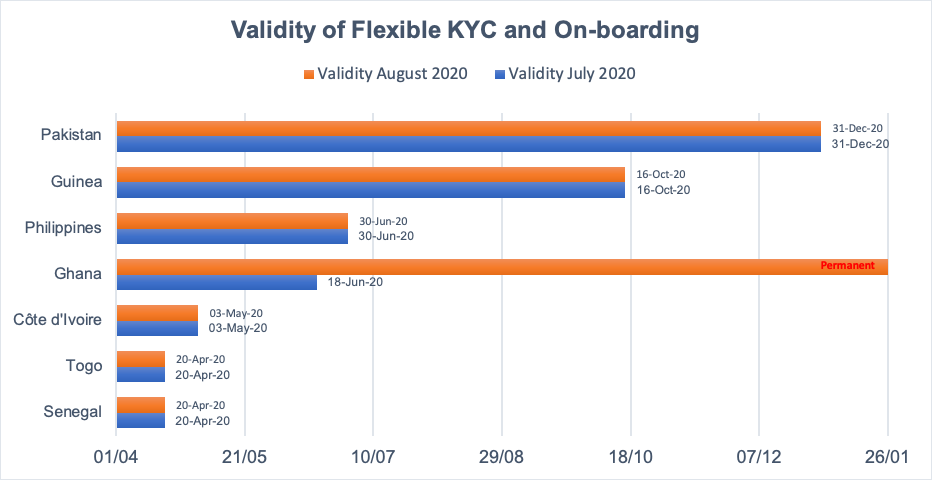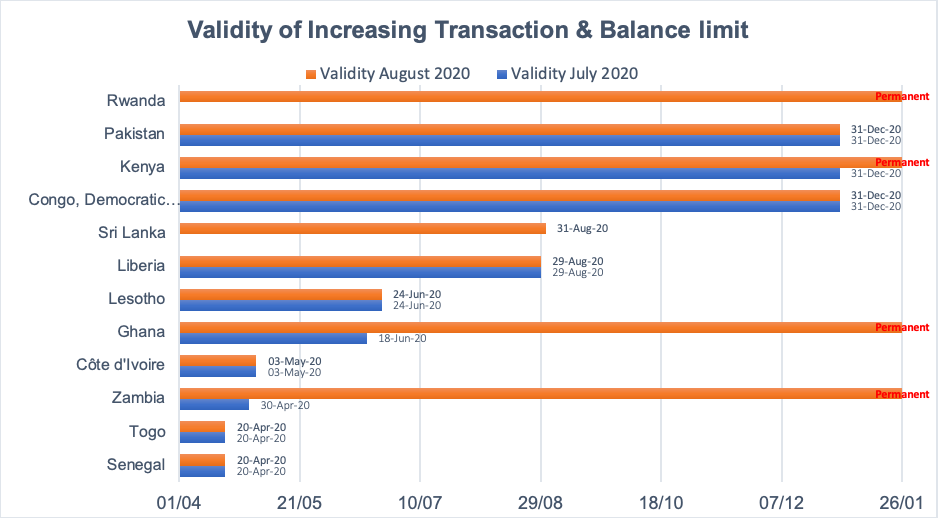 Observation III – The uncertainty on the validity of the Covid-19 Measures for certain countries has negatively affected providers
While a majority of the countries have specified the validity periods for the regulatory measures, a number have not done so. Countries that have specified the validity of the measures include CEMAC countries, Malawi and Mozambique. Figure 5 below highlights the markets that are yet to add validity to their mobile money specific policy interventions. The uncertainty has negatively affected mobile money providers especially around the planning of their operations. With the easing of lockdown measures in many parts of the world, it is of the essence that regulators communicate a "return to normalcy" formula for mobile money providers whose business have been hit by low revenues. Regulatory certainty is fundamental for mobile money providers who are now faced with the daunting task of turning around their businesses back to profitability.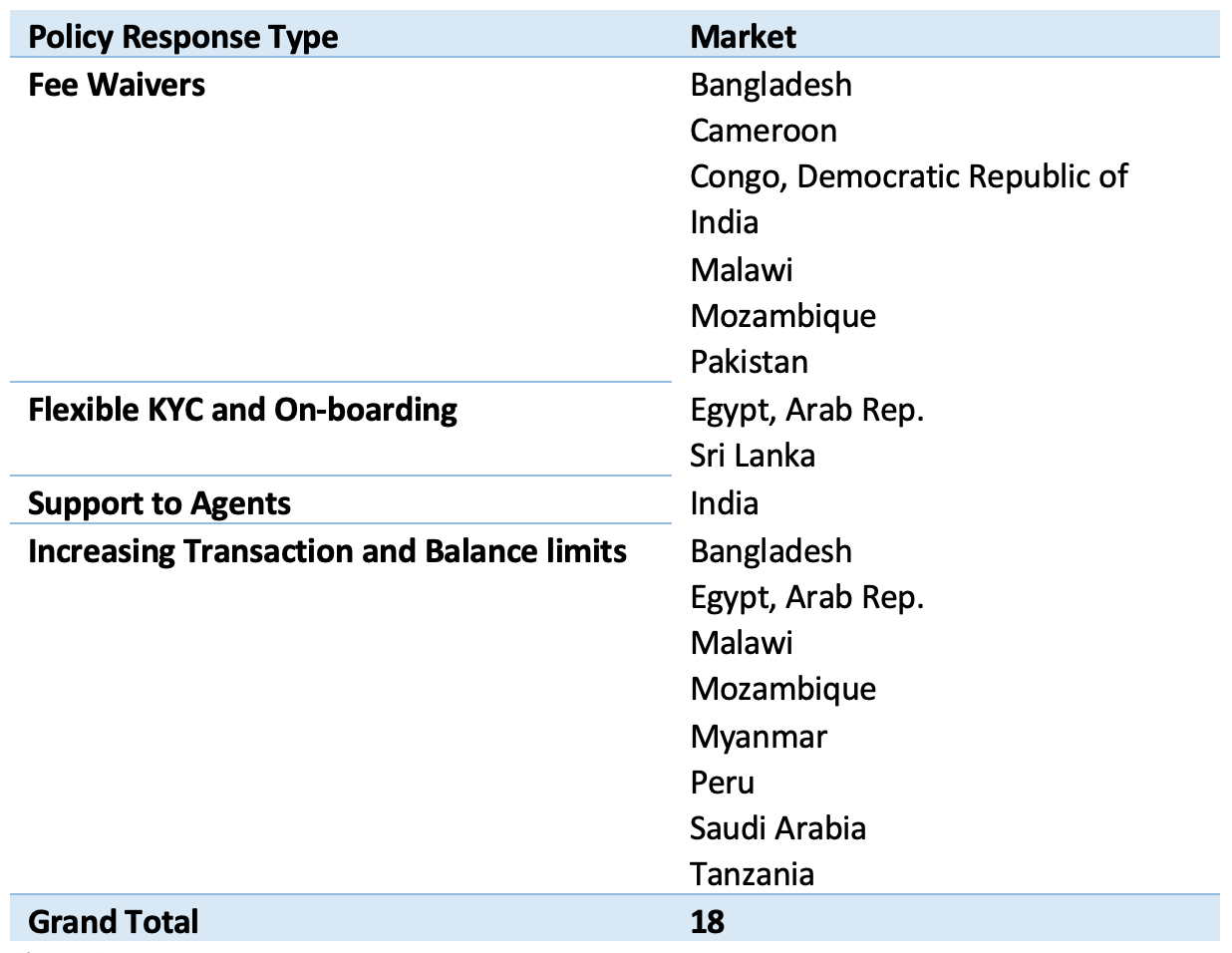 We welcome the move of formalising enhanced transaction limits and flexible KYC requirements in some countries. In Ghana, Kenya, Zambia and Rwanda the measures on transaction limits have been made permanent. This will promote the sustained use of mobile money by the SME sector which was participation had been limited on account of transaction limits. Flexible KYC requirements that were introduced as part of Covid-19 measures in Ghana have also been made permanent in the country. We urge other countries to follow this example especially since mobile money services are proven low-risk products in line with FATF as we have indicated previously.