CASALUD: A suite of digital health services for the prevention and management of NCDs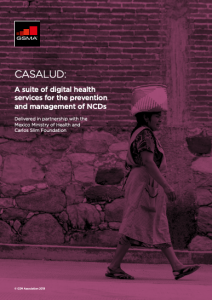 Over the last 30 years, Mexico has experienced an epidemiological transition, with a shift away from infectious towards non-communicable diseases (NCDs). In 2016, NCDs accounted for 80 per cent of Mexico's mortalities and it is predicted that by 2025, NCDs will account for 90 per cent of all deaths in the country. NCDs require long-term and integrated healthcare management and for this reason, the rise of NCDs places a significant financial burden on the public health system. With a 62 per cent unique mobile subscriber penetration rate as of September 2018, and widespread adoption of mobile broadband and smartphone devices, mobile-enabled digital health solutions present an opportunity to alleviate the burden on Mexico's health system.
In response to this opportunity, Carlos Slim Foundation (CSF), a non-profit organisation, developed CASALUD: a portfolio of digital health services within an operating model that addresses inefficiencies in how the public health system manages NCDs. This case study shows how CASALUD's interconnected digital tools and real-time information systems are enabling data-driven decision-making by healthcare managers and supporting effective prevention of NCDs and national monitoring of the quality of care. CASALUD also empowers healthcare professionals (HCPs) and extends the reach of the public health system by engaging with beneficiaries outside traditional health settings, such as primary health centres (PHCs).
In 2013, the Ministry of Health fully endorsed and incorporated CASALUD in Mexico's National Strategy for the Prevention and Control of Overweight, Obesity and Diabetes. As of 2019, the CASALUD disease management information system, Sistema Nominal de Información en Crónicas (SIC), is operating nationally in over 12,450 PHCs, making data from over 1.8 million patients available in real time for decision makers. Since 2009, over 20,000 HCPs have graduated from the MoH-certified NCD prevention and management courses offered on Plataforma Interactiva de Educación en Salud Online (PIEENSO), CSF's online learning platform. Enhanced screening of over 1.1 million individuals was made possible by a novel solution called Medición Integrada para la Detección Oportuna (MIDO), which facilitates all-in-one-place patient health risk assessments, both in PHCs and remotely in the community.