M4H Innovation Fund lessons and outcomes: Improving refugee access to clean energy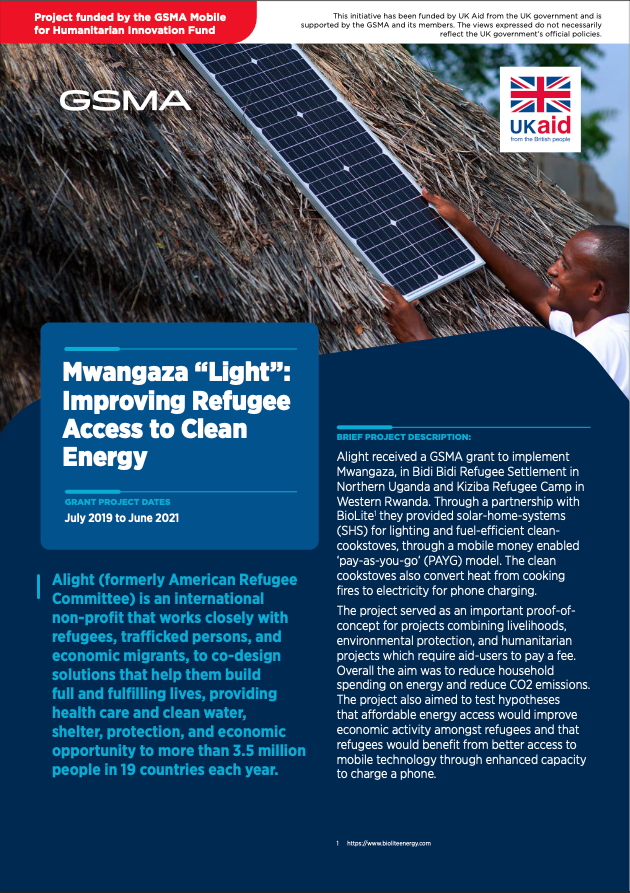 The GSMA Mobile for Humanitarian Innovation Fund aims to promote innovation in using mobile technology to address humanitarian challenges. The second round of the Fund focused on providing support to test new technical solutions; catalyse ideas to improve or transform institutional systems; and enable solutions to empower, assist or protect individuals and communities affected by complex emergencies and forced displacement.
This case study shares lessons and outcomes from our project with Alight (formerly American Refugee Committee). Alight is an international non-profit that works closely with refugees, trafficked persons and economic migrants, to co-design solutions that help them to build full lives, providing healthcare and clean water, shelter, protection and economic opportunity to more than 3.5 million people in 19 countries each year.
Alight received a GSMA grant to implement Mwangaza in Bidi Bidi Refugee Settlement and Kiziba Refugee Camp. Through a partnership with BioLite they provided solar-home-systems for lighting and fuel-efficient clean-cookstoves, through a mobile-money enable pay-as-you-go model.