Mobile money enabled cash aid delivery: Operational handbook for mobile money providers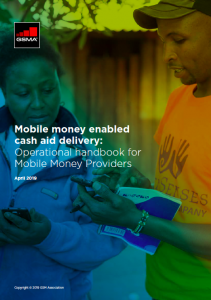 Section 1 of this handbook provides essential background on the humanitarian sector and cash and voucher assistance (CVA) programmes. A brief overview of the business case for CVA delivery identifies the potential revenue streams that can come from building long-term strategic partnerships with humanitarian organisations and developing innovative products for their beneficiaries, staff, and the host communities.
Section 2 outlines the operational steps involved in delivering CVA successfully, and features best practices and lessons from mobile network operators (MNOs) operating in humanitarian contexts.