Multiplying the Impact of Mobile Internet Skills Training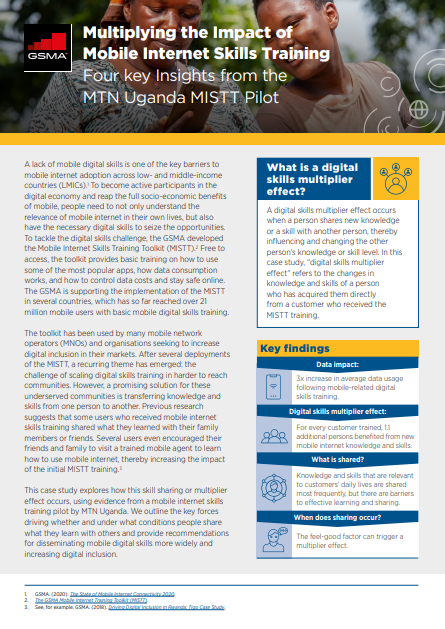 A lack of literacy and digital skills is one of the key barriers to mobile internet adoption across low-and middle-income countries. To fully participate in, and take advantage of the digital economy, people need to not only understand the relevance and benefit to their lives from being online, but also have the necessary digital skills.
To tackle this lack of digital skills the Connected Society programme launched the Mobile Internet Skills Training Toolkit (MISTT). The toolkit provides resources to teach mobile users the most critical internet skills.
In 2019, MTN Uganda piloted a mobile-related digital skills training programme, using MISTT resources to equip their customers with digital skills and increase their active data user base and revenue. This case study explores whether and how newly acquired knowledge and skills by a customer are shared with others in their social network – what we call the digital skills multiplier effect. The study demonstrates the potential of the MISTT to create a digital skills multiplier effect and therefore the opportunity to increase mobile internet use among those who have not been trained directly. The study also provides recommendations to increase this multiplier effect.