The Role of VAS Vendors in M4D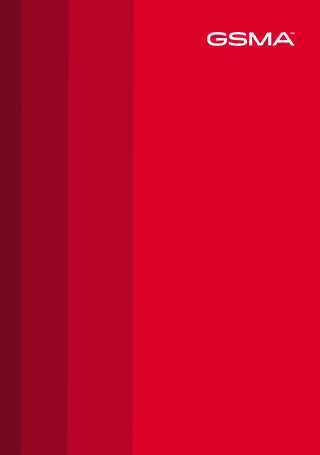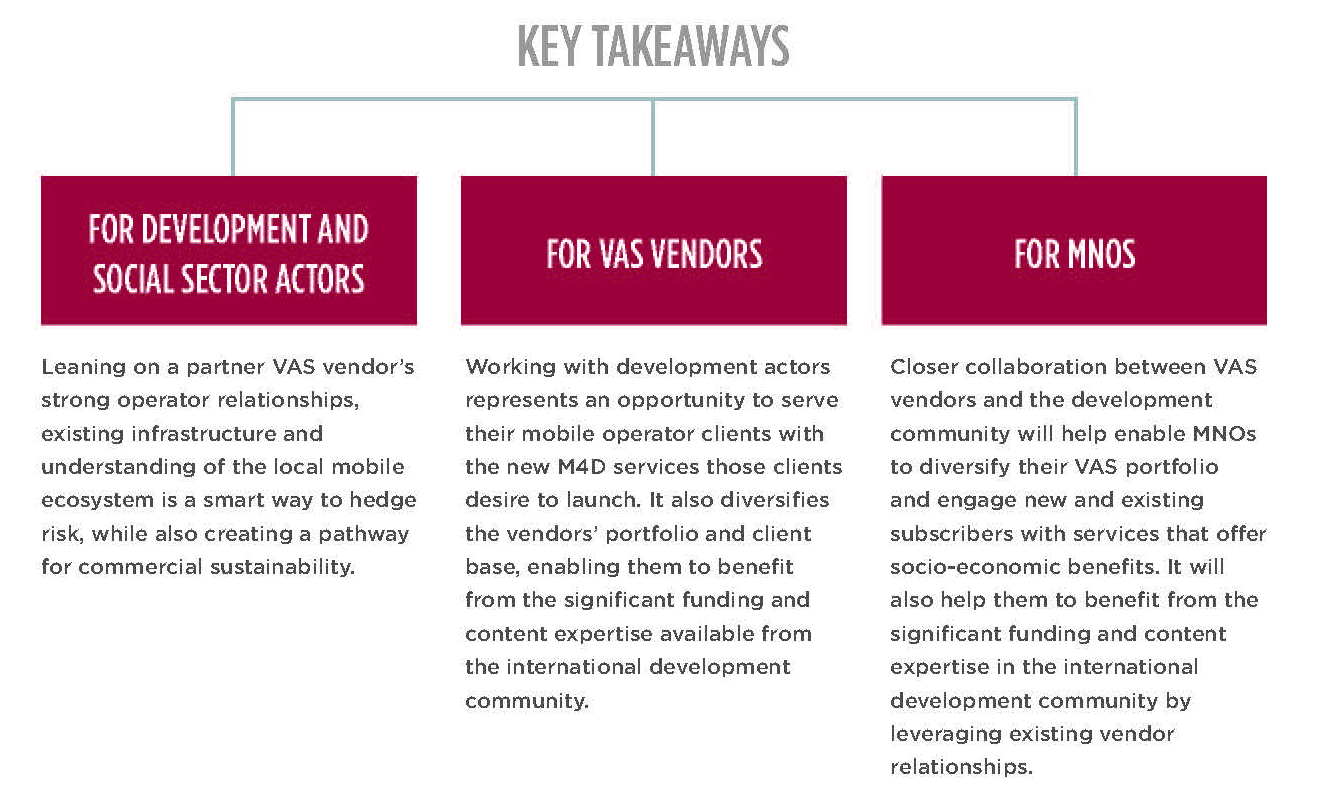 Mobile for development (M4D) products and services use the mobile channel to deliver socio-economic benefits to underserved consumers in a sustainable way. The social sector (including donors, non-governmental organisations (NGOs) and social enterprises) is increasingly using mobile as a key tool to catalyse social impact. Mobile network operators (MNOs) appreciate the social and commercial opportunity M4D services present: 93% of MNO delegates to M4D Impact's Value Added Services (VAS) Workshops in 2013-2014 declared they had a positive view of M4D, with a wider industry survey showing that MNOs see mobile internet access, education, healthcare and finance as the biggest commercial opportunities in M4D.
When launching M4D services, social sector actors report challenges associated with the different organisational goals, processes and vocabulary between non-profit, development or social enterprise organisations and the commercial models of the MNOs (see the GSMA Connected Women Partnerships Insights Paper). The difficulties in obtaining the right contact and the length of time it takes to engage and agree terms of partnership with an MNO are also common complaints.
In the mobile industry, VAS are services offered in addition to MNOs' core services of voice, SMS and data. M4D services often complement basic connectivity through offering access to other services (e.g. utilities) or information (e.g. in health, education) and are made available in addition to mobile network operators' core services. As such, M4D services are generally considered mobile VAS by the mobile industry.
MNOs have three options when developing VAS:
Build their own
Work with VAS vendors or partners to deliver services
Open up their APIs to developers directly
The second approach, i.e. working with a VAS vendor, is the dominant model, with the large majority of MNOs surveyed working with VAS vendors on a substantial proportion of their VAS. Moreover, two thirds of operators reported that a quarter or more of their VAS were the result of external pitches (see Appendix 1 for more detail). This shows how important VAS vendors are in supporting MNOs not only in the implementation of their VAS, but also in pitching the ideas for services that are eventually launched.
However, despite the need for easier partnerships and an increased pipeline of M4D services, VAS vendors and social sector actors are usually not working together as effectively as they could. For development actors seeking to launch a commercial M4D service, leaning on a partner VAS vendor's strong operator relationships, existing infrastructure and understanding of the local mobile ecosystem is a smart way to hedge risk, while also creating a pathway for commercial sustainability. For VAS vendors, working with the development community and other social sector actors represents an opportunity to serve their mobile operator clients with the new M4D services those clients desire to launch. It also diversifies the vendors' portfolio and client base, enabling them to benefit from the significant funding and content expertise available from the international development community. Stronger collaboration and partnerships between these entities will increase the efficacy and availability of M4D services overall and all M4D stakeholders will have the chance to realise the huge social and commercial potential that M4D presents. This report outlines how leveraging the expertise and services which mobile VAS vendors offer to the mobile ecosystem can help overcome some of the barriers MNOs and social sector partners face in working together.
This document was originally produced as part of the former Mobile for Development Impact programme.