Mobile and the power of spectrum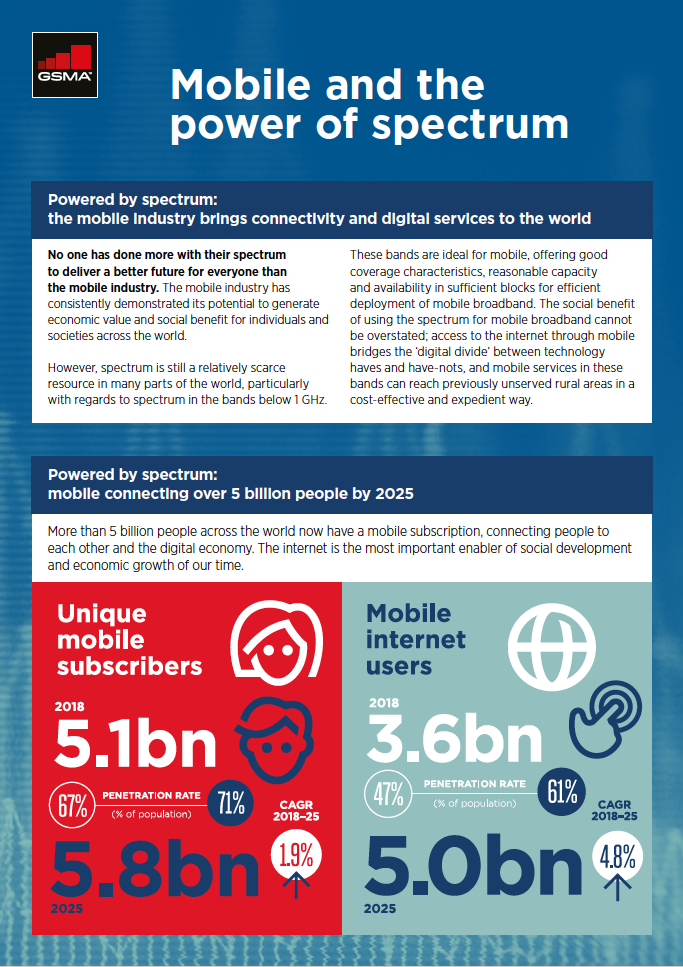 No one has done more with their spectrum to deliver a better future for everyone than the mobile industry. It has consistently demonstrated its potential to generate economic value and social benefit for individuals and societies across the world.
Unfortunately, spectrum is still a relatively scarce resource in many parts of the world. This is particularly true in regards to spectrum bands below 1 GHz, due slow progress on the digital dividend and poorly designed auctions, for example. These bands are ideal for mobile, offering good coverage characteristics, reasonable capacity and availability in sufficient blocks for efficient deployment of mobile broadband.
The social benefit of using the spectrum for mobile broadband cannot be overstated; access to the internet through mobile bridges the 'digital divide' between technology haves and have-nots. Mobile services in these bands can reach previously unserved rural areas in a cost-effective and expedient way. For in the world's poorest regions, mobile is more than just a useful communications device; it is the only means of getting online, the only way of accessing education and health services, and a vital tool to help lift themselves out of poverty.
Mobile spectrum for 5G
Additional spectrum is central to expanding and upgrading mobile broadband services – and will be core to the success of 5G, as well. However, instances of spectrum licences being sold for extremely high prices, or going unsold due to the cost, are becoming more common. These outcomes undermine consumer mobile services and the wider digital economy.
Also, WRC-19 is vital to realising the ultra-high-speed vision for 5G. Government  decisions at the conference will determine whether – and when – the promise of 5G will be fully realised. The GSMA urges governments to identify spectrum in the 26, 40, 50 and 66 GHz bands for mobile. And do so with reasonable conditions.