It is crucial we ensure women have the skills and confidence to reap the benefits of mobile technology and are equipped with more advanced digital skills to enable them to participate equally in ICT related industries.
A lack of literacy and digital skills is the main barrier to mobile internet use among mobile users who are aware of it. It is the greatest barrier for women in Africa and for both men and women in Asia. Low literacy levels are a key factor in several markets. For example, in Nigeria, 27 per cent of women and 22 per cent of men who are aware of, but do not use the internet, cite literacy as the most important barrier. A lack of digital skills and confidence also prevents many women from owning a mobile phone in the first place.
If women lack the skills and confidence to use mobile handsets and services including mobile internet, women risk missing out on the benefits of connectivity and will be left behind as societies and economies digitise.
Mobile operators and other stakeholders are investing in public education and digital skills initiatives for women and girls, and ensuring handsets, mobile apps and operating systems are user friendly for the less literate.
Addressing women's lower digital literacy and skills, including advanced skills, will help address the gender gap in mobile access and use across low- and middle-income countries, enhance women's representation in ICT related industries, and allow equal participation in the digital economy. This will bring benefits not only to individual women and their families but also to society and the economy as a whole, while also contributing to the achievement of the UN Sustainable Development Goals.
When women thrive, societies, businesses and economies thrive.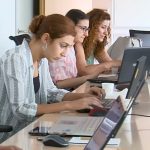 Women Developers of the Future
Thanks to Women Developers of the Future, since 2017 more than 770 women have been trained in 18 cities, writing 2.3 million lines of code. Over 200 mobile apps have been developed and launched by more than 300 women and hundreds of women have found career and internship opportunities in the mobile industry. With the support of the Turkish Government, the project has a future goal of reaching a million women in the country.
Resources
Women Developers of the Future
GSMA Tech4Girls Partnership with Girl Scouts of Greater Atlanta
GSMA North America announced a partnership with the Girl Scouts of Greater Atlanta designed to help reduce the gender gap representation in science, technology, engineering, arts and design and math industries. Themed "Girl, Find Your Voice," the partnership will offer Girl Scouts of Greater Atlanta members four Tech4Girls hands-on workshops between 2019 and 2020.
Resources
Tech4Girls Partnership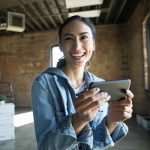 Vodafone helps girls to #CodeLikeAGirl and advance in STEM
Vodafone's Global Code Like a Girl programme was launched in 2017 in partnership with Code First: Girls, which has continued to grow over the years and has reached more than 3,500 girls in 23 markets to date.
Resources
#CodeLikeAGirl
The GSMA works with mobile operators in collaboration with partners and international organisations on initiatives to close the gender gap globally. To get involved contact us by emailing betterfuture@gsma.com