Just over half of the world has internet access. The social and economic future of the planet requires the remainder of the population be connected too. Mobile is building an inclusive and connected digital future.
The mobile industry already connects over 4.3 billion people to the internet, but this is not enough. While the reach of mobile networks has expanded significantly in recent years, there is still a "coverage gap" of 400 million people who live in areas not covered by 3G+ networks. There is also a much bigger "usage gap" with more than 3.2 billion people living in areas covered by 3G+ networks but who are not using mobile internet services, thus indicating that whilst coverage is a necessary criterion, it alone cannot address the problem of digital inclusion.
Aligned to the mobile industry purpose of 'intelligently connecting everyone and everything to a better future', mobile operators are driving efforts to accelerate digital inclusion for all, working to connect the unconnected particularly in rural areas, and provide collaborative and innovative solutions in aiding mobile internet adoption.
Working collaboratively with partners and the public sector, the mobile industry is playing a leading role in reducing inequalities through digital inclusion initiatives across the globe, unlocking the power of connectivity so people, industry and society thrive.
Addressing the Key Barriers of Mobile Internet Adoption and Use
In order to breach the digital divide and make it easier for people to be able to use and take advantage of the benefits of mobile internet, the mobile industry calls on governments and organisations worldwide to work alongside the mobile industry in expanding digital inclusion and addressing the following barriers of mobile internet adoption to connect everyone to a better future:
Affordability – Inability to afford devices, data plans or other service fees.
Knowledge and digital skills – Lack of digital skills and literacy, and lack of awareness and understanding of mobile internet and its benefits.
Relevant content and services – Lack of relevant content, products and services that meet users' needs and capabilities.
Safety and security – Concerns about the negative aspects and risks of mobile and the internet, such as harassment, theft, fraud, and online security.
Access – Lack of access to networks and enablers, such as internet-enabled handsets, agents and formal IDs, or devices and services that are not accessible or easy to use.
Usage Gap Initiatives Addressing the Key Barriers
The mobile industry is continually investing and innovating to extend the reach of commercially sustainable networks and encouraging new users to benefit from access to mobile internet services and to date through the GSMA, there have been numerous examples of public and private partnership initiatives that have contributed towards digital inclusion and breaching the digital divide.
Industry Thought Leadership on Digital Inclusion
Document
Wednesday 21 Sep 2022 | #BetterFuture |
This seventh annual SDG impact report demonstrates the mobile industry's continued commitment to the SDGs while identifying areas where the industry needs to improve or accelerate its actions to deliver on the Global Goals by 2030.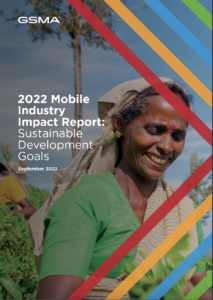 For more information about collaborations with the mobile industry on digital inclusion and bridging the digital divide, please visit GSMA's Connected Society and Connected Women programmes or if you have an initiative you would like to showcase contact us here: betterfuture@gsma.com.