Connected Women Programme
Accelerating digital and financial inclusion for women
Our mission is to reduce the gender gap in mobile internet and mobile money services in low- and middle-income countries and unlock significant commercial and socio-economic opportunities.
In today's increasingly connected world, women are being left behind. A significant gender gap in mobile phone ownership and usage in low-and middle-income countries is hindering growth for the mobile industry and means women are missing out. Successfully targeting women not only advances women's digital and financial inclusion, but unlocks significant growth potential for the mobile industry. If mobile operators could close these gender gaps in low- and middle-income countries by 2023, this would provide an estimated additional $140 billion in revenue to the mobile industry over the next five years.
GSMA's Connected Women works with mobile operators and their partners to address the barriers to women accessing and using mobile internet and mobile money services. Together we can unlock this substantial market opportunity for the mobile industry, deliver significant socio-economic benefits and transform women's lives. When women thrive, societies, businesses and economies thrive.
This initiative is currently funded by the UK Department for International Development (DFID), and supported by the GSMA and its members.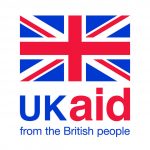 The Swedish International Development Cooperation Agency, Sida, is a government agency working on behalf of the Swedish parliament and government, with the mission to reduce poverty in the world. Through our work and in cooperation with others, we contribute to implementing Sweden's Policy for Global Development.