As part of the EQUALS Her Digital Skills Initiative, the GSMA partnered with Verizon UK earlier this month to deliver a one-day hybrid workshop on cybersecurity targeting emerging female talent in tech across the UK, Lesotho, Kenya and Uganda.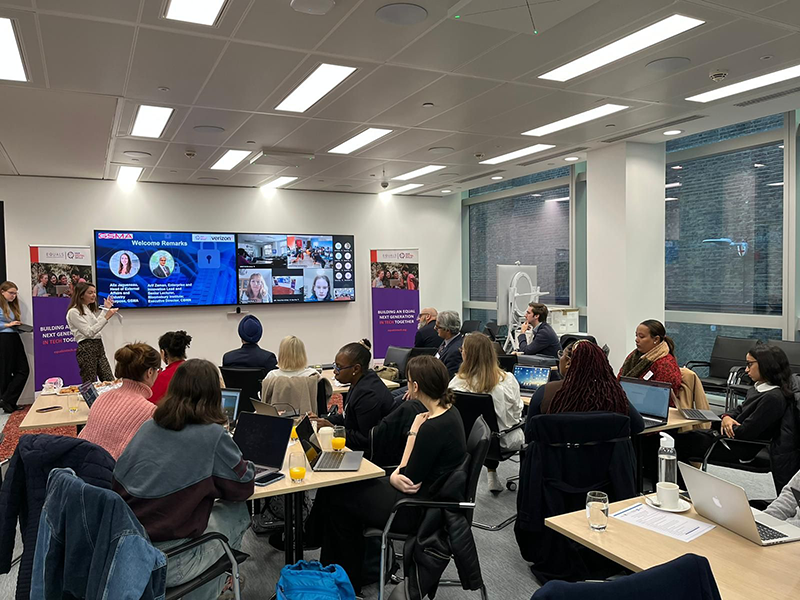 The curriculum for the workshop was developed by Verizon cybersecurity specialists and aimed to explore what cybersecurity is, why it is important and how to be safe online. The workshop also provided valuable information on job opportunities and career paths in the technology industry specific to cybersecurity and featured keynote remarks from Frederique Liaigre, President of Verizon France; Nasrin Rezai, Senior Vice President and Chief Information Technology Officer, Verizon; Deepinder Singh Chhabra, Head of GRC Professional Services (EMEA), Verizon Business; Roger White, International Senior Manager, Learning and Development, Verizon Business; James Wood, Manager, Global Learning and Development, Verizon Business and Pearl Anklesaria, Talent Acquisition Lead, Professional Services (EMEA).
Commenting on the outcome of the workshop which saw more than 100 young women take part in between in person and virtual participation, Head of External Affairs for the GSMA Alix Jagueneau said: "We are extremely grateful to Verizon for their ongoing support to EQUALS Her Digital Skills as one of the main donors to the initiative and to the entire Verizon UK team on this occasion which has allowed for so many of our beneficiaries to comprehend basic cybersecurity principles and obtain the confidence needed to pursue further opportunities in the field. I look forward to our continued engagement and hope to see many more such workshops as the need has never been greater given that 90% of future jobs will require basic digital skills."
The workshop was also supported by ITU and Women's WorldWide Web as co-founders of the EQUALS HDS initiative alongside LatiansinTech London, Bloomsbury Institute, the Commonwealth Businesswomen Network, the Mandeleo Foundation (Uganda), Impact School (Lesotho), the US Embassy in Lesotho and EmpServe Kenya as implementing partners.
EQUALS Her Digital Skills aims to empower 1 million girls and young women by 2026 with free gender transformative digital skills training and e-mentoring opportunities and it forms one of GSMA's official commitments to the Generation Equality Innovation and Technology Action Coalition. To date the initiative has impacted the lives of thousands of beneficiaries in 30 countries across 4 continents with 98% of EQUALS HDS alumni reporting that they felt confident about pursuing further tech studies and/or a career in tech having completed the workshop and e-mentoring activities. Verizon has been a donor to the initiative for the past 2 years engaging over 1000 employees in its various programmatic elements and generating over 2000 volunteer hours to date.