AI for Impact: Cambridge University Press Special Collection on mobile data analytics to inform Covid-19 response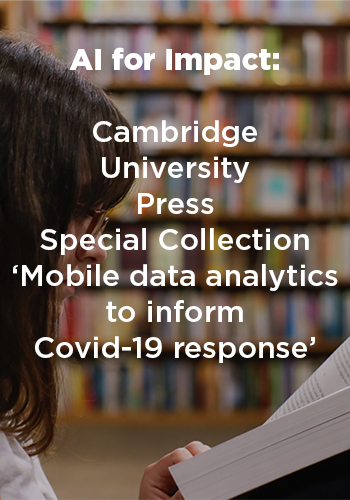 The Covid-19 pandemic has brought with it an unprecedented human and economic crisis, affecting all corners of the world. Governments have been urgently seeking innovative and dynamic solutions to make the right decisions at the right time; both to save lives and minimise the long-term impact on society and the economy. The role of mobile technology has never been more important. Not just to provide connectivity; but also innovative solutions to address pressing needs as the pandemic evolved.
One of those examples is leveraging mobile operator capabilities in big data analytics and AI. Mobile operators and their partners have collaborated with governments around the world to develop innovative decision-support tools and mobility insights to help inform their Covid-19 response, whilst respecting data privacy. The application areas have been wide-ranging, for example, to evaluate effectiveness of interventions, to help optimise allocation of health resources, to plan appropriate public transport capacity, to allocate social support where needed most; and more.
To bring together learnings from this collective Covid-19 experience, Cambridge University Press created a special collection of articles in Data & Policy, a peer-reviewed open access journal. The articles share the concrete experiences of public-private sector collaborations across the globe, with the aim to deeply understand how mobile big data analytics can help inform government response and prepare the world for future pandemics.
Access the editorial blog for the summary findings and the full collection of articles to learn more.
Further resources, tools and reports can be found on the GSMA AI for Impact initiative website and digital toolkit.