More than 5 billion mobile phones are currently sitting unused in homes and offices globally. Mobile operators are targeting these phones for reuse, refurbishing or recycling as part of a more 'circular' supply chain for mobile phones.
As part of this circularity ambition, 12 leading operators around the world (BT Group, Globe Telecom, GO Malta, Iliad, KDDI, NOS, Orange, Proximus, Safaricom, Singtel, Tele2 and Telefónica) have signed up to a new set of pace-setting targets developed with the GSMA. The new goals aim to build upon the existing initiatives of the mobile industry and accelerate the move away from a 'take-make-dispose' approach towards a more circular economy for mobile phones. Operators are committing to:
Increase take-back of mobile phones

By 2030, the number of used mobile devices collected through operator take-back schemes amount to at least 20% of the number of new mobile devices distributed directly to customers.
Avoid recovered mobile phones being sent to landfill or incineration

By 2030, 100% of used mobile devices collected through operator take-back schemes will be repaired, reused or transferred to controlled recycling organisations.
Alongside existing commitments, this new set of goals is intended to help extend the longevity of existing mobile devices that are sitting dormant by giving them a second life through refurbishment and reuse. By ensuring that recovered phones are not sent to landfill or incineration, old and broken phones can be responsibly recycled to recover critical minerals that can be reused in new smartphones, helping to reduce the environmental impacts of mining.
New Research
New research by the GSMA has shown there are over 5 billion inactive used mobile phones globally.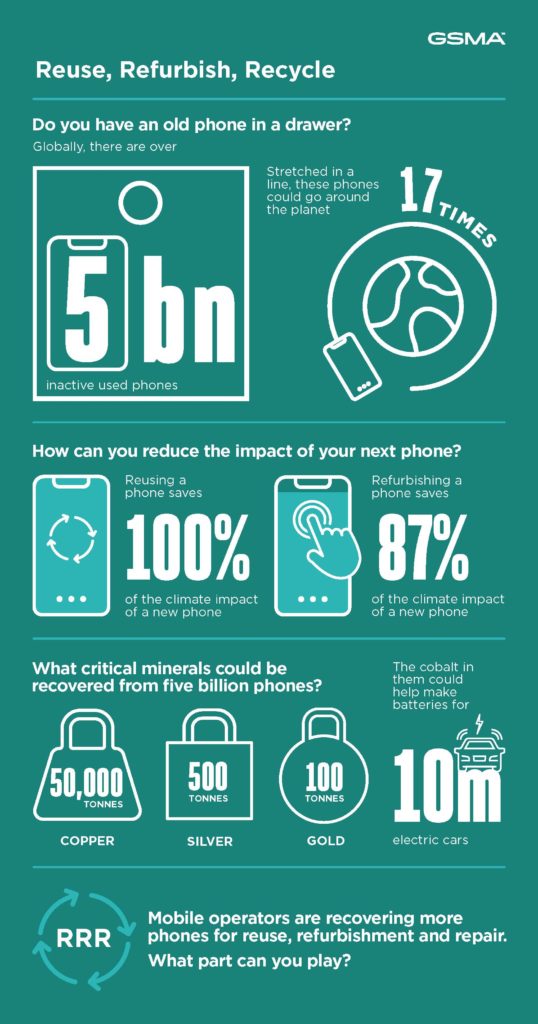 This latest announcement builds on the GSMA's Strategy Paper for Circular Economy: Mobile Devices. This paper lays out a vision for "Devices with as long a lifetime as possible, made with 100% recyclable and recycled content, 100% renewable energy, and where no device ends up as waste".
Further collaboration between mobile network operators, device manufacturers, customers and repairers will be needed to fully achieve this vision.
What is the mobile industry already doing?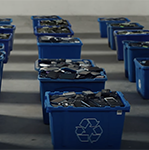 Bell
Mobile phone collection and recovery programs
Bell provides national take-back programs, drop-boxes and mail-in instructions for customers, to make the recovery of end-of-life consumer electronics easy, efficient and accessible. The Bell Blue Box program, as well as Bell, Virgin and The Source trade-in and trade-up programs, help to achieve this. In 2022, Bell's recovery programs recovered and diverted 1,977 metric tonnes of customer-facing electronics from landfill.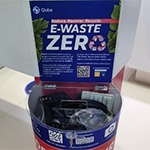 Globe
E-waste zero program in the Philippines
E-waste generation in the Philippines poses a pressing environmental challenge. With an e-waste generation of approximately 32,000 metric tons annually, the country has a need to implement effective e-waste management strategies.
According to the Philippine Environmental Management Bureau (EMB), e-waste is one of the fastest-growing waste streams in the country. This can be attributed to factors including continuous device production, an increasing number of consumers, shorter device life cycles, and limited repair options. The archipelagic nature of the Philippines also contributes to logistical hurdles.
To address this, Globe established the E-Waste Zero Program (EWZ), formerly "Project 1 Phone" launched in 2014. It advocates for responsible e-waste disposal and recycling, ensuring that e-waste items do not end up in landfills.
EWZ provides a platform for individuals and organisations to donate their e-waste. Individuals may bring their items in one of its 120 collection bins across the country and may also avail of a free hauling service for bulky items.
By upholding the principles of resource conservation, environmental protection, and landfill avoidance, EWZ contributes to addressing the country's e-waste challenge.
Beyond the take-back program, Globe has also engaged with key community stakeholders including UNIDO, DENR-EMB, EcoWaste Coalition, and the local government of Dampalit, Malabon with funding through the Global Environmental Facility (GEF), to establish a community-based facility for e-waste recycling and job provision for informal e-waste pickers.
Since 2014, EWZ has collected and recycled 216.7 metric tons of e-waste from individuals and organisations and 1,609 metric tons from internal operations. It has deployed more than 120 collection bins nationwide and partnered with more than 80 partner organisations.
To further strengthen the program, Globe will work towards the following:
Program redirection to focus on mobile device e-waste to maximise impact within Globe's value chain;
Integration of refurbishment and repair practices to extend the lifespan of functional devices; and
Collaboration with key stakeholders, including the government and more recycling facilities to address logistical challenges.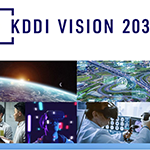 KDDI published a document called VISION 2030 last year with the goal of conveying a comprehensive message to society. The message states that anyone can make their dreams a reality through the power of connection assisted by operators. One of the initiatives in line with this vision is the recycling of mobile phones.
Maintaining a high mobile phone recycling rate is crucial for creating a sustainable society. However, when machines are used to disassemble mobile phones, the plastics from these devices are incinerated, resulting in carbon dioxide emissions and a decrease in recycling rates. KDDI addresses this issue by manually disassembling used mobile phones. Thanks to this approach, they have achieved an impressive recycling rate of 99.8%.
To begin the process, KDDI collects used mobile phones at their stores across Japan. They accept phones not only from their own customers but also from users who purchased their devices from other companies. All collected phones are reset and visibly pierced in front of the customers to ensure that no personal information is leaked.
Expert technicians carefully disassemble each mobile phone by hand, separating them into substrates, LCDs, cameras, plastics, screws, antennas, motors, speakers, and more. Valuable materials like gold, silver, copper, and palladium are extracted from the substrates, while screws and antennas are recycled into iron and steel products respectively. Plastics are recycled to the greatest extent possible.
KDDI's approach eliminates carbon dioxide emissions associated with machine-based disassembly and minimises material waste. Furthermore, this method of resource recycling avoids the need to extract and refine new minerals such as petroleum, iron, gold, silver, and copper. As a result, there are no additional carbon dioxide emissions.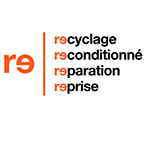 Orange
Launch of the 'Re' circular economy initiative throughout Europe
Each year, more than 1.5 billion mobile phones are manufactured worldwide but just 1-2% of these phones are recycled. In 2020, Orange France launched the 'RE' initiative, based around four pillars: REcycling, REturns (=Buy Back), REfurbishment and Repair. In 2022 Luxemburg, Belgium, Poland, Moldova, Slovakia and Romania, joined the initiative thus consolidating Orange's commitment to the circular economy in all its activities and practices.
Since its launch in France, the 'Re' initiative has ramped up the collection rate (recycling and returns) of used mobiles, from 13.4% in 2020 to 22.3% in 2021, in line with the 30% target Orange has set for 2025. In total, around 1.9 million mobiles have been returned and recycled since the initiative launched. The 'Re' initiative allows Orange customers to trade in their phone in-store for a discount or credit voucher and buy a range of refurbished phones as an alternative to a brand-new phone. Orange recycles phones that no longer work and/or have no cash value and offer repair services. In France, recycling profits are donated to the Emmaüs International network, as well as two euros for each return. With Orange, all its customers can give a second life to their phone(s).
Alongside existing commitments, this new set of goals is intended to help extend the longevity of mobile devices by giving them a second life, as well as recycling materials to be used in new smartphones.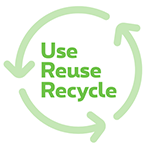 Proximus
Use, Reuse, Recycle
Under the slogan "Use, Reuse, Recycle" Proximus is committed to a circular economy by extending devices' lifespan, giving them a second life when possible and collecting old mobile phones to recycle them.
By offering screen protectors, mobile phone covers, damage insurance, and temporary replacement phone in case of theft, loss, or damage, we encourage our customers to use their smartphones for longer. For those who have a smaller budget, or want to adopt an environmentally friendly approach, we have refurbished devices in our offering. We also give a second life on the international market to devices collected that appear after testing to be reusable. This concerns no less than half the collected devices!
It is estimated that 3 million old devices are gathering dust in Belgian drawers … Customers tend to keep them "just in case". Currently, only 5% of old phones are recycled, while a mobile phone is 90% recyclable. Recycling these old devices allows the raw materials to be reused, thus creating a sustainable alternative to the extraction of natural resources, better known as 'urban mining'. Urban mining is up to fifty times more efficient than conventional mining.
Proximus collaborates with various partners to make it happen. First, Proximus gathers collected phones in our logistics centre. Then, our partner Brainscape checks whether a phone is reusable and separates out the electronic waste.
The actual recycling of raw materials is performed by Umicore: gold, silver, copper, and palladium, among others, from the circuit boards, in addition to cobalt, lithium and nickel from the batteries.
We collect mobile devices via different channels and incentives:
Our Shops, where customers receive a voucher depending on the residual value of the device
Schools, where our partner GoodPlanet provides educational content to students
Enterprises, via dedicated campaigns
Events and festivals, where Proximus is present with a 'circularity' booth
In 2022 we collected 120.573 devices, and we aim to reach at least the same objective in 2023.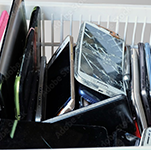 Safaricom
E-waste process at WEEE centre
To handle the issue of e-waste, Safaricom has an active partnership with WEEE Centre, a NEMA (National Environment Management Authority in Kenya) licenced e-waste handler. In 2008, the recycling facility 'Waste Electrical and Electronic Equipment Centre WEEE' in Nairobi was launched. E-waste is collected across Kenya and brought to the recycling centre, where it is weighed, registered, and sorted for reuse, refurbishment or dismantling for recycling. Some fractions are recycled locally, and others are shipped abroad. Each month, the centre in Nairobi processes up to 10 tonnes of e-waste and, to date, Safaricom has been able to collect more than 1,626 tons of e-waste for the circular economy through the support of WEEE Centre.
In addition, Safaricom has, since 2018, partnered with the Ministry of Environment and Forestry, East Africa Communications Organisation (EACO) and other stakeholders to commemorate International E-Waste Day with the aim of creating awareness on the importance of safe disposal, handling and recycling of e-waste.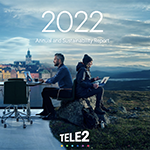 Tele2's Device as a Service (DaaS) solution is a circular service offering centred around the combined offering of leased hardware and services. Since 2021, Tele2 offers the service to its large B2B Enterprise customers and today more than 1 in 5 mobile phones are sold as a service in the segment. The circular offer enables a closed loop for the reuse and recycling of mobile phones. More than 99% of the devices are returned of which 95% can be repaired and reused while the remaining devices are recycled. For every reused mobile phone around 50 kg of carbon dioxide can be saved, corresponding to the production of a new unit, according to Tele2's recycling partner. By offering this service, Tele2 are meeting a growing customer demand and reducing e-waste, thus creating both business and sustainability value. A circular economy is one of the cornerstones of Tele2's sustainability strategy, and by 2025 Tele2 will develop winning offerings for relevant customer segments in B2B and B2C based on a circular business model with reduced climate impact.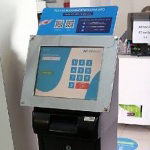 Telefónica
MARA: How to add value to business & customers through circular economy (Rebuy, Repair and Resell)
MARA is an omni-channel model with an e2e approach to mobile phone reuse.  It aims to boost the circular economy for mobile devices across Telefónica's footprint. MARA means deploying programs and platforms focused on extending device lifecycle by avoiding repair, taking back, reusing, repairing, and giving them a second life or recycling them.
For instance, in Chile, MARA Care is used to extend device longevity. Using AI it helps customers to proactively detect if a device needs a repair or if the problem can be solved proactively allowing Telefónica to:
Reduce Not Fault Found from values circa 20% that have a clear impact on customer satisfaction.
Extend the lifetime of devices avoiding unnecessary repairs and logistics movements.
Customers use Mara Care with an omnichannel (retail, remote channels – i.e. online web, chatbots etc.- and self-service) perspective and in different touchpoints along the device cycle. With more than 137K transactions in 2021 globally, it allowed Telefónica to contribute in a significant way to avoid 27.6% of unnecessary repairs reducing carbon footprint and impacting customer satisfaction.
Additionally, in Spain, to incentive sustainable buyback programs, Telefónica uses MARA as a user-friendly way for consumers to trade in their old devices for a new mobile phone. A fully omnichannel process that allows consumers to automatically assess their devices anywhere (home, retail, voice channels). The model provides instant definite value to the customers without device discrepancies – for all parties involved. Also, MARA for trade-in allows to anticipate the most efficient disposition model before collecting the devices, optimising processing time, and logistic movements which implies incremental sources of revenues for Telefónica, such as:
Increase by 4 times trade-in volumes in countries where the programme has been deployed
Reduction of device discrepancy from 25% to zero along the trade-in value chain process and actors involved: Customers, Partners, Stores and Telefónica.
Increase of the device Trade-In voucher by around 14% for our customers
Developing MARA programs across Telefónica is a relevant example of how to promote and lead the transition to circular economy business and minimise the environmental impact and create, at the same time, internal capabilities with an e2e approach.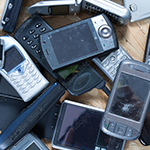 Telstra
Takeback, Reuse, Refurb & Recycling
Telstra is the largest provider of telecommunications and connectivity solutions in Australia, connecting over 21.7 million retail mobile customers (as of 31 December 2022) alone, with a network spanning over 2.6 million square kilometres of land (Telstra Annual Report FY22).
They are committed to taking action to help address some of the biggest sustainability challenges facing the industries and the communities in which we operate.
Australians are storing an estimated 38 million electronic devices in their homes – even then, e-waste is growing three times faster than general waste streams. In response, we are committed to offering consumers and businesses access to takeback, reuse, refurbishment and recycling programs.
Their ambition is to reuse or recycle 500,000 mobile phones and other devices each year to 2025 – and in FY23 are on track to hit 600,000 devices. We have achieved this by offering a comprehensive eCycle solution, including:
Partnering with Kingfisher Mobile Australia to offer trade-in and upgrade programs for old or out of contract
Offering a Repurpose & Replace program for refurbishment and reuse. We utilise this stock as customer replacement devices for warranty returns.
Continuing our long-standing partnership with MobileMuster to recycle devices and accessories. We've expanded collection channels to help customers readily recycle their products, including through direct collection by our Communications Technicians.
Offering bespoke ICT technology take back and reuse or recycling programs to businesses.
They are helping to build more consumer confidence in recycling initiatives by trialling and sharing how we are making modems from plastics which are partially sourced from end-of-life modems, working towards closing the plastics materials loop.
Offering next-life options for devices is just one part of their ambition to embed circular economy principles across our business and offering more sustainable solutions for customers.