This blog shares some key findings from the GSMA's report "Exploring women's use of mobile money in Ghana: The user journey, entrepreneurs and the impact of COVID-19". It draws on recent GSMA qualitative and nationally representative quantitative field research in Ghana in 2022.
---
In low- and middle-income countries (LMICs), where people are less likely to have formal bank accounts, mobile money is critical to facilitating widespread financial inclusion. While wider coverage and mobile ownership is making mobile money more accessible and relevant in people's everyday lives, a persistent gender gap is leaving women behind. The COVID-19 pandemic brought this gender gap into sharper focus as it had a disproportionate impact on women and women entrepreneurs.
This blog focuses on the mobile money user journey in Ghana, highlighting the impact of COVID-19 on mobile money usage for men and women and the barriers to greater usage, with a specific focus on women entrepreneurs. The findings highlight that beyond the high-level numbers, women entrepreneurs lag behind in their awareness and usage of the non-core mobile money services in Ghana, which could add value to their businesses.
In Ghana, recent data show that women are now almost as likely as men to own a phone. This means that there is almost no gender gap in mobile ownership in Ghana in 2021. In 2022, there is also almost no gender gap across the mobile money user journey in Ghana. Encouragingly, once a woman owns a mobile phone, she is just as likely as a man to be aware of and understand mobile money, and to become a regular user.
Further to the gender gap, key findings from the report are:
1. The COVID-19 pandemic has accelerated the adoption of mobile money services among men and women in Ghana.

Around a quarter of respondents have adopted mobile money since the onset of the pandemic, with little difference by gender. Forty per cent of those who had an account before the pandemic report they are using it "much more". However, those who signed up during the pandemic are more likely to use only core mobile money services.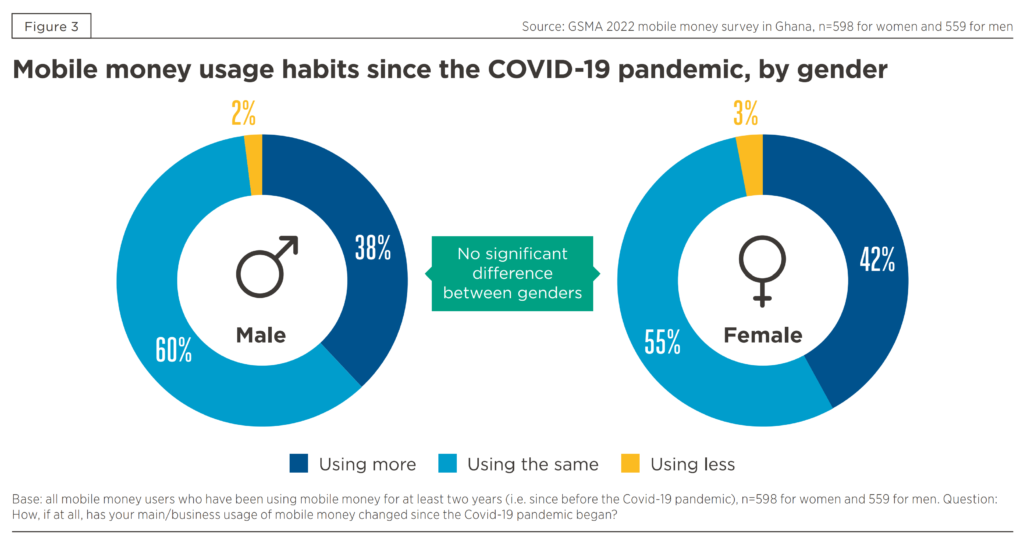 2. Mobile money is transitioning from an everyday cash replacement to a true banking alternative, but women entrepreneurs tend to use a narrower range of services than men.
Since the pandemic began, non-core services like bill payments are being used more, especially among male entrepreneurs. However, increased usage among female entrepreneurs is more likely to be for core services, such as person-to-person (P2P) transactions, and they are significantly less likely than men to perceive mobile money services as convenient.
3. Most male and female mobile money users anticipate that they will use mobile money as often, if not more, in a post-COVID world.
Forty-four per cent of men and women in our sample reported they expect to use mobile money services more often after pandemic restrictions are lifted, because it makes payments, saving and managing their finances easier (significantly so among women entrepreneurs).
4. There are opportunities to increase awareness and use of mobile money services beyond payments, particularly among women entrepreneurs.
While female entrepreneurs who own a mobile phone are just as likely as their male counterparts to have a mobile money account and use it regularly, they are less aware of the full range of services they could use. There is an opportunity to increase women's usage by raising awareness of relevant services.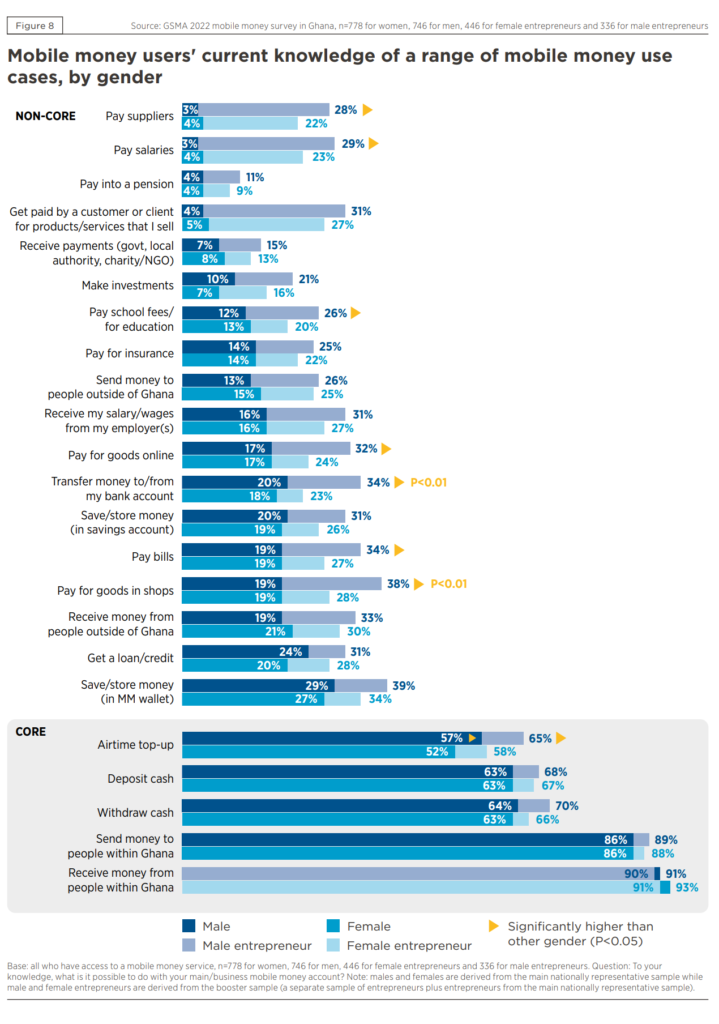 5. Women, including entrepreneurs, need more support from others to learn about and use mobile money.
Women, and women entrepreneurs in particular, are more likely to learn about mobile money services from family members and some rely on others, including agents, to transact on their behalf. This poses a significant barrier to more frequent use and inhibits their ability to reap the maximum benefits of mobile money.
"For [mobile] money, I am unable to send it myself, so I give it to someone [else] to send… because I don't know how to do it..[and my husband and apprentices] also don't know how to do it."

Female entrepreneur, Ofankor
"I was taught… I didn't know how to do it and was scared when I do it, the money would end up in someone else's account… So we were taught at church."

Female entrepreneur, Ofankor
6. Sustaining mobile money usage among new male and female users who signed up during the COVID-19 pandemic will require overcoming some additional barriers.
Users who adopted mobile money during the pandemic are less likely than longer term users to be aware of, and use, the full range of services available to them. Since they depend more heavily on agents and family to use their account and are less likely to handle transactions themselves, these users will need additional, on-going support.
Click here to read more about our research on addressing the mobile money gender gap in 10 low- and middle-income countries in the 2022 State of the Industry Report on Mobile Money and click here to learn more about the GSMA Mobile Money Programme.