This blog focuses on insights from the 10th-anniversary edition of the State of the Industry Report on Mobile Money 2022, launched on 30th March 2022.
---
Growth: M-PESA's flutter in East Africa went global
Over the past decade, mobile money has expanded from a niche offering in a handful of markets to a mainstream financial service, moving millions of households in low- and middle-income countries (LMICs) from the informal cash economy into a more inclusive digital economy.

Across LMICs, people are living increasingly digital lives thanks to mobile money, transacting more often and for more reasons than ever before. The COVID-19 pandemic accelerated this shift as people turned to digital, no-contact ways to purchase everyday items, pay bills, receive government support payments and send money home to family.

In 2021, this continued growth helped push the value of transactions to the trillion-dollar mark – a milestone reached faster than anyone in the industry could have predicted. That's almost $2 million worth of transactions per minute.
Source: GSMA global adoption survey
---
Scale: Financial inclusion reaches 1.35 billion account owners

Growing from East African origins into a global and diverse ecosystem of mobile-based financial services extending far beyond P2P, Cash-In and Cash-Out, mobile money has improved its ability to financially include low-income populations and it is now present in almost one hundred countries.
Source: GSMA mobile money deployment tracker
There are now more registered accounts, growing 18 per cent year-on-year to 1.35 billion in 2021. 30-day active accounts grew to 346 million and 90-day active accounts also grew by 18 per cent to 518 million in 2021 and it is very encouraging to see these active accounts keeping pace with new account registrations. Though, to improve financial inclusion, a trend toward greater active account growth globally is required.
Source: GSMA global adoption survey
It is worth noting that many registered mobile money accounts are not being used very much or at all, and the reasons and barriers behind this vary widely by country context. Furthermore, many mobile owners who are aware of mobile money but do not have an account, experience structural barriers to account registration. These include having insufficient digital skills, an unreliable mobile network, difficulties reading and writing, a preference for cash, lack of trust in the system, lack of proper identification (ID) and unreliable electrical grids. Awareness of mobile money services also constitutes an important barrier.
Source: GSMA 2021 consumer survey
---
Diversification: Partnership-driven use cases propel industry value growth to 31 per cent

Some of the drivers behind 2021's significant growth in transaction volumes and values can be attributed to a diversifying ecosystem of digital financial services that many consumers and small businesses need, value and find relevant in their everyday lives.

Merchant payments almost doubled in value and now account for 21 per cent of the value circulating in the mobile money system, up from around 10 per cent in the past two years.

International remittances grew by 48 per cent, driven by diasporas worldwide sending money home to their families and friends more often in the wake of the COVID-19 pandemic.

Mobile-enabled savings, credit and insurance are offered by 44 per cent of MNO respondents to our global adoption survey, these MNOs cite higher EBITDA and customer activity rates.

Bank interoperable transfers also grew quickly with the values flowing between banks and mobile money platforms up 46 per cent, more than doubling since 2019.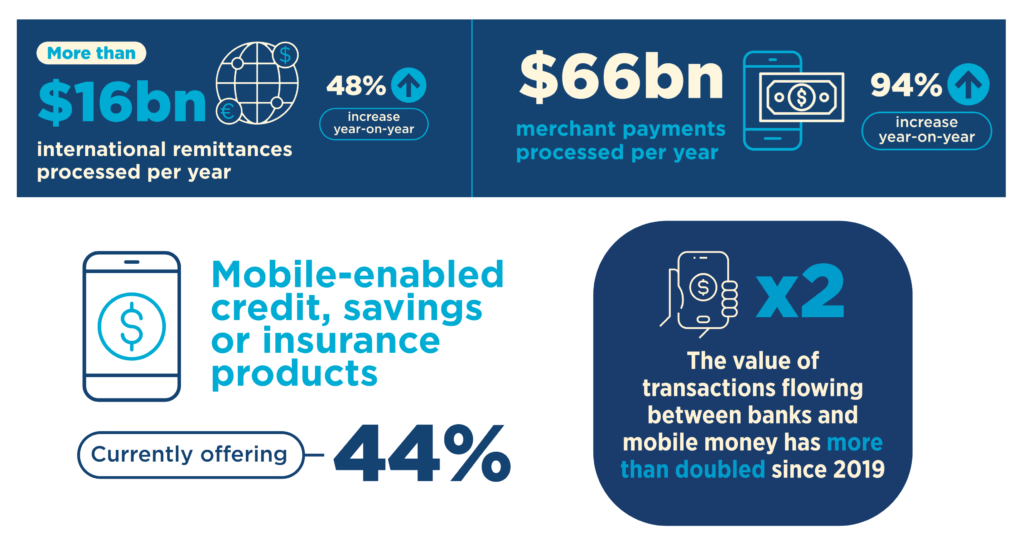 Source: GSMA global adoption survey
---
Digitisation: For every $3 'cashed-in', $1 dollar now remains digital

The value digitised via mobile money agent networks grew by 18 per cent in 2021, reaching a total of $261 billion or more than $715 million a day. There is a clear trend towards a more digitised mobile money ecosystem as more cash is converted into e-money and either continues to circulate as such or is spent digitally, rather than being cashed out.

In 2012, for every dollar cashed in, 88 cents was cashed out. In 2021, the amount cashed out dropped to 67 cents – meaning that for every $3 cashed in, only $2 is cashed out, and $1 remains digital – a sign that mobile money users are becoming increasingly digital citizens.
Source: GSMA global adoption survey
---
Financial inclusion: addressing the billion account owners not yet active on a monthly basis

2021 has shown how the scale and power of mobile money can build a more inclusive world. Behind the numbers and milestones in the latest State of the Industry Report on Mobile Money are hundreds of millions of people participating in a more inclusive digital economy. Individuals, communities and the public, private and non-profit sectors are all reaping the socio-economic benefits of mobile money.

Yet, even more profound benefits are possible if the industry and all stakeholders can catalyse efforts, reducing the mobile gender gap and meeting diverse customer and business needs to activate the billion registered customer accounts that are currently so infrequently used.
---
Keep up to date with new insights by registering for our
Mobile for Development newsletter here.