Asia is set to account for around 70% of global economic growth in 2023. The region is dominated by emerging and developing economies, and at $31 trillion, produces over a third of the world's GDP. By 2030, Asia will add another circa $15 trillion to its GDP, lifting around 1.5 billion people into the middle classes. In this context, robust infrastructure investments across all areas of the economy are the need of the hour. In 2016, infrastructure investment needs up to 2030 were estimated to be $1.7 trillion per annum for the region. PricewaterhouseCoopers estimates that the infrastructure market in the region will reach $5.4 trillion by 2025, representing 60% of the global market.
In this blog we look at where public-private partnerships (PPPs) have a role in accelerating investments and extending services, with a focus on those involving early-stage companies and start-ups working on extending essential services to low-income areas. Below, we discuss some of the broader investment context, before profiling five such partnerships.
The investment need in APAC
The Asian Development Bank (ADB), UN, and World Bank emphasise the significance of utility services in the rapidly rising cities of Asia-Pacific (APAC). With urbanisation and economic expansion, energy consumption rises and cities need reliable power. ADB estimates that by 2030, APAC cities would need $8.4 trillion to fulfil electricity demand. Cities also need sanitation infrastructure and efficient waste management. The UN estimates that APAC cities create 1.3 million tons of solid waste every day, highlighting the critical need for waste collection, treatment and disposal facilities. Clean drinking water is also essential for urban residents, yet the World Bank estimates that 300 million Asians lack access to clean drinking water. This problem demands a $59 billion yearly investment in regional water supply and sanitation services.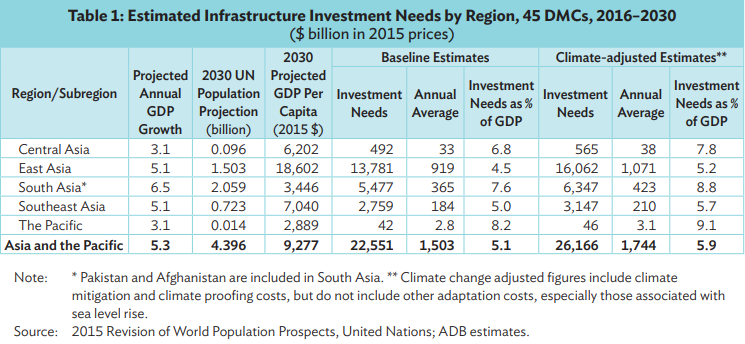 PPP frameworks operating in APAC
PPPs have long been a crucial instrument in driving infrastructure development and public service delivery across the globe. But it is only more recently that they're playing a more central role in infrastructure development in low- and middle-income countries (LMICs). In 2022, the World Bank tracked just over $90 billion in private infrastructure investments in LMICs. This was a 23% increase on the 2021 figure but investments are still below pre-pandemic levels. Of those $90 billion in tracked deals, APAC countries accounted for just over $57 billion. PPPs come in many forms – the figure below shows some of the different structures based on the levels of investment and risk transfer. Many of these are currently being employed in APAC region. Our toolkit for start-ups looking to partner with the public sector has much more details on the differences between these PPP structures.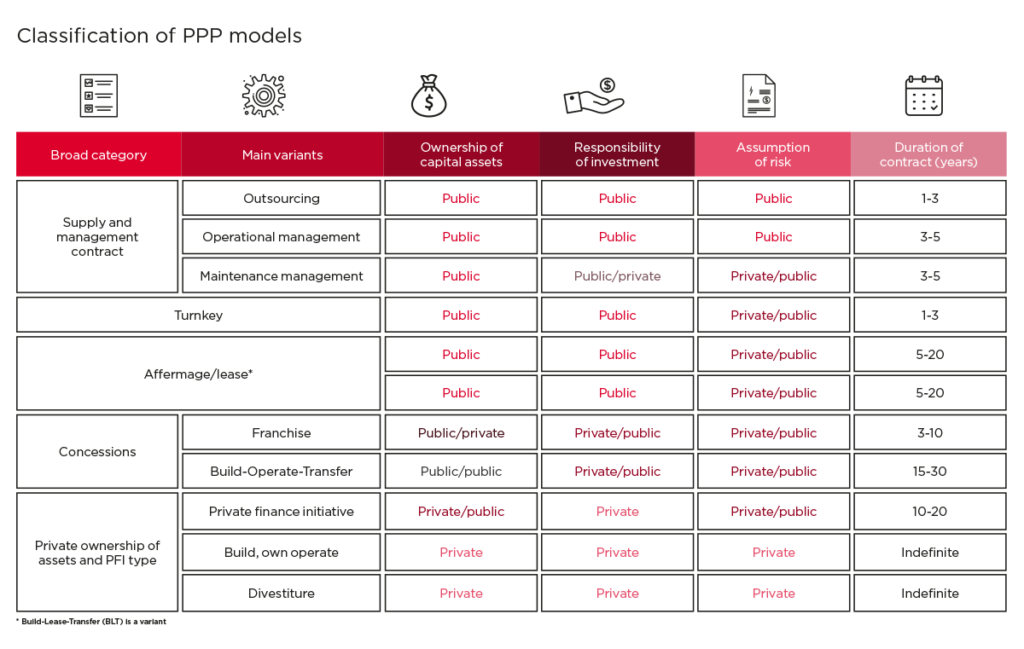 In the Asia-Pacific region, an emerging trend has been the establishment of PPPs involving start-ups, aimed at addressing pressing challenges and unlocking new opportunities in various sectors. Start-ups in the Asia-Pacific region possess the agility, innovation, and technical prowess necessary to develop cutting-edge solutions that can tackle complex problems faced by governments and communities. By engaging with start-ups, public sector organizations can leverage these strengths to optimise resource management, improve service delivery, and enhance environmental sustainability. In turn, start-ups can benefit from access to resources, policy support, and the vast market potential offered by public sector projects.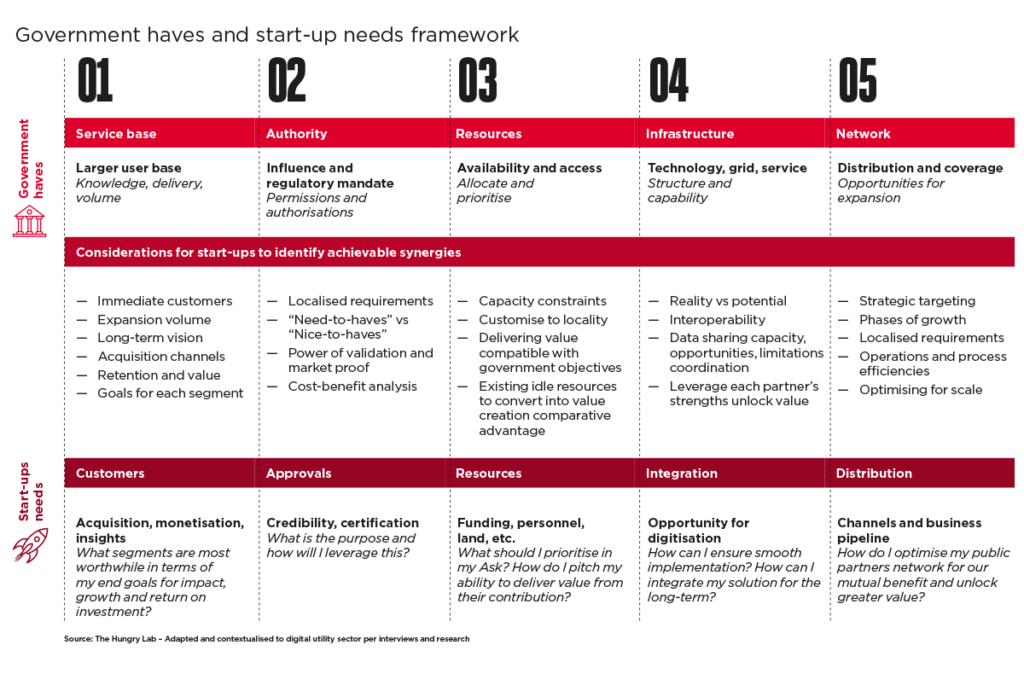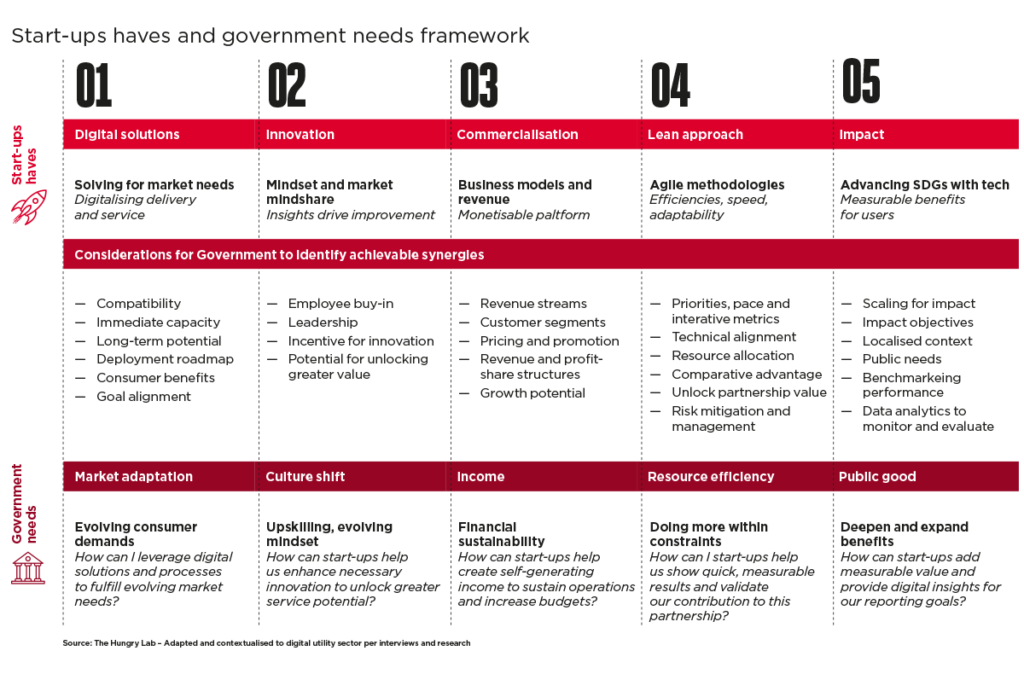 The growing interest in PPPs with start-ups in the Asia-Pacific region is fuelled by the region's rapid urbanisation. By fostering strong collaborations between public institutions and start-ups, governments in the Asia-Pacific can unlock new avenues for growth, catalyse the development of cutting-edge technologies and pave the way for a sustainable and prosperous future for the region.
PPP-startup partnerships can have a variety of advantages but there are also certain risks that need to be considered. Government financing may be unpredictable, so start-ups should have a strategy in place for how they will continue to operate if it stops. Additionally, entrepreneurs must take care to safeguard their intellectual property. Start-ups must also ensure that they fully comprehend the terms of any deal they sign with a government since governments frequently have considerable means to acquire intellectual property.
Spotlight on successful start-up PPPs in APAC
PPPs have allowed governments and private companies to fund, create and manage public infrastructure, services and projects in APAC. These partnerships have aimed to increase public service efficiency, quality and sustainability while decreasing government costs by combining the capabilities of both sectors. Public-private risk sharing is crucial to these relationships. Start-ups take the risks of developing and implementing new technology and business models, while governments utilise their regulatory and policy making authority to foster their growth. Below, we profile five start-up PPPs which have boosted innovation, economic growth and public service delivery by combining the capabilities of both.
To successfully engage in public sector partnership opportunities, it is important for start-ups to be aware of the challenges and risks involved in working with the government. Some of these risks include changes in government policy, unrealistic expectations between stakeholders, lack of trust due to instable government environment and difficulties in managing the relationship because of change in bureaucracy.
Additionally, start-ups also tend to form consortium partnerships in PPPs. These partnerships sometimes entail many private sector organisations coming together to combine resources, knowledge and risk in order to satisfy a public contract. Each consortium member is often responsible for a certain aspect of the project, such as funding, building or operation.
Consortium partnerships include mobile network operators, IT software companies and technology service providers which help create innovation centres, incubators and accelerators where entrepreneurs may get resources, mentorship and networking while working with government agencies. A good example of these partnerships include the National Incubation Center, which is currently operated by Jazz, Team-up and the Ministry of Information Technology, Pakistan.
Start-up and government PPPs can also promote innovation in public institutions, which improves service delivery. Start-ups may help governments embrace new technology and methods to improve public service efficiency, transparency, and responsiveness, benefiting citizens.
The company/start-up: Smart Joules helps public utility companies optimise their energy consumption using IoT devices, analytics, and automation. Their goal is to minimise energy waste and reduce greenhouse gas emissions.
The public sector partner: DSEB – Delhi State Electricity Board
The partnership: Supply and Manage. The partnership is funded by ADB and is focused on decreasing energy by at least 140,000 MWh of electricity by 2025 and 2 million MWh by 2037.
Successes: The project has resulted in significant energy savings and cost reductions for different hospitals and buildings and was funded by the ADB.
Gulshan Clean & Care (Bangladesh)
The company/start-up: Gulshan Clean & Care is company that specializes in the waste management space in Bangladesh and focuses on using vacuum-based trucks for cleaning and sanitation under the SWEEP program.
The public sector partner: Dhaka Water Supply and Sewerage Authority (DWASA)
The partnership: Lease Agreement. A service that would bring together a range of stakeholders who could complement each other in delivering a new sanitation waste collection service. The partnership is aimed at bridging the service gap through the operation of a new faecal sludge emptying service, marketed under the brand name SWEEP.
Successes: During the first 18 months of operation alone (to October 2016), SWEEP reached 102,408 people and emptied 3,898m3 of sludge. Significantly, it has also established itself as a viable business, becoming profitable five months after its launch, and generating a profit of BDT 691,837 (US $8,788) to October 2016.
Center for Intelligent Systems and Network Research (CISNR) (Pakistan)
The company/start-up: Center for Intelligent Systems and Network Research (CISNR) is a platform for a group of researchers and developers that have the development and betterment of society through modern and state of the art applied sciences techniques in the utilities sector.
The public sector partner: Capital Development Authority (CDA)
The partnership: Supply and Management Contract. A contract focused on providing energy monitoring services around Islamabad and Mardan. CISNR is responsible for providing the technology, smart meter and dashboard for the partnership and CDA is providing the infrastructure.
Successes: The project was successful in decreasing the amount of energy and increasing energy efficiency of the subject tubewells on which this technology was implemented. The project was funded by a GIZ grant.
The company/start-up: Ghampower works with public utility companies to integrate renewable energy sources like solar power. They aim to increase the accessibility of reliable and sustainable energy in Nepal by making micro-grids etc.
The public sector partner: Nepal Electricity Authority (NEA)
The partnership: Build, Finance and maintain – GRIPS is an Innovation project led by Swanbarton in partnership with Gham Powe an, Practical Action Consulting, HiT Power Limited and Scene Connect to improve access to clean, reliable energy in Nepal in collaboration with NEA. The NEA will support this work by enabling measurements at the local sub-station.
Successes: Ghampower's solar power solutions will help NEA reduce dependency on fossil fuels, increase the share of renewable energy in the grid, and provide electricity to remote communities without access to the national grid.
Ante-LECO Metering Company (Sri Lanka)
The company/start-up: ANTE-LECO is a subsidiary of LECO formed in partnership with Ante Group which provide energy management solutions for utilities in Sri Lanka. Their platform uses AI and machine learning to optimize energy consumption, helping utilities reduce costs and improve the overall efficiency of the grid. They also specialize in smart-grids and smart meters.
The public sector partner: Lanka Electric Company (LECO)
The partnership: To annually produces 250,000 Single Phase meters required by Ceylon electricity Board and LECO in Sri Lanka.
Successes: The company has successfully produced 250,000 electric meters and is in the process of incorporating AI and smart analytics to its meters.
Conclusion
PPPs have been successful for a wide variety of newly established start-ups with expansion plans. As governments put a greater emphasis on achieving their sustainability goals, new start-ups that are focused on areas such as water, waste management, energy and transportation are in an excellent position to make a significant impact. These organisations may solve critical challenges in resource management, service delivery and environmental sustainability by using new technology and working closely with stakeholders from both the public and private sectors.
PPPs between new businesses and government organisations in the utility sectors are necessary for encouraging environmental stewardship, strengthening resource management and driving sustainable development. To learn more about how to embark on a successful public-private partnership in the utility space, please email us at mshoukat@gsma.com or check out our public private partnership toolkit.
The Digital Utilities programme is funded by the UK Foreign, Commonwealth & Development Office (FCDO), and supported by the GSMA and its members.