This blog is the final in a two-part series on how digital platforms can help emerging economies recover from the economic downturn of the COVID-19 pandemic. The first blog explored the same topic for Africa.
As COVID-19 continues to disrupt businesses across the globe, the importance of connectedness becomes all the more apparent for micro, small and medium-sized enterprises (MSMEs) across the Asia Pacific region. As these enterprises start to recover, digital platforms can be a vehicle to assist them on their route to recovery and success.
Impact of COVID-19 on MSMEs in Asia
According to the OECD, MSMEs represent around 97-99% of the enterprise population in most ASEAN countries, accounting also for 66.3% employment. The work is mostly labour-intensive and comprises mainly of enterprises in the retail, trade, and agricultural sectors.
Since many of these MSMEs operate in traditional markets, they have been gravely affected by social distancing measures. A 2020 study by the Asian Development Bank (ADB) revealed that that the majority MSMEs in the Philippines (70.6% of those surveyed), Laos (61.1%), Indonesia (48.6%) and Thailand (41.1%) stopped trading one month after the outbreak of COVID-19. According to the study, those who didn't suspend operations faced disruptions to their supply chains and low demand.
The following table outlines the changes in MSME challenges before and after the COVID-19 pandemic, as laid out in a study by ASEAN and the ADB, respectively. This comparison is useful for MSME support organisations to understand how MSME needs and challenges have changed according to the pandemic, and therefore what can be done to assist MSMEs on their road to recovery.
| | |
| --- | --- |
| ASEAN challenges pre-COVID-19 | Perceived COVID-19 concerns and obstacles (ADB) |
| Creating networks and market connectivity | Decline in domestic demand |
| Government policy | Decline in foreign demand |
| Innovation and technology | Disruption of production, supply chain and business networks |
| Development and competitiveness | Requirements of tax payments |
| Access to key skills | A lack of working capital to maintain or restart business |
| Access to finance | Repayment of loans |
How digital platforms can support MSME recovery and development
According to a 2019 APEC SME Ministerial Statement, "e-commerce platforms can serve as important channels for SMEs to gain greater access to diverse global markets and can mitigate risk within supply chains". Additionally, an IDC survey of more than 1,500 business leaders in the Asia Pacific listed the following benefits their organisations reaped from their digital transformation initiatives: improved profit margins, productivity, customer loyalty and retention, cost reductions, and the ability to offer new products and services.
Bearing in mind the benefits of digitisation, MSMEs should consider digital platforms as a way to support their post-pandemic recovery. Here are specific examples where digital platforms are supporting MSMEs:
While using digital platforms presents certain benefits, it must be noted that digitisation comes with risk. For example, peer-to-peer (P2P) lending platforms that match borrowers with lenders can help MSMEs to avoid time-wasting bureaucracy, however, these digital lending platforms are also subject to instability and require rigorous profiling of their borrowers to avoid more losses than profits for lenders. Moreover, if digitised lending platforms are not adequately regulated, lenders could also be at risk of high-interest rates. This highlights the importance of the role of appropriate legislation that protects digital platform users.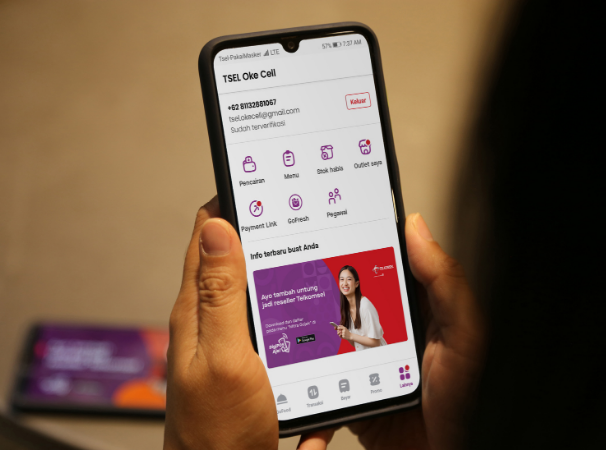 Mobile operators enabling the rise of digital platforms
As MSMEs are vital to ASEAN economies, supporting their post-lockdown recovery presents an opportunity for mobile operators to play a significant role. A report by the GSMA Digital Identity programme states that "mobile phones are essential business tools, where digital and online markets are becoming increasingly important, and where MNOs are custodians of verifiable customer data and with an extensive presence in SME communities, they are central actors in the data, infrastructure, and outreach components that are key to the success of any economic ID proposition."
A prime example of a mobile operator partnership with a digital platform to support MSMEs is found in Indonesia. SMEs in Indonesia account for nearly 97% of local jobs, which is why national mobile operator Telkomsel has strengthened their partnership with multi-service digital platform Gojek to support the country's SMEs. Telkomsel announced in early March that they will support Gojek by enabling access to their DigiPOS Aja application, making it easier for SMEs to become a "reseller partner for selling Telkomsel credit products and data quota packages". Previously, Telkomsel and Gojek had integrated Telkomsel MyAds and GoBiz which allowed Gojek's business partners to develop their business and reach more new customers by relying more easily on targeted digital advertising solutions from Telkomsel MyAds.
While digital platforms don't come without the challenges of cost, access, and lack of familiarity, MSMEs can capitalise on the advantages of digital platforms in recovering from the consequences of the pandemic. By developing digital platforms that are beneficial to all stakeholders and enabling MSMEs to make the most of digital platforms and mobile technology, business owners and start-ups can be better equipped to build a sustainable future.
To find out more about how digital platforms can partner with mobile operators to scale, read the Ecosystem Accelerator's latest report on Scaling Digital Platforms through Partnerships.
The Ecosystem Accelerator programme is supported by the UK Department for International Development (DFID), the Australian Government, the GSMA and its members.