This is the second in a series of blogs focusing on the findings of the 2021 State of the Industry Report on Mobile Money. Find blog 1 here.
High adoption is fuelling competition and has driven the region to a new major milestone
Since mobile money's inception in 2006, Asia has acted swiftly to adopt, adapt and implement the financial innovation of mobile money. Currently, there are 85 unique mobile money services in 21 Asian markets. Over a quarter of the world's mobile money services are now in Asia.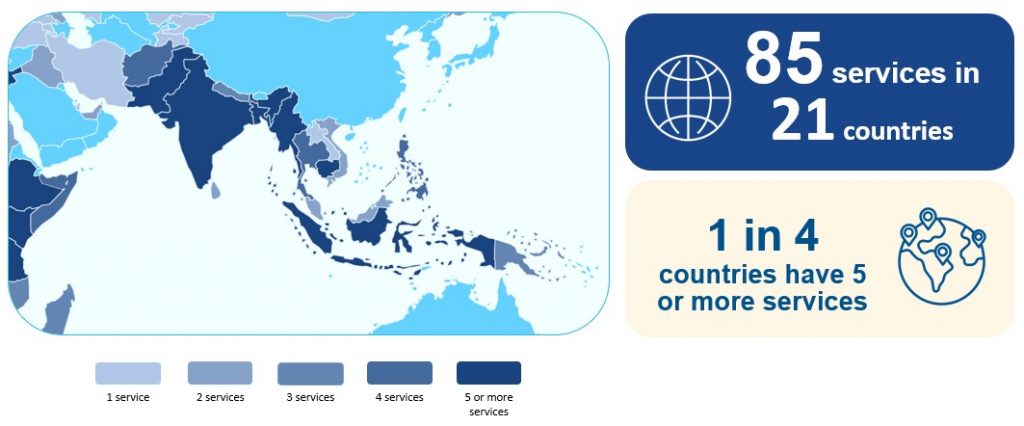 Although some Asian markets have taken a different approach to the traditional MNO-led mobile money model by partnering with financial institutions, fintechs and technology platforms, the region has remained successful in creating a competitive mobile money ecosystem. India, Bangladesh, Indonesia and Cambodia, for example, all have five or more mobile money services, underscoring the competitive environment that has been cultivated in the region.
Asia's expanding mobile money footprint has also stimulated customer account growth. In 2020, Asia's mobile money industry reached a major milestone and surpassed half a billion mobile money accounts. Asia now has 547 million registered accounts where more than 300 million are from South Asia. In addition, Asia was the largest contributor of all new accounts, adding 62 million accounts (45 per cent) to the global industry.
In addition, mobile money users in Asia are becoming increasingly active. Almost a quarter of all registered accounts are active on a monthly basis and every one in four mobile money services in the region has over 1 million monthly active accounts. Despite the progress made over the past decade in increasing account activity, a large opportunity remains in unlocking the region's inactive customer base.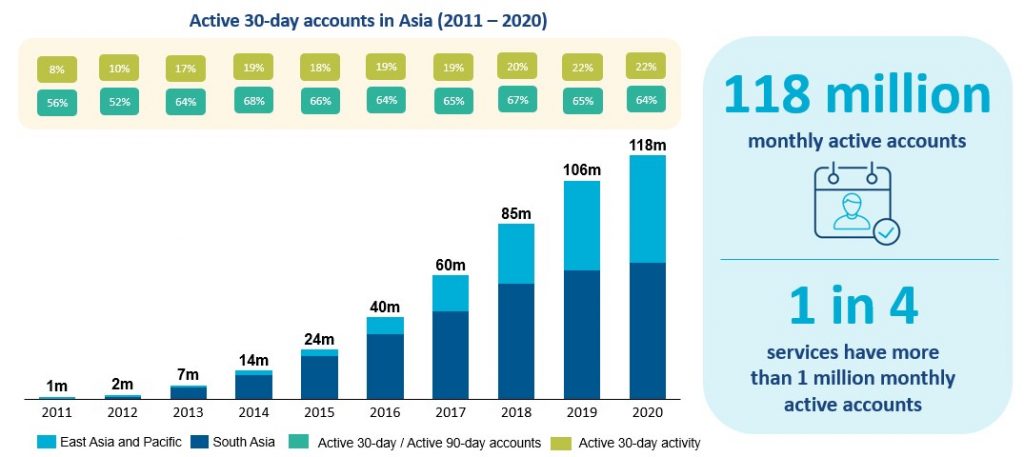 Asia is transitioning to a new digital era as the relevance of digital use cases heightens
The ongoing impacts of the COVID-19 pandemic have pressed regulators to introduce measures to mitigate impacts on mobile money users. In 2020, the measures most adopted across Asian markets included the introduction of fee waivers, increasing transaction and balance limits and promoting digital payments.[1]
Countries that adopted these measures in part drove the digitisation of payments and limited the handling of cash. For example, the central bank of Pakistan advocated for banks to promote the use of digital channels through social, print and electronic media. In Bangladesh, mobile financial services increased the transaction limit up to 200,000 Takas ($2372) from 75,000 Takas ($889) for the purchase of essential goods and medicine. [2] Data from the GSMA Consumer Survey shows that in Pakistan and Bangladesh, 20 and 17 per cent of mobile money account owners respectively, withdrew less cash due to COVID-19 because they spent more through their mobile money account directly.[3]
Since 2019, the proportion of digital transactions has increased by eight percentage points, meaning that almost half (48%) of all value now being transacted is digital. While most digital transactions are circulating in the mobile money system – led by P2P transfers – the region has made noteworthy progress in increasing the value of outgoing digital transactions. Last year, the ratio of the value of cash-out to outgoing digital transactions stood at 1.2, indicating more value was being removed from the mobile money system as cash than in digital form. Due to an uptake in the value of mobile-to-bank and P2P off-net payments[4] in 2020, this ratio has reduced to 0.8.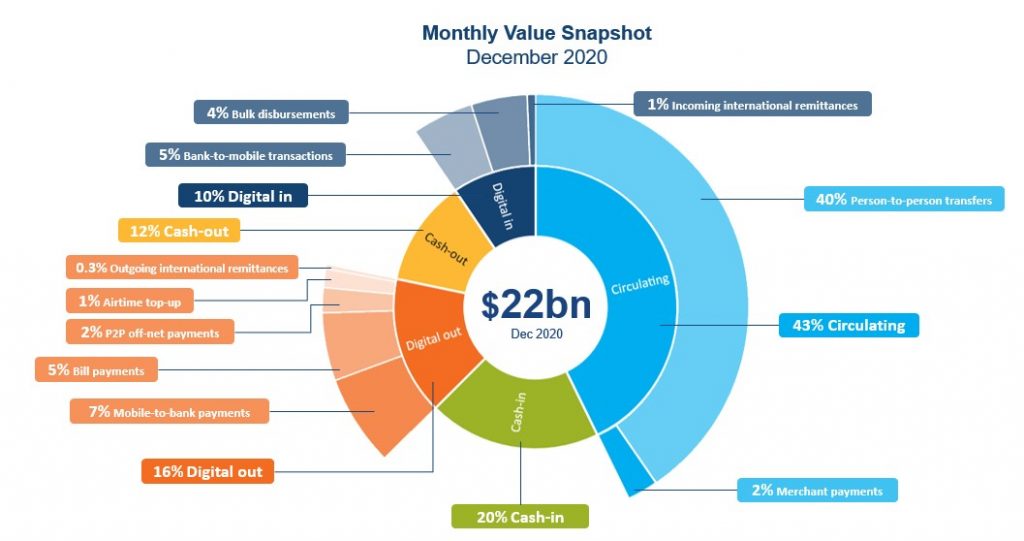 The digital circulation ratio is another indicator of the increasing relevance of digital use cases in Asia and is a measure of the number of times a single unit of currency is transacted before being cashed out. This ratio stands at 5.1 for Asia in comparison to the global figure of 2.7, further emphasising Asia's global position in leading the path towards a new, digital era.
The growth in value of mobile-to-bank and off-net P2P payments has also been accompanied by growth in volume, showcasing the expansion of interoperable services in the region. In 2020, flows between mobile money platforms and banks grew by 61 per cent amounting to $26 billion being transferred. Over the past five years, mobile-to-bank transfers have accounted for most flows between the platforms. This further highlights mobile money's contributions to the formal banking sector and how the industry is becoming increasingly integral to the formal financial system.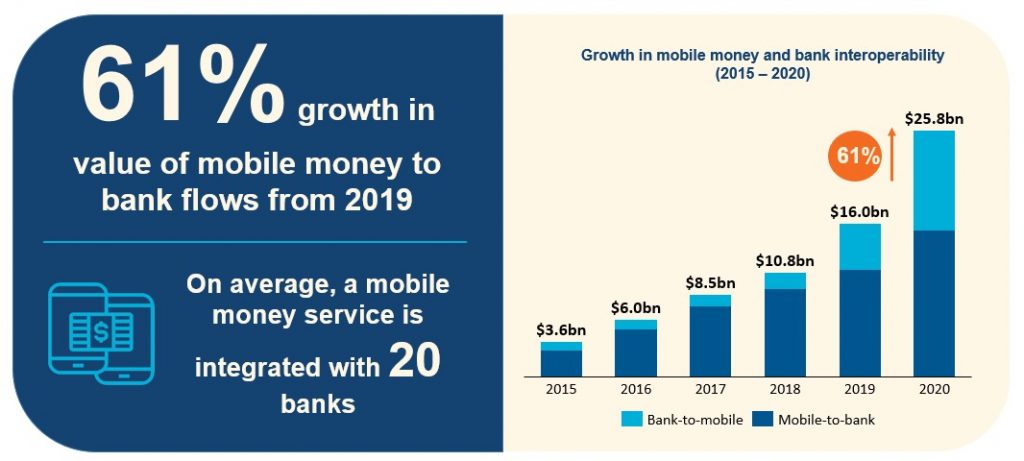 Businesses and governments are also playing a significant role in supporting the regions shift to digital and came to the forefront during the onset of the COVID-19 pandemic. For example, mobile money became a favoured method to distribute income support and emergency payments. Between September 2019 and June 2020, the number of unique customer accounts receiving government-to-person payments increased three-fold in Asia. This means over a million people were assisted by state support systems via their mobile money account.
Ensuring equal and affordable mobile money accessibility
While the region's trajectory towards a digital future looks promising, the industry must ensure no one is left behind in an increasingly connected world. In countries such as Bangladesh, India and Pakistan a significant gap persists between mobile money awareness and account ownership. The gender gap in mobile ownership coupled with the unaffordability of mobile phones poses some of the largest barriers in bridging this gap. Looking ahead, these barriers present two key focus areas for the industry to unlock the benefits of financial inclusion for all.
---
[1] Chadha, S., Muthiora, B. and Kipkemboi, K. (16 July 2020). "Tracking mobile money regulatory responses to COVID-19", Mobile for Development Blog.
[2] Ibid.
[3] Awanis, A., Gamble, E., (2021). Assessing mobile money consumer trends in the wake of the COVID-19 pandemic. GSMA.
[4] P2P off-net payments refer to transfers made between two accounts of different, but interconnected, mobile money schemes.