The world's 500 million smallholder farmers, responsible for nearly 70% of the world's food production, are grappling with the escalating impact of climate change and extreme weather events. These events pose a significant threat to their livelihoods, as they often do not have access to the tools they need to cope with climate events, nor to the services that would help them improve their farming practices and invest in their farms. This makes it difficult for them to improve their incomes and break out of the poverty trap.
Digital agriculture services hold great potential for empowering smallholders, fostering higher incomes, and boosting agricultural productivity along the value chain. The GSMA AgriTech programme, commissioned by the German Federal Ministry for Economic Cooperation and Development (BMZ) on behalf of the Deutsche Gesellschaft für Internationale Zusammenarbeit GmbH (GIZ), launched the GSMA AgriTech Accelerator ("the Accelerator") to fast track the scaling of innovative, revenue-generating digital agriculture solutions that support farmer livelihoods, financial inclusion and climate resilience.
---
Digital agriculture solutions supported by the GSMA AgriTech Accelerator
Over the next two years, the Accelerator will support ten agritech companies (the 'cohort members') with tailored technical assistance (TA) to help them grow in their markets.
The TA includes:
UX/UI support to conduct user research, identify and address user experience issues, enable product iterations and process improvements that strenghten value propositions and solution design.


Monitoring, evaluation, and learning (MEL) support, including service data analytics on key trends in adoption and usage, user feedback surveys informing service iteration, and impact assessment.


Investment readiness support to build the capacity of cohort in in creating compelling investment pitches and understanding suitable investment instruments and opportunities.


Other service-specific technical assistance, such as partnership brokering or credit scoring support for digital loans, to help them fast-track their solutions.
The Accelerator launched a call for concept notes in December 2022 to identify suitable agritechs and invited companies from eligible countries in Africa, Asia, and Latin America to apply. After a rigorous assessment and selection process, the Accelerator is delighted to unveil the ten agritech companies that have been chosen as cohort members.
---
The GSMA AgriTech Accelerator cohort members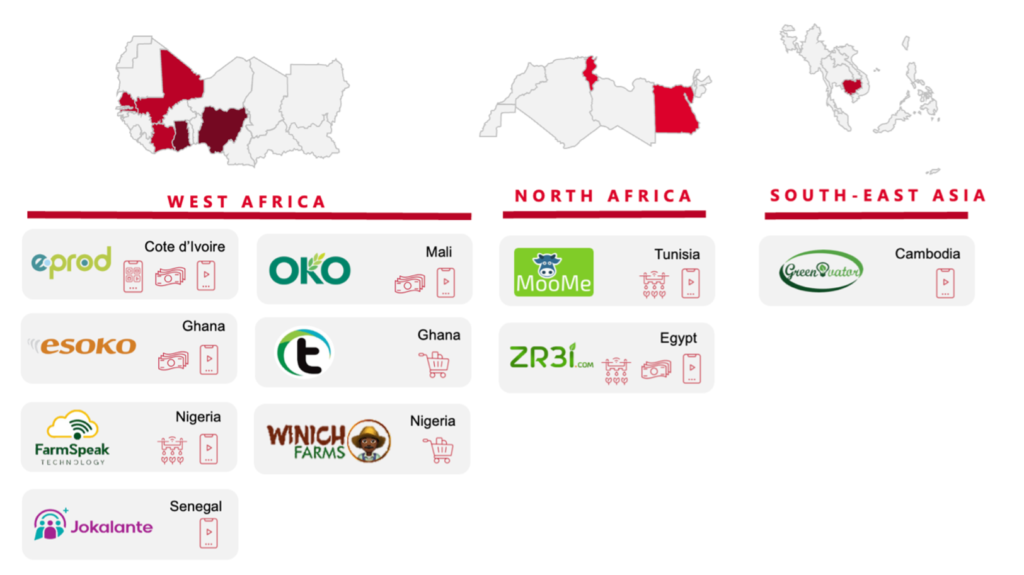 The GSMA AgriTech programme is committed to providing technical expertise and leveraging its extensive network to support the growth and expansion of the cohort's digital agriculture solutions. We also aim to gather knowledge and evidence about the challenges and best practices associated with designing and scaling such services. We will share these insights and lessons learned with the industry throughout the implementation of the Accelerator, to foster the overall development of the digital agriculture ecosystem.
Read the cohort member bios on the AgriTech Accelerator page to learn more about the services they offer.