All sectors of the economy are experiencing a shift online. This expansion of smart technologies and the use of smartphones can greatly support our climate efforts if harnessed in the right way.
Smart technologies have the power to create huge efficiencies, and smartphones mean we can live, work, learn, shop, play and receive medical care as never before. Our research and case studies show what is already happening and how mobile operators are exploring new business opportunities.
Case Studies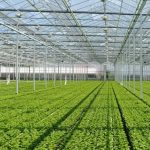 In the Netherlands, mobile operator KPN are using 5G farming techniques to reduce carbon emissions and mitigate climate change. The use of irrigation sensors optimises water management reducing the associated energy consumption. 5G technology precision farming is becoming more accessible to agricultural firms, enabling them to respond almost immediately to developments on their land. As a result, farmers can make savings in areas such as crop protection, to the benefit of the environment. At the same time, the yield is expected to rise, because it is possible to react straight away to the condition of the crop.
Resource
Smart farming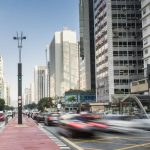 In Brazil, Telefónica are harnessing the power of big data, to predict air quality up to 48 hours in advance, protecting a population of over 12 million people. Telefónica's algorithms use machine learning and anonymised data from the mobile network, combined with data from weather, traffic and pollution sensors, to monitor and predict pollution levels over the entire city. The solution enables local authorities in São Paulo to take preventative steps to ensure nitrogen dioxide (NO2) cause no further damage to human health.
Resource
Predicting air pollution levels 24 to 48 hours in advance in Sao Paulo Brazil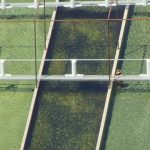 AT&T have launched the Smart Cities initiative, which helps cities monitor power outages, water leaks and traffic patterns to more effectively manage their resources. AT&T are consistently innovating and looking for ways their customers can harness their technologies to help minimise their environmental impact. AT&T are applying the same solutions to achieve their own goals, accelerating their progress in meeting their commitment to enable carbon savings that are 10 times the carbon footprint of their operations by 2025.
Resource
AT&T Corporate Responsibility Update: Building a Better Tomorrow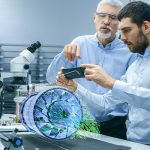 Application of advanced systems to increase knowledge around inefficiencies and enable rapid manufacturing of new products, dynamic response to product demand and real-time optimisation of manufacturing production and supply chain networks. Includes virtual manufacturing, customer-centric production, circular supply chains and smart services. Ericsson developed the world's first celluar IoT based smart factory. Benefits include increased efficiency, fewer human errors, increased reliability, nearly zero downtime, and improved service life for tools and equipment.
Resources
The world's first cellular IoT-based Smart Factory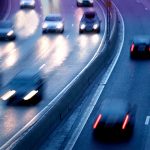 Refers to connecting vehicles to help stimulate car sharing and route sharing, reducing the usage of cars overall. ICT enabled solutions including mobile apps, GPS location-based services, RFID/NFC enabled cards for access control for public transport, smartboard computer systems and connected vehicles. Mobile operator Telia launched 'Telia Connected Vehicle'; a new service that makes vehicle and fleet management more efficient, helps promote more environmentally friendly driving, and enables fuel consumption to be reduced by up to 12%.
Resources
Smarter and greener transportation and logistics with Telia's new IOT offering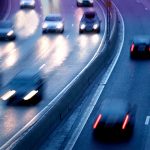 Connected Business Travel – Traffic Optimisation
Seeks to manage traffic and parking in cities in a smarter, efficient and more fluent way, through intelligent sensors, real-time information gathering and data analytics, traffic management platforms, connected vehicles, driving support technology and information technologies. Vodafone's Narrowband Internet of Things (NB-IoT) is a reserved channel on the Vodafone
Resources
Vodafone Narrow Band IoT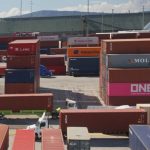 Improvements leveraged from ICT that result in an optimisation of distribution activities and a reduction in distance travelled. This will be through dynamic fleet management and route optimisation, increased intermodal transportation, digital warehouses and operational agility and customer centricity. New network technologies, like 5G, will enable new intelligent solutions in e.g. trucks and warehouses. Telia Connected Vehicle provides a vendor-independent IoT ecosystem for the optimisation of heavy traffic. In trucks connected to the service, each driver will have one display in the cabin, making it possible for them to monitor in real time the truck's fuel consumption and receive different type of information regarding the vehicle and traffic information. This information will also be shared in real time with their operation center to enable optimised fleet management.
Resources
Smarter and greener transportation and logistics with Telia's new iOT offering
The connection of energy supply to current demand using more efficient networks encompassing distributed and variable power generation, real-time response to demand changes, predictive analytics and forecasting (supply and demand) and reliable infrastructure resilient to change. True to its goal of innovating to better meet its customers' needs, Orange has developed the Orange Smart Metering solution targeting electricity operators in the 23 countries of the Middle-East and Africa zone in which the company is represented.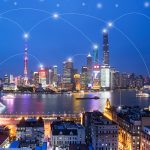 Combination of specific building software and remote controls that lead to intelligent homes and workplaces. Its main pillars are: energy management for households through automatic detection and energy storage, improved buildings efficiencies and the combination of sensors and the Internet of Things.
The Telecom Smart Building solution assists landlords by implementing, upgrading and managing cutting-edge fibre-optic/wired infrastructure for their commercial buildings. Working in partnership with leading commercial landlords and in consultation with international connectivity rating bodies, the Smart Building solution is designed to be the first UK based service specifically designed to meet the needs of next generation building connectivity services.
Resources
Smart Buildings Next generation building connectivity services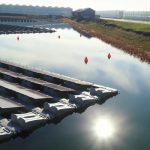 Efficient farming and agriculture methods (excluding marine agriculture) that involves the use of ICT such as GPS and sensors to increase resource efficiency and higher crop yields and income potential. Includes the use of advanced analytics to develop preventative cautions to environmental shocks. The caring for and breeding of animals is a huge part of China's agricultural industry. Indeed, livestock farming is the main source of income for 80 million people in the country. But it is a job fraught with challenges. Cattle can frequently go missing or get stolen and the long hours and demands of the work frequently result in farmers not getting to spend enough time with their families. With the help of technology, mobile operator China Telecom devised an innovative solution to these issues with their mobile application 'The Shepherd Boy'. All livestock are fitted with a connected smart collar that allows the farmer to monitor the animal's movement and health, including oestrus status, in real time with updates sent to the farmer's mobile phone.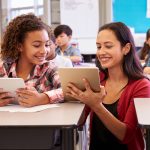 Use of computerised devices in educational and learning environments, promoting valuable interactive lessons. Its main pillars are: building partnerships with quality training providers and offering wider educational horizons by offering new accessible learning content. Nyarugusu is Tanzania's largest refugee camp and the fifth largest in the world. In 2018 it was home to over 150,000 displaced people, many of whom are fleeing war, atrocity and civil unrest from neighbouring countries Burundi and Democratic Republic of Congo. Hundreds of people arrive to the camp every day. In March 2016, Vodafone's Instant Network School's Programme brought a unique and innovative educational solution to Nyarugusu with their Instant Classroom, otherwise known as the 'classroom in a box'. Designed to be easy to charge, store and transport, each Instant Classroom is equipped with a laptop, 25 tablets pre-loaded with educational software, a projector, a speaker and a hotspot modem with 3G connectivity.
Transfer of health resources and care using ICT to cover three areas: delivery of information for professionals and consumers, improving provision of public health services (e.g.: education and training of health works) and enabling patients to manage their own health. B-Medical systems is a Luxembourg based company who supply and transport vaccines around the world. Using mobile operator KPN's Internet of Things technology, they developed a smart logger system to monitor their vaccine refrigerators in transit at every step of the journey. The GPS logger works in several ways; constantly ensuring the refrigerator temperature is correct, measuring the ambient temperature and controlling the refrigerator's door opening. If a problem arises the logger sends a text message to a technician who can fix the problem immediately. The system was designed with developing countries in mind; the logger is easy to use for those with little technical experience and the fridges themselves do not need electricity to work, but can rely on solar power, liquefied gas and kerosene so they can continue to be used for vaccine storage in the future.
Resources
Connecting fridges, protecting vaccines and saving lives in Nigeria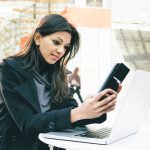 Includes the use of cloud platforms, connections and communicating devices to facilitate daily office work between company members that typically operate from different locations. This includes the use of telework facilities/technologies (mobile working) as well as virtual business meetings. Telefónica has presented the first prototype of an open and convergent access network that integrates fixed and mobile, and enables Edge Computing. This model combines the advantages of the components from different providers in a simple, scalable, and flexible access network architecture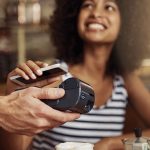 Improvement of current platforms and connections which enable on-line commerce/trading of products or services using internet networks between the retailers and consumers, including integrated multichannel infrastructures and mobile shopping, 3D printing and delivery on demand. In India, there is still a clear gender gap. It begins with many families failing to invest in the education of girls, which leads to lower levels of literacy and less financial autonomy – further enhancing the inequalities. This incredibly complex issue stems from both cultural and social norms that have existed for centuries, disconnecting women from society across India. However, through the power of mobile connectivity, this is beginning to change for good – and by increasing both the economic and social status of women, it's proven that a nation can prosper. Through Airtel's 4G network, women across India are pioneering their own businesses and thriving in the world on e-commerce.
Refers to providing banking and products and services through electronic delivery channels, such as internet or mobile banking. Also includes the use of digital wallets (mobile money) through apps and digital currencies (BITCoin). In Myanmar in 2017 more than 90% of the population did not own a bank account and the majority of money in circulation was cash. This causes serious problems for the people of Myanmar. Hiding their savings at home makes them vulnerable to crime and the common practice of borrowing from loan sharks, in the absence of formal lending from banks, has created a never-ending cycle of debt in the country. For these reasons, Telenor, FMI and Yoma bank got together and created mobile money service WaveMoney. Customers can instantly and safely transfer money through an easy to use mobile app or at their local Wave shop. Wave also provides customers with digital training, as many of them are from rural areas and lack any previous experience of mobile money or online services.
Energy users in Sri Lanka are beginning to benefit from a smart grid solution developed by a partnership between Lanka Electricity Company (LECO), the Dialog-University of Moratuwa Mobile Communications Research Laboratory and mobile operator Dialog Axiata. Currently collecting data from 3,200 smart meters and 150 network monitoring devices, the solution is enabling LECO to analyse electricity usage and isolate any
faults in its grid.
Resources
Case Study: Sri Lanka Takes First Step Towards Smart Grid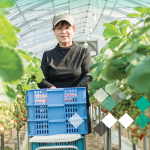 Like most markets the production of Strawberries in China is competitive. Prices are sensitive to the
quality of the fruit and to supply and demand – with prices higher in the early season when the greenhouse crops start to ripen, but open field crops are not yet ready. Limited early supply keeps prices buoyant and the higher crop price directly improves the farmers' income and profit.
The challenge for the greenhouse strawberry producer in China is to maximise profitability by maximising yield & quality, extending the growing season by bringing the first crop harvest forward and optimising inputs such as water and fertiliser for the best returns and minimal environmental impact. Set against this backdrop, China Mobile has worked together with LinkDotter, a specialist agricultural tech firm, and a strawberry producer, to demonstrate how mobile operators can drive value in smart agriculture – in this case in strawberry production – through IoT Big Data technology solutions.
Resources
Case Study: Harnessing IoT Big Data Solutions to Create Value in Strawberry Production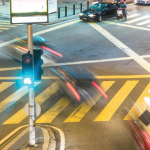 TM ONE, the business solution arm of Telekom Malaysia Berhad, is seeing strong demand for its Smart
Traffic Analytics & Recognition System (STARS), which can programme traffic lights to respond to
real-time data collected by connected cameras and sensors. The traffic light solution offers cities with improved traffic flow and reduces idle time at red lights.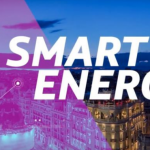 Energy Insight is Telefonica's first level of energy management for companies that want a deep understanding of the use of energy in any building or location and advice of actions to be taken. The service provides the required tools so building managers can make the right decisions to lower energy consumption and achieve savings.
Energy Optimise enables remote and centralised measurement, control and management of high energy consumption equipment at any facility. This service particularly focuses on points of high consumption such as air conditioning, heating and lighting, giving a holistic control of a building or set of buildings.
Resources
Case Study: Smart Energy